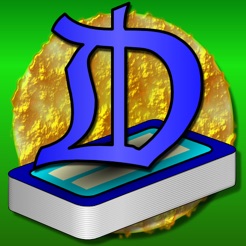 Description
Dominion Kingdom Deck handles the task of picking your 10 kingdom cards for a game of Dominion. Note that this app only assists in setting up a game of Dominion and does not actually play the game.

DKD handles two issues as the number of Dominion expansions increases.

First, it saves the difficulty and time of shuffling an ever increasing number of setup cards.

Second, it offers an optional structured randomization mode. In this mode, it guarantees that there is at least 1 card each of 2 cost, 3 cost, 4 cost and 5 cost.

All current cards for Dominion, Intrigue, Seaside, Alchemy and Prosperity as well as the promo cards Black Market, Envoy and Stash are included as starting data. All sets can be turned on and off to match your playing situation.

Don't like a card in the list? Swipe the row and replace it with a new one.

Have a custom set? Add it in with the built-in set editor.

Had a particularly interesting mix of cards? Save the list and recall it later.


Dominion is by Donald X. Vaccarino. Dominion Kingdom Deck is not affiliated with Donald X. Vaccarino or any publisher of Dominion.

* Fix bug that caused Alchemy cards to always be picked.

New in 1.3.2
* Changed Prosperity randomizer to be an extra row in the card list.
* Added Finnish cards.
* Fixed a bug when using the Alchemy picking and require defense rules together.
* Fixed a bug when using randomizers with saved lists.

Thanks to BoardGameGeek.com members for finding the bugs.

Ratings and Reviews
Would pay for update
Since this app is no longer supported, you will need to add the cards from recent expansions manually. Which is not that big a deal. Even having to do that, this is still the best Dominion randomizer app. I (and it looks like many others) would be happy to pay a buck or two to avoid having to manually enter cards...and at the same time support the developer for his fine work on this.
Please add card descriptions!
Good app, but card descriptions need to be added, otherwise it's easy to end up with an unbalanced random list and only after you take all the cards out you find out there are no cards that give you extra actions for example.

Tapping on a card entry should display whether it provides +1 Action, +1 Buy, etc.

There's another app out there that does this, but it has other faults and fewer options. Overall, I'd prefer to use Dominion Kingdom Deck, but card descriptions are indispensable.
So close to perfect!
I gave it 5 stars because it was free and veeeeery useful(rare combo). Thanks! Couple of points: is there a way to view your last random set of cards if you happen to accidentally hit randomize again? Maybe a "view previous random set" option. Easier way to input player created sets from BGG. Other than that this app makes playing easier, thanks again. Needs cornucopia added !!!
Information
Seller

Jerry Hsu

Size

1.2 MB

Category

Compatibility

Requires iOS 3.1 or later. Compatible with iPhone, iPad, and iPod touch.

Languages

English, Czech, Dutch, Finnish, French, German, Italian, Korean, Slovak, Spanish

Age Rating

Rated 4+

Copyright

© 2010 Jerry Hsu

Price

Free
Supports
Family Sharing

With Family Sharing set up, up to six family members can use this app.