DOOM II RPG
By id Software
This app is only available on the App Store for iOS devices.
Description
Hell has returned! Prepare yourself for DOOM II RPG for the iPhone, the sequel to id Software's hit turn based mobile game Doom RPG.

A mysterious distress signal calls your team—two hardened Marines and a rookie scientist—to a Union Aerospace Corporation research facility on Earth's Moon, but you were unprepared for what awaits you. The forces of Hell itself have taken hold of the station and its inhabitants! Zombies and demonic monsters roam the halls, killing all who cross their path. Your backup squad is dead. Mysterious scientists conspire against you. Even the facility's AI cannot be trusted. You are being hunted from all sides. Now, you must fight to survive, and try to stop the invasion—and uncover the truth—by any means available. The fate of all humanity is at stake!

Choose one of three different characters and get ready to battle through hordes of deadly monsters, including returning favorites such as the Pinky, Cacodemon, and Revenant, as well as new threats like the Sawcubus and Sentinel! Battle towering bosses such as the Cyberdemon, Spider Mastermind, or the Pinkinator!

Interact with other survivors of the invasion to get information about your environment and solve puzzles, but beware…not all of them can be trusted!

Wield an array of lethal weapons, including classics such as the Super Shotgun and BFG, or powerful new ones such as the Holy Water Pistol! Take control of a Sentry Bot to kill your enemies from safety, or to scout dangerous areas! Zoom in with a scoped Assault Rifle and go for a headshot!

Build your character's power level through experience points earned by killing monsters! Use treadmills, armor repair stations, and target practice machines to boost your skills even further! Still need an advantage in combat? Use Nano Drinks to bestow abilities such as health regeneration, fire immunity, poisoned weapons, or extra speed! Purchase resources from vending machines, or scrounge what you can from the corpses of defeated monsters!

Hack security systems! Aim your sniper scope using the accelerometer! Tap and swipe the screen to explore the environment, engage in combat, navigate intuitive menus, and interact with other characters! Touch the heads-up-display to quickly access your healing items, armor, map, or PDA!

Stay alert! Stranded civilians, secret passages, deadly traps and more await you within the surprising world of DOOM II RPG!

FEATURES:

•Sequel to the 2005 mobile hit DOOM RPG. By the creators of the iPhone hit Wolfenstein RPG!

•Battle through 9 maps, spanning the Moon, Earth, and Hell itself. Over 8 hours of gameplay!

•Choose from 3 playable characters, each with different starting attributes and dialogue experiences

•Over a dozen unique weapons to find, plus improvised weapons such as Sentry Bots or even plumbing fixtures

•Eleven different enemy types—each with multiple, increasingly-powerful forms—plus four bosses

•Upgradeable skill attributes allow you to customize your character for maximum lethality

•Hack security systems to open restricted areas, hijack sentry bots, or lower prices on vending machines.

•Power up using Nano Drinks to give you an edge in combat

•Interact with NPCs to get information, solve puzzles and survive the hazardous environment

•Loot the corpses of your foes to find useful items—or junk.

•Auto-mapping feature and mission-tracking PDA functions ensure you'll never be lost again

•Customizable controls; change the size, style, and placement of the control inputs

•Three levels of difficulty will give players of all skill levels a challenge

•Detailed graphics and complex levels which take advantage of the power of the iPhone

•Bonus digital comic included!
iPhone Screenshots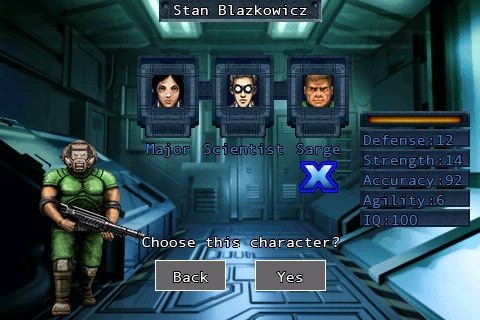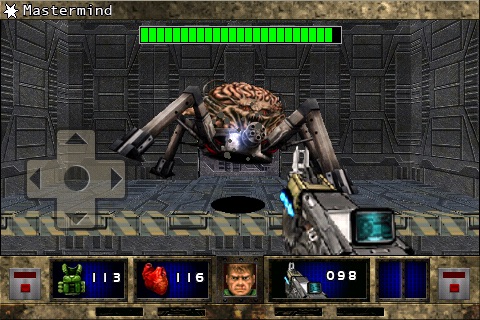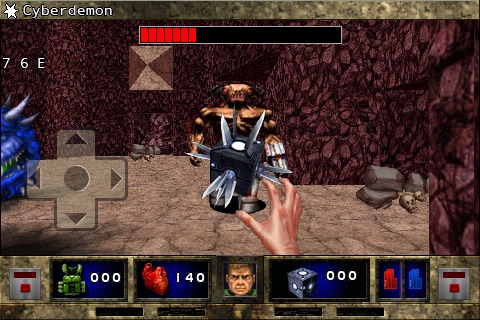 Customer Reviews
This game = Wolfenstein RPG 2
Wolfenstein RPG takes place in the year 1945. DooM RPG 2 takes place in the year 2145. That's EXACTLY 200 years. Although DooM RPG 2 never EXPLICITLY states this, Stan Blazkowicz (the "Marine") is the great-great-great grandson of the hero from Wolfenstein RPG (BJ Blazkowicz). The final boss of Wolfenstein RPG is called the "Harbinger of Doom". Aside from the fact that it has all 4 of its limbs, the Harbinger of Doom looks IDENTICAL to the Cyberdemon in DooM. It's well documented that Hitler practiced occultism in WWII, so a creature summoned from Hell makes PERFECT sense. BJ uses the Spear of Destiny to battle the Harbinger and cuts off its left arm and right leg (the same limbs that are mechanical in DooM). When you win the battle, the Harbinger is forced back to Hell. As he's being dragged down, he swears vengeance against BJ's descendants. Hence, 200 years later, look who battles the Cyberdemon in Hell...

AWESOME way to bridge to link between iD's two genre-defining franchises!!
Never played a turn based RPG before...
I just finished this game and, wow. thats all i can say! its a lot of fun scouring the levels for the secrets and playing the hacking minigames on the vending machines/storage rooms. my only criticism is that this game is far too short! i beat it merely in 4-5 hours on medium difficulty. if the game doesn't instantly grab you and make you want to play after a few minutes just play through to the second level and i can say with certainty that you will want to continue. i really wish this game was longer :(
Epic Masterpiece!
The Best Turn-Based First-Person RPG on the App Store, Hands down!!!
All the bad reviews below are probably written by folks that skipped the dialogue throughout their gaming careers if you know what I mean. If you are looking for a fast paced run & gun then get Wolfenstein 3D or Doom Classic. This is not that type of game.
This gem of a game is more like a modern Eye of the Beholder or The Bards Tale(the 80's one, not the funny XBox one that is now on iOS too) with Doom II's story, characters, graphics, sounds and overall theme. If you've played Wolfenstein RPG then you'll be familiar with this game already. It's like that great game but bigger, badder and more Doom-y.
My only regret about getting Doom II RPG is that I waited so long to get it. I've been waiting for a sale for a while and finally broke down and got it. Within minutes I was mad at myself for being cheap. It's only $2.99 and in retrospect, I would have paid more. It's dozens of hours of fun with multiple characters that each have different stats and dialogue. I love it.
P.s. Doom 3 RPG and Rage RPG would be really great. Hint, hint....
View in iTunes
$0.99

Category:

Games

Released:

Feb 08, 2010

Version:

1.0

Size:

48.7 MB

Language:

English

Seller:

id Software
Compatibility: Requires iOS 2.0 or later. Compatible with iPhone, iPad, and iPod touch.