DOOM Resurrection
By id Software
This app is only available on the App Store for iOS devices.
Description
Critical Acclaim for DOOM Resurrection:

iTunes Rewind 2009 "Top Sellers" list

"It really feels like a thrill ride. The production values are sky high, offering some of the best visuals thus far on the iPhone." – Nigel Wood, iPhoneGamesNetwork

"Seriously though, if you consider yourself an iPhone or iPod touch gamer in the slightest, do yourself a favor and buy Doom Resurrection. When it comes to App Store shooters Doom Resurrection is hands down the best I've played." – Ironcell, OS X Reality

"As a reviewer, there are games I have to play to the end and games I want to play to the end, and DOOM Resurrection easily fell in the latter category. The game makes good use of the DOOM 3 graphics and audio to provide an immersive game that sucks you in for the duration." – Arnold Kim, Touch Arcade

"It's the first authentic hardcore game on the iPhone." – Dean Takahashi, VentureBeat

-----------------------------------
Immerse yourself in the first person on rails experience that takes your iPhone or iPod Touch beyond previously imagined limits. Introducing DOOM Resurrection, a brand new, technologically advanced, heart-pounding chapter in the legendary DOOM Saga!

Scientists on a remote research facility on Mars have lost control of their experiment and all Hell has broken loose. As the last surviving Marine in your unit, you must defeat Hell's minions and unravel the mystery of what has happened on Mars. Earth's future depends on you!

Courage alone will not be enough to stand up to the evil that awaits you. Utilize a devastating arsenal of weapons, helpful NPC's and your environment to succeed. With an assault rifle, shotgun, a vicious chainsaw, and more, you will even the odds in a raging battle against unnatural beasts hell-bent on flaying your flesh and damning your soul.

With its revolutionary control scheme, breathtaking visuals, and intense story, DOOM Resurrection is sure to provide the adrenaline rush you've been craving.

Do you have what it takes to defeat evil and survive the Resurrection?

Features
• An all-new chapter of the DOOM saga designed exclusively for the iPhone and iPod Touch
• Advanced graphics engine designed from the ground up to take full advantage of the power found in Apple's mobile devices
• Wield an arsenal of heavy-hitting weapons to defeat a variety of hideous monsters and bosses
• Innovative controls for fast-paced and accessible first-person action
• Intense story that new players and long-time DOOM fans can enjoy

8 all new levels
• 6 various Mars themed levels
• 2 Hell themed levels
What's New in Version 1.1
Brand new game mode, Challenge mode, with 40 unique challenges.

All new Bonus Map!
iPhone Screenshots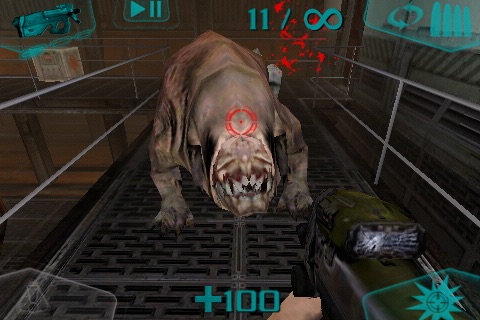 Customer Reviews
Time hasn't been the kindest.
DooM Resurrection is a rail shooter, similar to RAGE, with motion controls. The graphics, while superb in 2009, don't look up to par with today's iPhone apps, especially the mancubus. But, aside from choppy enemy animation, this is a great game. Well worth the current $1 price tag, but not at all worth the original price of $10. There is a shocking amount of content here for a dollar. An 8 level story mode taking 2.5 to 3 hours, an arcade high score mode, bonus maps, challenge levels, and 4 difficulty settings provides a wealth of content and replay ability. Surprisingly, the story is not the worst thing I've ever heard either! And this is DooM! If you want to buy a DooM game on your iPhone, this is the one (or DooM ii RPG) as DooM classic is rather lacking in features compared to the (cheaper and better) PC-DOS/Windows/Mac OS/Mac OSX/Linux versions.
A MUST BUY!!!!! PERIOD!!!
This game is incredible. Every aspect is top notch. The visuals, sound, gameplay, story are all perfect!! I actually like that it moves you around. You only control the aiming. Hold on, I know that sounds bad but in a lot of iPhone games (trust me I have 200+) the movement and aiming can be hard to do. In this game you can still take cover when needed and dodge fire. The movement is actually really good for FPS on the iPhone based on other FTS's out. It is a true DOOM game. I am loving this game. This game is absolutely worth the $10!!! Buy now, you won't regret it. Of course, this is just my opinion, but look at the other reviews as well. I bought this because I buy ALL the big games on iPhone but this is a top 10 game for sure!! And that is something since I have between 200 to 300+ games. If you have any doubts about the controls DONT!! this game is the exception to the rule. I know that it's hard to think that not moving on your own would be bad but it is perfect!! Not worring about movement and concentrating on the story and aiming makes it much more enjoyable of a game! Trust me. Bite the bullet and get this NOW!!!!!!!!!! Thank you for reading my review and now buy it!!!! And no, I have nothing to do with the team that made the game. I'm just a HUGE gamer and want others to enjoy this........ Take care and enjoy!!!!!!
Needs update -- best game ever!!!
The only thing wrong with this masterpiece is that the maker stopped updating it years ago. I keep getting the iOS warning that it needs to be updated to work well with iOS 11 but there isn't one in the App Store.

Are you listening, kind souls at ID Software? We love your work, please keep Doom alive for the youth of The World! And for older youth like me too. ;)
View in iTunes
$0.99

Category:

Games

Updated:

Aug 16, 2009

Version:

1.1

Size:

84.8 MB

Language:

English

Seller:

id Software
Compatibility: Requires iOS 2.2.1 or later. Compatible with iPhone, iPad, and iPod touch.