Doom's Knight
By MOALAB LLC
This app is only available on the App Store for iOS devices.
Description
iTunes and MAC APP Store reviews of our DOOM themed games (Doom's Knight, Doomed Heretic, and Doomed Freedom) :-
"great game"
"AWESOME!!"
"Unbelievable!!"
"Love it..."
"Cool"
"Fun throwback game"
"awesome game, good for fans of DOOM"
"Perfect game to play while on the airplane."
"Wow! It has all the shooter actions that I remember."
"I'm impressed! High marks!"
"it's a great fun doom game"
"Great Game for the Mac and a MUST for all DOOM gamers."
"This game has better graphics than the original with new updated monsters that we have all grown to love. Great game for all the DOOM gamers out there. Look forward to trying the other DOOM games available from MOALAB LLC."
"If your a fan of doom then you'll definitely want to get this game."

***

To see more levels and new games, make sure to leave reviews and five star ratings…

********

You've been punitively posted to Mars after assaulting your commanding officer, who ordered your unit to fire upon civilians. The Martian marine base acts as security for AGM corporation (AGM), a multi-planetary conglomerate, which is performing secret experiments with teleportation by creating gateways between the two moons of Mars, Phobos and Deimos.

Phobos is considered by space marines to be the dullest assignment imaginable: "with no action for eighty million miles, your day consisted of suckin' sand and watchin' flicks in the rec room." This all changes when the AGM experiments go horribly wrong.

Computer systems on Phobos malfunction, Deimos disappears entirely, and "something fragging evil" starts pouring out of the gateway, killing or possessing all AGM personnel. Responding to a frantic distress call from the overrun scientists, the Martian marine unit is quickly sent to Phobos to investigate, where you're left to guard the hangar with only a pistol while the rest of the group proceeds inside. Over the course of the next few hours, you hear assorted garbled radio messages, gunfire, and screams, followed by silence: "Seems your buddies are dead…or WORSE…"

As the last man standing, your mission is to fight through the entire onslaught of demonic enemies by yourself in order to keep them from attacking Earth.

*** *** *** ***

If you liked Doom, you'd like Doom's Knight. All new 36 new levels and new sound track will put you in the middle of the action.

Visit www.MOALABLLC.com to view the latest video previews.

Features:
- 36 new levels
- 9 weapons: Fists, Pistol, Shotgun, Chain gun, Rocket Launcher, Plasma Gun, saw, Shotgun, and BFG
- Multiplayer via Wi-Fi
- New soundtrack

FAQ
Q: Is there an iPhone \ iPod Touch version?
A: Yes.
http://itunes.apple.com/us/app/dooms-knight/id412364796?mt=8

Q: Is there an iPad version?
A: Yes. http://itunes.apple.com/us/app/dooms-knight/id412130803?mt=8

Q: How to switch weapons?
A: Tap on player's face on HUD.

Q: How to open the door, call the elevator, push the button?
A: Get close to the door, elevator, or button then tap on screen.

Q: How to change control preferences?
A: From the main menu, pres the Options buttons, and select one of the layouts on top of the screen.

Q: Can I connect iPad and iPhone to play multiplayer?
A: Yes. You can play cooperative multiplayer games using Dooms Knight.

Q: Cheats codes?
A: In game, do a 4 fingers tap on screen and a keyboard will show. Type one of the classic Doom cheat codes:
iddqd - godmode
idkfa - all weapons, keys and armor
idclip - walk through walls
What's New in Version 1.1
- New Icon
- Changed cheat codes to comply with classic Doom cheat codes e.g. iddqd
iPad Screenshots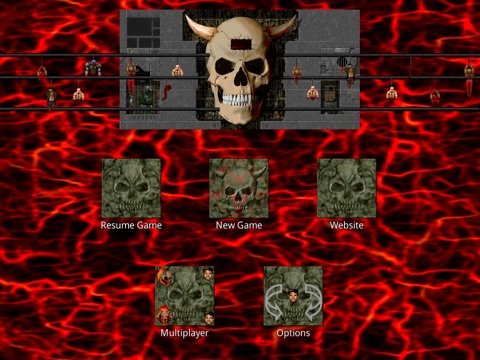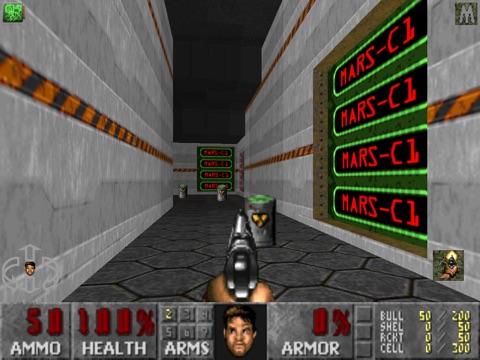 Customer Reviews
So So.
Not as good as the original Doom. Layouts and graphics have a lot to be desired. Repeated layouts thru every level. Graphics are way less than the original.
Can't save?
Should you be able to save a game and come back to it or do you have to completely finish a level once you start it? I save on the map screen and if I die it will restart from my saved point. But, if I save a game and exit, when I reopen the game it starts over. I really need this to save correctly.
Great but not universal app
I bought this game while it is a really good game I was disappointed by the fact that if I download the iPad app I still have to pay for iPhone app which is very frustrating because I paid for this app.
View in iTunes
$2.99

Category:

Games

Updated:

Jul 05, 2012

Version:

1.1

Size:

36.4 MB

Language:

English

Seller:

MOALAB LLC
Compatibility: Requires iOS 3.2 or later. Compatible with iPad.
More iPad Apps by MOALAB LLC