DP Control
By MOTU Inc.
This app is only available on the App Store for iOS devices.
Description
DP Control from MOTU Inc. allows you to control MOTU's Digital Performer audio workstation software over a WiFi network using your iPhone, iPad or third-generation iPod Touch.

Built specifically for use with Digital Performer, DP Control gives you easy access to the most important transport and mixer functions for tracking, simple mixing, and live performance.

DP Control works in both portrait and landscape orientations. Designed with comfortably large buttons and controls, DP Control can easily be used with only one hand by pressing buttons and swiping to new pages with your thumb.

Feature highlights:

* Real two-way communication — everything that you update in DP updates in DP Control, and vice versa.

* Editable time counter with selectable format (including real-time, SMPTE time, samples, and marker names).

* Main transport control and many other transport-related Control Panel functions (click, countoff, memory-cycle, etc.)

* Page-controlled, scrollable mixer with animated, recordable pan knobs and volume sliders, plus level meters and peak indicators.

* Solo, Mute, Record-enable, Play automation, Record automation and automation mode settings for each track.

* Track list for your DP project, complete with collapsable nested track folders and dynamically linked track organization that matches your currently open DP project on your Mac.

* Infinite undo, with a view that shows you the names of the next and previous tasks in your DP document undo history.

* Marker creation and naming.

* New Take, Previous Take, and Next Take functions that operate on all of the record-enabled tracks at once (essential for tracking drums).

* Take selection, by name, for individual tracks. Also New Take, Delete Take, and Rename Take for the current take on any individual track.

* Save function for saving changes made to the DP document.

Requirements:

- Compatible with iPhone, iPad, and third-generation iPod Touch
- Not compatible with first or second generation iPod Touch
- Requires Digital Performer 7.2 or later running on a Mac on the same WiFi network as DP Control
- Must disable your Mac's firewall, or enable communication to Digital Performer through the firewall
- Must turn off BlueTooth on your mobile device before running DP Control

What's New in Version 1.0.2
Now contains English and Japanese versions.

Added a warning alert that appears if the user attempts to run the app on an unsupported device.

Minor bug fixes.

Remember to turn off BlueTooth on your mobile device before running DP Control !
iPhone Screenshots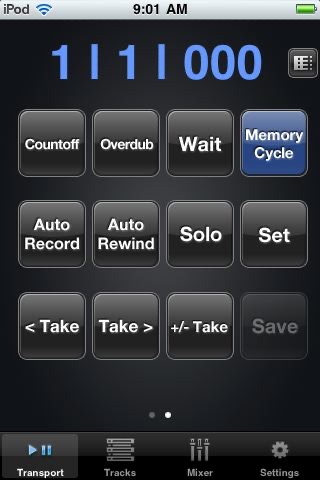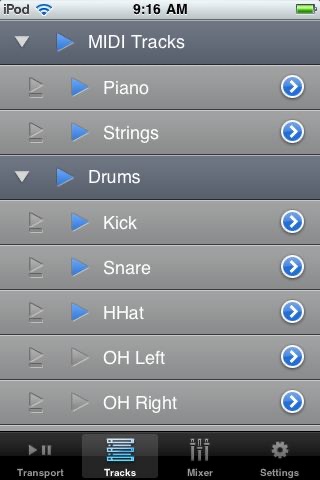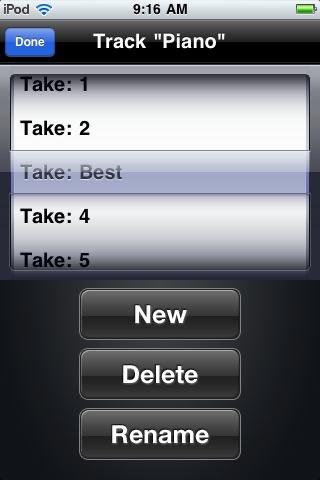 Customer Reviews
DP Control - My Most Trustworthy App
DP Control - Where have you been? And why weren't you developed sooner? ;-) Makes it SO EASY to record drums via my iPhone 4S! Don't have to mess with running long 50 foot USB or monitor cables into the drum room to connect a separate monitor or keyboard or mouse... Don't have to worry about losing a bluetooth mouse or keyboard connection trying bring those into the drum room... Don't have to worry about walking/running back and forth between takes (although that's decent exercise too :-D). Although I agree with other users that I wish I wouldn't have to keep reestablishing a DP Control connection if I have to come out of the app in order to text or make a phone call, etc., it's only a minor inconvenience. No big deal... Thanks so much MOTU!!! A must have app!!! It just plain works... :-)
will be 5* if iPad version happens
i got this app some time back, when it first came out. i've used DP for over 10 years for recording and live sound, and got it for the live sound part of my work, controlling my sound rig through DP without a snake from the back of the hall. i've also done that using VNC apps on the iPhone, but DP Control has better response and is better geared toward smaller screens.

my big gripe is that the resolution of the iPhone screen isn't quite enough to give you good fader control. and the iPad version is just a magnified iPhone screen. duh. so you can't really get better control until they create an actual iPad version. i would buy an iPad in a Heartbeat if that happened, because this is central to my live sound work.

oh, and it would get even more stars if it also supported DP's CueMix DSP software.

as people have pointed out, it's a little sloppy when the phone goes to sleep, but i've found you just have to wait to make sure the wifi connection is made, or just launch the app twice after sleep. and really, it just shouldn't even launch with bluetooth on (but then, neither should the VNC apps that also break).

all that said, it is a very fine app, and useful in my work.
VERY Helpful!
A MUST HAVE! This liitle app has saved me tons of time not to mention the added convenience of being able to trigger and modify crucial settings remotely.

I'm using it on an iPad for which there currently is no app so I have to magnify it. The only couple of glitches besides that is that it sometimes gets confused when you tap the screen. It sometimes thinks you want to scroll the screen when you are tapping controls so you must touch the screen light and quick otherwise it will try and scroll the screen. During scrolling it doesn't snap very well and you will sometimes end up with it halfway scrolled on top of which it is difficult to get it to scroll completely to one screen or the other. I second the other complaints about the controls not being very resolute.

PLEASE MAKE AN IPAD VERSION!!!

Other than that this is definitely the app to have if your looking to remotely control the main functions of DP.
View in iTunes
Free

Category:

Music

Updated:

Sep 24, 2010

Version:

1.0.2

Size:

3.1 MB

Languages:

English, Japanese

Seller:

MOTU
Compatibility: Requires iOS 3.1.2 or later. Compatible with iPhone, iPad, and iPod touch.
More iPhone Apps by MOTU Inc.