Drawn: Trail of Shadows Collector's Edition HD (Full)
By Big Fish Games, Inc
Open iTunes to buy and download apps.
Description
See the world of Drawn as never before in the highly anticipated third installment of the cinematic series. Travel deep into each painting to explore fantastic gardens, climb high into frozen mountain passes, and unlock the mysteries of the Ferryman's caves on your quest to save the boy with the power to create the painted worlds. Discover and confront the source of evil that seeks to possess that power...

Set in the years before the events of The Painted Tower and Dark Flight, Drawn: Trail of Shadows takes players on a magical journey through the distant past. See the world of Drawn as never before while traveling deep into each painting. Become a part of the story by following clues scattered throughout paintings to save the boy. Who is he? And what role will he play in the future of the kingdom?

The answers to these questions will be found along the Trail of Shadows.

☆☆☆☆☆ Features ☆☆☆☆☆

✓ Enter dozens of paintings!
✓ Interact with an evolving pop-up book
✓ Discover the hidden past of Drawn!

✓ This Collector's Edition includes bonus features like:
--Bonus game content in The Cave Beneath the Tree
--New Smart Strategy Guide mode and hint system!
--Fabulous extras like wallpaper, soundtrack, and concept art!

☆☆☆ Discover more from Big Fish Games! ☆☆☆

We're big believers that everyone is a gamer at heart and that games are a great source of joy and relaxation. Founded in 2002, Big Fish Games is a developer, publisher and distributor of casual games. We offer a virtually endless selection of interactive games that you can enjoy anytime, anywhere — on your PC, Mac, mobile phone, or tablet. Renowned for offering A New Game Every Day!® on www.bigfishgames.com, Big Fish Games distributes more than two million games per day worldwide.

We have many other great iPad games including:

➠ Fairway Solitaire
➠ Strange Cases: The Lighthouse Mystery Collector's Edition
➠ Shattered Minds: Masquerade Collector's Edition
➠ Haunted Halls: Green Hills Sanitarium Collector's Edition
➠ Cursed Memories: The Secret of Agony Creek Collector's Edition
➠ Card Ace: Casino
➠ Mahjong Towers Touch
➠ Magic Encyclopedia: First Story
➠ Twisted Lands: Shadow Town Collector's Edition
➠ Mystery Case Files: 13th Skull Collector's Edition
➠ Drawn: Dark Flight Collector's Edition HD
➠ Shiver: Vanishing Hitchhiker Collector's Edition
➠ Awakening: The Goblin Kingdom Collector's Edition
➠ Cave Quest
➠ Dark Tales: Edgar Allan Poe's The Black Cat Collector's Edition

You can always find an updated list at www.bigfishgames.com!

Try out Big Fish Games' iSplash! newsletter and never miss a sale or new game again! Sign up at: http://bigfi.sh/isplash

Follow us on Twitter: http://bigfi.sh/BigFishTwitter

Become a fan on Facebook: http://www.facebook.com/BigFishGamesMobile
iPad Screenshots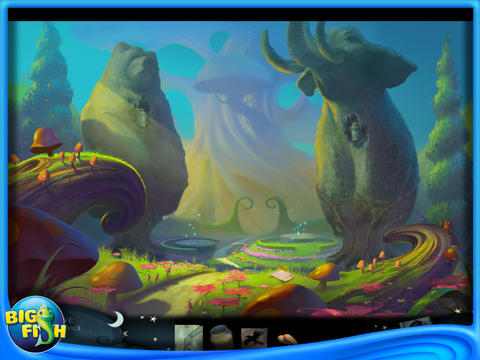 Customer Reviews
can't get past the first task!!!
please, people, save your money until they make a working version of this game. Right now it is Sooo frustrating: go into painting. Look at note and get piece of bird painting. Go to well to get key to house. Go in house. Complete a bunch of stuff in the house. Walk outside. Uh oh. You can't do anything until you look at the note you already read and pick up the pice of the bird painting you already solved. And pretty soon you finally get thru a door to collect your third piece of chalk for a painting uh oh in the house. All this just to find you must go back by the house and won't be able to get thru the door again because, unlike the 8 sticks of blue chalk you've received just for accidentally touching a space by the blue chalk a few or right times, one of the elements you have to have to open the door (star) won't reappear again. Or at all if you just swipe the book off the table without looking at it until a moment later.... Crazy stuff. Someone needs to chain themselves to their desks until this update is written and the game is fixed or else start with the refunds and go help furious apps with the haunted 3 (aka the game I've waited longer for than Mario 3 as a kid.
Very Glitchy and Frustrating!
The first two installments of the Drawn series are fantastic, which is why I'm surprised this one is such a disappointment. It allows you to collect the same items multiple times, and if you return to an area (because sometimes you don't know you're missing items until you get to a new task/area), you find it has reset itself, and you have to start over...and if you had to collect something from somewhere else in order to complete THAT task, you will be going in circles without accomplishing anything. I got frustrated and quit, only to return later the same day to find I cannot continue using the same profile...I have to create a new one and start over. How did you guys do such a flawless job on the first two only to make such a colossal mess of the third installment?!??!? Please fix ASAP!
Terribly disappointed
After playing the first two installments of the drawn series, I had high expectations for the third- unfortunately they crashed and burned. Though the game still has the beautiful art work and ambiance of the first two, the glitches that this game has prevents game play. You can pick up items more than once, and when you try to solve puzzles, if you find that you're missing an item that you need to solve it, and you leave the page to collect the missing item, the puzzle resets itself. All in all, you just can't make progress on this game. I hope that this glitch will be fixed, so that everyone can enjoy the game the way it was intended to be enjoyed.
View in iTunes
$6.99

Category:

Games

Released:

Nov 19, 2012

Version:

1.0.0

Size:

1.13 GB

Languages:

English, French, German, Japanese, Spanish

Seller:

Big Fish Games, Inc
Compatibility: Requires iOS 4.2 or later. Compatible with iPad 2 Wi-Fi, iPad 2 Wi-Fi + 3G, iPad Wi-Fi (3rd generation), iPad Wi-Fi + Cellular (3rd generation), iPad Wi-Fi (4th generation), iPad Wi-Fi + Cellular (4th generation), iPad mini Wi-Fi, iPad mini Wi-Fi + Cellular, iPad Air, iPad Air Wi-Fi + Cellular, iPad mini 2, iPad mini 2 Wi-Fi + Cellular, iPad Air 2, iPad Air 2 Wi-Fi + Cellular, iPad mini 3, iPad mini 3 Wi-Fi + Cellular, iPad mini 4, iPad mini 4 Wi-Fi + Cellular, 12.9-inch iPad Pro, 12.9-inch iPad Pro Wi-Fi + Cellular, 9.7-inch iPad Pro, and 9.7-inch iPad Pro Wi-Fi + Cellular.