Drone Station: Multi Control for Your AR.Drone
By Logic Consulting LLC
Open the Mac App Store to buy and download apps.
Description
Drone Station is a Mac OS X compatible application for remote control of the Parrot AR.Drone 1.0 quadricopter over a WiFi connection. Drone Station allows you to use a variety of commonly available joysticks, gamepads, and controllers to control your drone.

It may be able to fly the AR.Drone 2.0, but there will be no video. We are working on an update to resolve this, but it is not going well. We are unsure if we will be able to make it work at this time.

NOTE: Please disconnect all other networks or this app will not work. Unless your network class is something different than 192.168.1.X you must disconnect all other interfaces. If you don't, you can't connect to the drone. Easy step by step instructions are in the quick reference guide.

Summary of features:
* Compatible with AR.Drone firmware 1.5.1 and above.
* Real time video recording from front and bottom AR.Drone cameras
* Image capture from front and bottom AR.Drone cameras
* Extended range by use of external USB WiFi dongles and antennas
* Animated configuration screen, allows you to see the effects of changes
* Simple drone simulator control check lets you practice your controls before flight
* On screen, animated attitude, altitude, directional, and battery gauges.
* Full Screen mode
* LED light customization
* Preprogrammed Flight Animations
* RC Mode 2 or 3 capability for gamepad controllers
* invertible Altitude Control

List of Compatible Controllers:
* Wired USB Xbox 360(TM) Controllers
* Wired USB PS3(TM) Controllers
* Logitech Extreme 3D Pro joystick
* Thrustmaster T-Flight Hotas X (in PS3 mode)
* Logitech Dual Action Gamepad
* Keyboard and Mouse
* Wii(TM) Motion Controllers with Nunchuk and/or Balance Board

Note: Please fly in a safe area, away from humans, animals, and valuables. When using the balance board, make sure you have a large flying area unless you are extremely coordinated. Start with minimal flight maximum settings and work your way up.

If new firmware for the AR.Drone is released, please wait and check this description or the in app news to see if it is compatible.

Always reset your drone after a firmware update to ensure compatibility.

Check out http://drone-apps.com for more information or to contact us
What's New in Version 1.3
-Fixed problem with swap sticks and elevation inversion not getting saved to preferences.
-Increased video feed efficiency.

If you are having a problem connecting, please press the "unpair" button on the bottom of your drone. If you are still having problems, please contact me at support@logicapplications.net

If you like Drone Station, please leave a review with every update. Thanks,
-John
Screenshots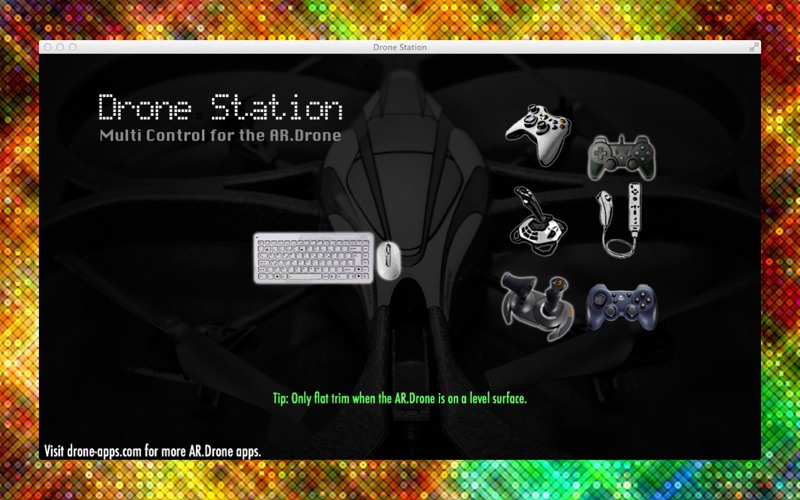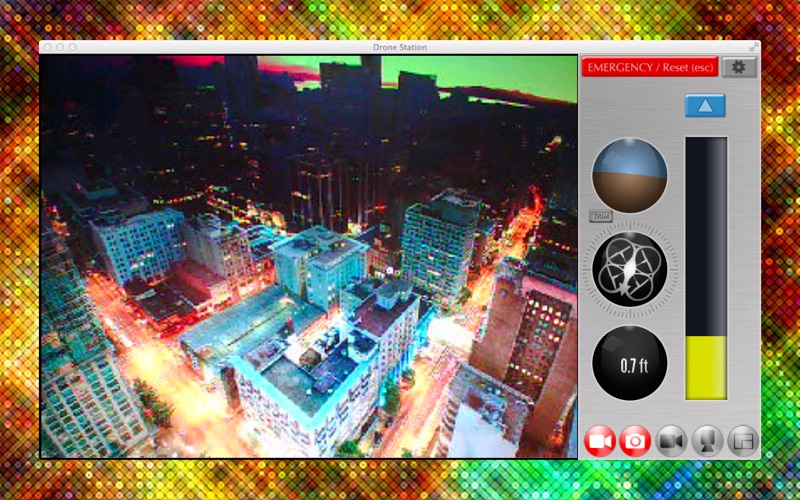 Customer Reviews
Has promise but fails on the simplest of features
This app controls my Ar Drone 1.0 but the lack of switching the flying mode or customizing button layout is a serious flaw in this software. I am a Mode 2 flyer and I can not even fly using this app, The description states that it is mode 2 and 3 compatible but I find nowhere how to change the mode. I was really hoping this software would be a nice alternative to using a tablet or idevice but with the lacking mode feature this software is no better and I really wish I could get my money back because it looks like the developer has all but abandoned this app.
Can't get passed "Ready to Fly"
I'm running on fully charged AR Drone 2.0 and wireless hooked up as prescribed in the documentation. I got everything working and app controls the flying icon on app but after I hit the "Ready to Fly" button it just crashes. This is very disappointing and I am disappointed about the support for this app. There is no refund option for this kind of situations. $10 is really a lot of money for an app, especially that doesn't work like it claiming. I should get my money back if the service is not provided.
Crashes every time
i can connect to the drone 2.0 but as soon as i hit ready to fly the app crashes. i wasted $10 on this software just for it to take up space on my computer, and it seems alot of people have the same problems with this so i would not buy it until they come some out with a new version fixing this app. apple really should do something because this app is a scam they need to take it off the store until it is fixed.
View in Mac App Store
$9.99

Category:

Utilities

Updated:

Feb 07, 2012

Version:

1.3

Size:

7.0 MB

Language:

English

Seller:

Logic Consulting LLC
Compatibility: OS X 10.6.6 or later