Dropzone 3
By Aptonic Limited
Open the Mac App Store to buy and download apps.
Description
Dropzone makes it faster and easier to copy and move files, open applications and share files with many different services.

Dropzone 3 is a unique and amazing app that's like nothing you've ever used before.
We've paid fanatical attention to every detail and built an app that looks and feels like an integral part of OS X.

Dropzone ships with a powerful scripting API and with a little programming knowledge you can modify any of your actions or even create entirely new ones. This gives Dropzone unlimited extendability and utility. We're always thinking up new actions so Dropzone will become even more useful over time.

Drop Bar is a brand new feature in Dropzone 3 that makes it easy to stash files you know you'll need later. Just drop files on the target and they stick there until you're ready to use them. You can even combine groups of files into stacks and then drop them onto a Dropzone action or onto another app.

Setup your customizable grid of actions how you want and swap in different actions as your needs change.

Features

• Open applications, move and copy files faster than ever before.

• Share with Twitter, Flickr, Facebook or Messages

• Shorten URLs quickly using the newly added Goo.gl shortener. Just select a URL to shorten and press Ctrl+Option+Cmd+S and the shortened URL is automatically copied to the clipboard.

• AirDrop integration lets you drop files or folders from any app and share them with your other Macs over the network.

• Imgur integration lets you share images fast and get a link for pasting. It even allows you to drop multiple images to create an Imgur album. You can use it with or without an Imgur account and it comes setup and ready to go.

• Upload via FTP and Amazon S3.

• Download and install add-on actions that let you upload to services like Google Drive, YouTube and many others.

• Notification Center notifications let you know when your actions finish.

• Powerful multi-tasking engine allows you to run multiple tasks at once and track the progress of each one through the in-grid task status area.

• See how tasks are progressing at a glance in the animated menu item.

• Reorder your actions quickly via drag and drop.

• Launch Dropzone actions with the newly added keyboard shortcuts feature

• Add applications, folders or actions to your grid easily by dragging and dropping them on the Add to Grid area.

• Develop your own actions using the updated and massively improved Ruby or Python API.

We're always working to improve Dropzone and we're going to bring you many free feature updates and more actions in future. We'd love to hear what you think of the app, you can get in touch via the App Store "Support" link, or tweet us @aptonic.
What's New in Version 3.6.0
- Updated and improved app design for El Capitan
- New improved dragging system for opening the Dropzone grid
- You can now lock items in Drop Bar so they don't get removed when dragging out
- You can now add items to Drop Bar via the Ruby/Python API using the dz.add_dropbar(file_paths) API call

Bug Fixes

- Updated all bundled ruby gems
- Made new screen top drag area work with menu bar hiding enabled
- Updated Shorten URL action to work with latest Google API gem
- Fixed some dual monitor bugs with new screen top drag area
- Fixed issue where Shorten URL action was failing under OS X 10.10
- Fixed issue where new screen top drag area showed when dragging layers in Photoshop CC
- Fixed issue where saving to keychain could fail
- Fixed issue where task progress bars could display incorrectly
- Fixed issue where grid could show actions incorrectly greyed out after dragging one Drop Bar stack on top of another Drop Bar stack
- Fixed two reported crashes related to Drop Bar
Screenshots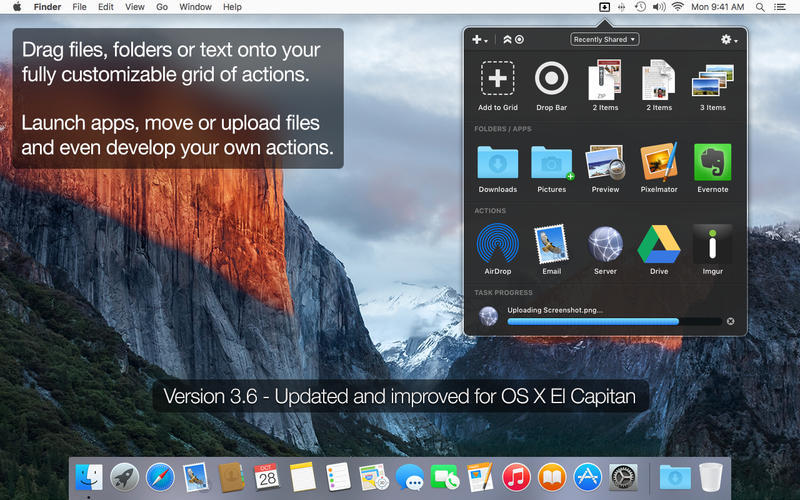 Customer Reviews
Amazing
This is one of my favorite apps. Makes moving files from place to place quick and painless. The drop bar is great for when you know you will need a file later, and need it handy. This app really shines with a multiple monitor setup. Great time saver.
Love this app and the built in FTP Service flawless
When I first saw this app, I kind of laughed I thought that Alfred what be perfect for my work flows, which it is however what I have found so useful, are the folders without having to go through finders which saves me a considerable amount of time. The, built in FTP service works flawlessy for me, I use this daily as I build websites, extremely easy to use.
You need this app
I don't realize how much I use it until I use a machine that doesn't have it. I use it probably 20 times daily without thinking about it.
View in Mac App Store
$1.99

Category:

Productivity

Updated:

Apr 28, 2016

Version:

3.6.0

Size:

16.8 MB

Language:

English

Seller:

Aptonic Limited
Compatibility: OS X 10.9 or later, 64-bit processor