Drumtune PRO | Drum Tuner
By Bram Van den Broeck
Open iTunes to buy and download apps.
Description
Drumtune PRO is the only drum tuner app you'll ever need. The optimized drum tuner algorithm is more powerful than ever! Enjoy a fully revamped drum tuning interface and loads of new features and improvements. Drum tuning made fast & easy! Tune your full drum kit to intervals like a PRO. Maximize your sound. Store your drum tuning presets. Recall your signature sound whenever, wherever! Enjoy accurate pitch analysis and precise tone calculation. Experience usability through clear navigation, instant tuning feedback and animated design. You will never need your ears again. Oww yeah!

‣‣‣‣ support@drumtunepro.com
‣‣‣‣ https://www.youtube.com/watch?v=gXcdgc6N4vY&feature=youtu.be
‣‣‣‣ https://www.facebook.com/DrumtunePRO

○○○ EASY TO USE ○○○
Tune by intuition.The intuitive interface makes tuning your drums easy, fast and fun! Experience a pixel perfect interface to tailor your drum sound! Usability in a sleek jacket.

○○○ OWN YOUR VOICE ○○○
Use our kit interval calculator to tune all drums in a kit to customized intervals. Define sustain and find head pitch for each drum to create your own voice. Design your 'signature drum sound' to express your unique style. Professional sound became affordable just now!

○○○ PITCH DIFFERENCE SCALE ○○○
Check the exact difference between target pitch and detected pitch on an intuitive, clear scale. See at a glance if a tensioning bolt has to be tuned up or down. Maximize your drum sound within minutes!

○○○LUG TUNER MODE○○○
Lug tuner mode assists you with tuning your lugs in the correct order and pattern! Keep visual track of all lug pitch differences and see which bolts have to be tuned up or down. Match lug pitches to obtain equal overtones and even head tension. Tune on the fly.

○○○ NOTE or Hz TONE DISPLAY ○○○
Groove in key! Drumtune PRO displays fundamental tone and batter/resonant head pitches in Note and Hz. Pitch differences are clearly shown to ease tuning to the key of the song you're recording!

○○○ SIGNATURE DRUM SOUND ○○○
Design your signature drum sound with Drumtune PRO. Define fundamental notes and experiment with sustain. Create tuning presets for gig or studio needs. Whatever style or kit you play, you will sound perfectly tuned.

○○○ TUNING PRESETS ○○○
Save your tuning settings as tuning presets in your own library. Create as many custom tuning presets as you like. Easy to recall! Recreate your signature drum sound. Whenever. Wherever.

○○○ KIT BUILDER ○○○
Build custom drum kits. Arm your kits with snares, kicks, toms or floor toms and add them to your personal library. Own as many custom builts as you like and carry them all in your pocket! The library stores your arsenal of tuning presets.

○○○ EARPHONES MODE & TONE GENERATOR ○○○
With earphones plugged in, Drumtune PRO outputs the target pitch directly to your ears as an audible tuning reference. Compare your drum's pitch with the reference pitch you're hearing. Train your ears like a pro! (COMING SOON)

SPECIFICATIONS
◘ Recommended Devices: Microphone equipped iOS device and iOS 8 or later is required
◘ Designed for: iPhone 5 and up, works on iPhone 5 and newer
◘ Will not work on : iPhone 4S and older, iPads and iPods.


DRUMHEAD LIBRARY
•Manufacturer product selection (Evans, Remo, Aquarian)

DRUM SOUND DESIGNER
•Fundamental drum tone (Note/Hz)
•Batter head lug pitch (Note/Hz)
•Resonant head lug pitch
•Resonant head tuning
•Sustain indicator (max, long, med, short)

LUG TUNER MODE
•Automatic display of preset lug amount (#5>#10)
•Pitch difference display per lug
•Active lug selection
•Automatic tuning pattern guidance
•Switch between lug tuner mode and needle display mode
•Lug focus mode

TUNER
•Tune to target notes/pitches (Hz/Note)
•Accurate pitch difference detection (Cents/Hz)
•Needle & scale display-type (incl. color indication)
•Responsive tune up or down indication (animated interface)
•Instant & powerful tuning algorithms
What's New in Version 2.0.4
Drummers, enjoy 2.0.4! :D

A big thumbs up for all users that have provided input for v 2.0.4! Your input and support has been of great help. Thanks for generously sharing your drum tuning experience with us!
If you like the new improvements, please share your love in an App Store review. Thanks!

We'll keep on perfecting Drumtune PRO based upon your feedback, so should you have any improvement suggestion or bug issue: simply shake your iPhone, report it to us and we'll be on it. :)

ATTENTION:
>> WORKS ON: iPhone 5 and newer iPhones.
>> WARNING: iPhone 4S or older devices, iPods and iPads are NOT supported.

°°°°° What is new for version 2.0.4 ? °°°°

>> Added an auto-lock override, so the tuning screen doesn't lock if not touched for a while during your tuning session
>> Fixed a bug that caused some models of iPhone 5 and 5c to freeze in the tuning screen
>> Fixed a bug that caused a freeze on the device of a few users when flipping the batter / reso switch
>> Increased the loading speed for the tuning screen and environment settings screen for all users
>> Further expanded brand & series with new additions to the list
>> A variety of minor improvements were applied, based upon bug reports & feedback from fellow drummers

°°°°° What was new in version 2.0.3 ? °°°°

>> Added Allan Barbosa as featured artist!
>> Added new drum brands and series, too many to list up... Tell us if you want us to add another one!
>> Added new diameters for floor tom and kick drum
>> Fixed some preset editing problem that affected some users and resulted in a crash
>> Fixed a target pitch value issue with the pitch bend switch
>> Fixed minor kit interval UI-issues that resulted in values messed up, and caused a crash at some users
>> Added a variety of tweaks, improvements...

Keep on sharing your feedback with us, we'll listen and improve with your input and support.
We did the tweaking and took Drumtune PRO to the next level, now the drum tuning is yours to do!
iPhone Screenshots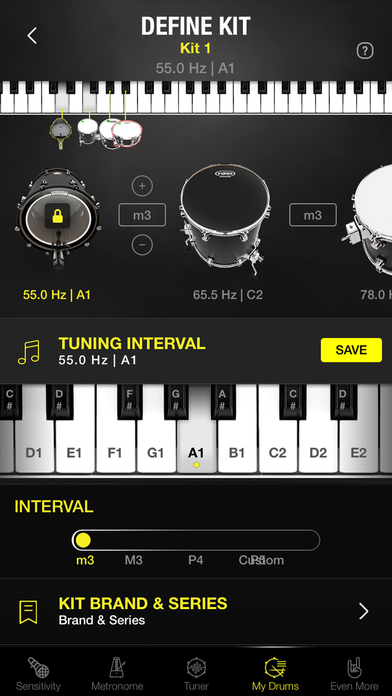 Customer Reviews
This APP doesn't work! 100%SCAM!
App is a complete lie. The microphone on your phone is not sensitive enough to dedifferentiate the pitches. Tighten a lug and it tells you the pitch is lower. Or hit the drum near the same lug 5-6 times and you get reading from 30hz-400hz without touching the lug. I spent hours trying to tune my snare and all I got was stretched out drumhead and a snare that sounds terrible. Don't waste the time or money.
View in iTunes
$7.99

Category:

Music

Updated:

Mar 17, 2017

Version:

2.0.4

Size:

140 MB

Language:

English

Seller:

Bram Van den Broeck
Compatibility: Requires iOS 9.0 or later. Compatible with iPhone, iPad, and iPod touch.