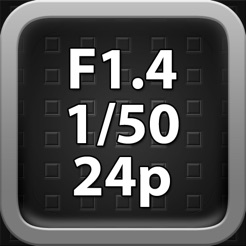 Description
DSLR Slate is the perfect companion for the DSLR Filmmaker. As a Universal App, DSLR Slate runs natively on iPad, iPhone, and iPod Touch. Designed for all needs from student to hollywood, DSLR Slate will be just as useful as the traditional film slate, if not more. "Slating" shots has become standard practice on set and helps streamline shot logging and post production.

Along with a color chart and selectable running timecode, DSLR Slate has all the traditional items for input such as Scene, Take, Framerate, Director, etc. DLSR Slate also provides unique items aimed specifically for DSLR cameras such as ISO Speed, Aperture, Shutter Speed, White Balance, Lens, Filter, and more. While being invaluable on set, these items also prove useful when shooting tests in varying lighting conditions.

Since there are so many items to show the camera, we've come up with a new way of displaying the info. While in SLATE mode, you will see only the traditional items displayed. These items are Scene, Take, Memory Card (Roll), Director, Producer, Project, and Date. Those are the pieces of information that editors use most. Once the camera is rolling, click the START button and a quick burst will begin, flashing all items within about 2 seconds. This allows the camera to "see" each item for at least a few frames, ensuring that all of your information will be captured by the camera. The quick burst is then followed by a Visual/Audio sync and the traditional items will fade back in, ending the slating process.

We have lots of plans for DSLR Slate and the future, so expect updates and new features!

NOTE: 1st and 2nd Gen iPhones & iPod Touches are now officially unsupported. This is due to processor speed and memory limitations. The app will still run on these devices, but not at its optimal performance. If you are using a 1st or 2nd Gen iPhone or iPod Touch, be warned. The issues do not affect iPhone 3GS or later, or the iPad.


INDUSTRY RESPONSE:

VINCENT LAFORET: "It makes slating on set efficient, and ensures that you have all the information you need in post-production."

PHILIP BLOOM: "Excellent DSLR slate for the iPhone and iPad"

STU MASCHWITZ: "The clever 'Quick Burst' display works great!"

MIKE SEYMOUR: "It gives you an enormous amount of information that would otherwise not fit on a slate -- it is terribly helpful."

JASON WINGROVE: "It just looks cool."
Fixes:
-Stability Improvements
-Fixes crashes that were in v1.3

New Features:
-Timecode Hi-Contrast now saved when exiting Slate Screen

NOTE: 1st and 2nd Gen iPhones & iPod Touches are now officially unsupported. This is due to processor speed and memory limitations. The app will still run on these devices, but not at its optimal performance.
Ratings and Reviews
Needs work!
I think this app could have the potential to be one of the best slate apps that I've tried. But it still needs work! The main thing that bothers me is that the app crashes! Luckily it does save most of the information before it crashes... It also drains your battery like no other app I've ever seen before! The app should also play The clap sound even if the phone is on silent Mode because you have to re-slate all the time if you forget...it would also be nice for the slate sound to have a couple options...also the same way the camera takes a picture from the volume button that should be a button to start the slate as well... I would find that a way more effective wait to activate the slate. It would also be nice for the slate to completely change to white not just the timecode... I don't typically rate apps but since I paid 10+ dollars for this app I feel that these are all things that should be taken very seriously! I mean, I have to have an extra charger on set just because it drains my phone dead fast! Really?
Great app, but could be more
I like this app and it has come in handy on many of my own personal shoots, however I see much more potential in the app to become the ultimate tool for an AC or AD. I think being able to work with apps like shot lister to pull from a digital shot list for the slate information would make inputting the info faster and more efficient, or even including a shot listing tool into the app would help with this. More importantly, I'd like to see the app generate a camera report utilizing all of the info that is inputted into the slate. Every time a shot is slated, the shot information gets inputted into the camera report that can then be edited and sent out after the shoot. Adding camera reports alone could make this a very useful and powerful app for an AC. Adding the ability to create shot lists and generate slate information from the shot list would be very useful for the AD on low budget shoots having to perform the duties of an AC.

Otherwise this is a great app for just slating.
Good start, needs more control
I appreciate all the fields, and I think in some situations they can be handy.

But information like lens, focal length, aperture, camera model, and all that jazz gets recorded by the camera as metadata. So it's redundant. There are situations when it comes in handy, but I would appreciate the ability to turn these fields off so I can just get the countdown and SFX for sync sound.

For the price, there needs to be more options added to the app. The Macbeth colors are an excellent start. I'd suggest next, add checkboxes to all the data fields so we can choose what actually gets displayed.
Information
Seller

Chris Bayol

Size

1.1 MB

Category

Compatibility

Requires iOS 3.0 or later. Compatible with iPhone, iPad, and iPod touch.

Age Rating

Rated 4+

Copyright

© 2014 LastShot Apps

Price

$9.99
Supports
Family Sharing

With Family Sharing set up, up to six family members can use this app.