Due — Reminders, Countdown Timers
By Due Apps LLP
Open the Mac App Store to buy and download apps.
Description
Type "Make dinner reservation at 9am tomorrow" and your reminder is set for 9 AM tomorrow.

"Cancel subscription in 1 month" and you get a buzz a month later.

Just tell Due in your own words what you'd like to do, and when you'd like to be reminded.*

There are no awkward date pickers to fight with, nor rigid date and time format to follow.

Your reminder is set as soon as you're done typing.

Due makes sure things actually get done by keeping you on your toes, sending you periodic reminders until you actually mark the reminders complete.

The super-fast reminder app on your iPhone, iPad and iPod touch—now on your Mac.

* Natural date and time parsing available for non-recurring reminders only.


◆ FEATURES ◆

- Fast. Really fast.
Reminders are set as soon as you finish typing what to do, and when to do it.

- Natural date and time parsing
No awkward date pickers nor rigid date and time format to follow. Set due date and time by typing what is natural to you.*

"4pm" works just as fine as "4:00 PM" or "16:00", and "Aug 22" works as well as "22 August" or "8/22". Relative dates like "in 20 mins" or "in 6 months" work too.

Some examples:

- "Collect passport next Monday 4pm"
- "Make dinner reservation at 14:00 tomorrow"
- "Cancel subscription in 1 month"
- "Wish Sally happy birthday on Aug 22 at 8 AM"
- "Phone contract expires May 30 2014"

- Never miss any reminders with Auto snooze
Due repeatedly notifies you of missed reminders until they are marked done or rescheduled, making sure things get done and your list never go stale.

- Fully optimized for keyboard-only operation
Power users can skip the mouse and trackpad. Show or hide Due, create reminders, reschedule them, mark them complete, delete them. Everything you need is a keyboard shortcut away.

- Reusable countdown timers
Precise to the second, they are perfect for timing your coffee, tea and eggs. Set them up once and reuse them forever.

- Powerful recurring reminders
Vitamins before bed each night? Pay rent every 2 weeks on Monday? Submit a report on the last weekday of the month? Yup.

- Keep reminders in sync across your Mac, iPhone and iPad
Due supports sync through iCloud or Dropbox. Create a reminder on your Mac and it will be there on your iPhone and iPad.**

**Sync on iOS requires Due for iOS (sold separately). With Due for iOS 2.0, your iPhone and iPad can sync in the background using Dropbox. Otherwise, Due must be launched for sync to take place.

- Search and Create
Search your reminders and timers. And if you don't find what you want, press Return to create a reminder with your search term.

- Drag and drop to create reminders
Create reminders by dragging emails, calendar events, text, links and more to Due.

- Share reminders with drag and drop, or copy and paste
Send your friend a reminder via Mail, Messages or Twitter by dragging or copying it. It even comes with a link so that he can add that reminder to his own copy of Due.

- Optional Menu Bar, dockless operation
Run Due directly from your menu bar, badge it with unattended alerts, and take Due off your Dock if you like.

- Assignable alert sounds
Assign distinctive alert sound for each reminder; louder and longer ones for important reminders, and subtler ones for less critical reminders.

- Undo and Redo

- Take control of your notifications
Customize how notifications behave—whether they display a notification, play a sound, bounces the icon or highlights the icon in the menu bar—when reminders and timers become due.

If you're on OS X 10.8 Mountain Lion, you can choose between Notification Center or Growl. If you have Growl installed (sold separately), you can also customize how notifications look with themes.


◆ COMPATIBILITY ◆

Requires Mac OS X 10.9 Mavericks or later.


◆ WE LOVE TO HEAR FROM YOU ◆

Email mac@dueapp.com, or choose Help > Send Feedback… from Due. Follow us on Twitter @dueapp.
What's New in Version 1.4.2
Fixes: Search field was not automatically getting focus under OS X 10.11 El Capitan, wasting an additional click before you can start searching.
Fixes: Search field, when not empty, was not automatically dismissed when the 'Esc' key was hit
Screenshots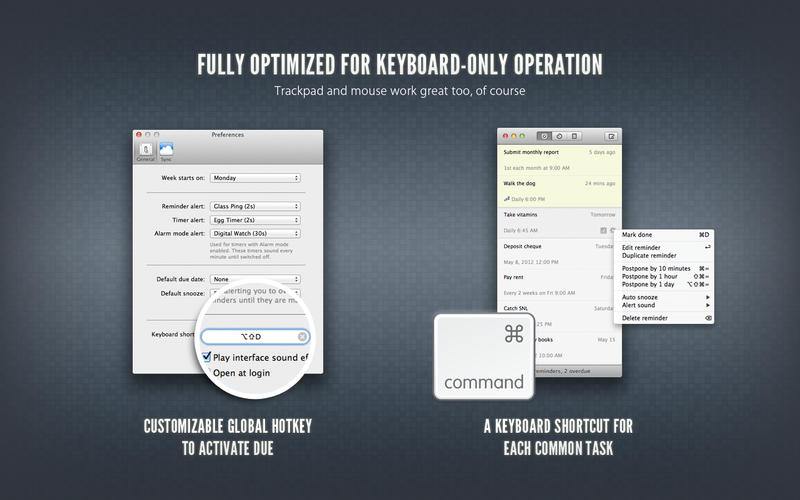 Customer Reviews
Very disappointing
The Due app for iOS is quite nice, but the desktop app is very disappointing. Syncing is a nightmare. There's no way to make it automatically sync in the background, you just have to keep clicking Sync Now. So if you create a reminder on your Mac, it won't automatically sync onto your iPhone. Even when I try to manually sync, it only works half the time. Also, whenever you open your computer after a few hours away, having marked some reminders Done on your iPhone, all those reminders pop up on your Mac screen because it doesn't know you already completed them on your iPhone. I've tried every combination of settings and options, and nothing makes this work smoothly. This was a ripoff and I'm going to try to get a refund.
Desktop version not usable
I am tired of fighting the Mac version of this. I keep trying to edit or even create new reminders within this app but it is messed up and won't let me add them, and has a mind of it's own! I have had this over a year. Stopped using due to some issues. No better and due for an update badly! I use drop box sync and even had it wipe that clean in case there was interference. The mobile app is "ok" and can be helpful and more user friendly, and allowing edits. However, not the Mac version. Thought I'd give it another whirl after having it linger for awhile. Not any better at all, and probably even worse. I don't recomend unless maybe you will NEVER edit anything you have on the MAC version, and just use the mobile version only. idk.
Almost there
Bought both the Mac & iOS versions. iOS is more elegant. Syncing between the two is not great, to put it mildly. The apps don't seem to do well in the background generally speaking. Hope this can be improved in future releases. Was hoping for a kind of upgraded NAG, that was more or less as reliable as the built in iOS Alarm app.
View in Mac App Store
$9.99

Category:

Productivity

Updated:

Apr 12, 2016

Version:

1.4.2

Size:

16.1 MB

Languages:

English, Japanese

Seller:

Due Apps LLP
Compatibility: OS X 10.9 or later, 64-bit processor