Due — Reminders, Countdown Timers
By Due Apps LLP
Open the Mac App Store to buy and download apps.
Description
Type "Make dinner reservation at 9am tomorrow" and your reminder is set for 9 AM tomorrow.

"Cancel subscription in 1 month" and you get a buzz a month later.

Just tell Due in your own words what you'd like to do, and when you'd like to be reminded.*

There are no awkward date pickers to fight with, nor rigid date and time format to follow.

Your reminder is set as soon as you're done typing.

Due makes sure things actually get done by keeping you on your toes, sending you periodic reminders until you actually mark the reminders complete.

The super-fast reminder app on your iPhone, iPad and iPod touch—now on your Mac.

* Natural date and time parsing available for non-recurring reminders only.


◆ FEATURES ◆

- Fast. Really fast.
Reminders are set as soon as you finish typing what to do, and when to do it.

- Natural date and time parsing
No awkward date pickers nor rigid date and time format to follow. Set due date and time by typing what is natural to you.*

"4pm" works just as fine as "4:00 PM" or "16:00", and "Aug 22" works as well as "22 August" or "8/22". Relative dates like "in 20 mins" or "in 6 months" work too.

Some examples:

- "Collect passport next Monday 4pm"
- "Make dinner reservation at 14:00 tomorrow"
- "Cancel subscription in 1 month"
- "Wish Sally happy birthday on Aug 22 at 8 AM"
- "Phone contract expires May 30 2014"

- Never miss any reminders with Auto snooze
Due repeatedly notifies you of missed reminders until they are marked done or rescheduled, making sure things get done and your list never go stale.

- Fully optimized for keyboard-only operation
Power users can skip the mouse and trackpad. Show or hide Due, create reminders, reschedule them, mark them complete, delete them. Everything you need is a keyboard shortcut away.

- Reusable countdown timers
Precise to the second, they are perfect for timing your coffee, tea and eggs. Set them up once and reuse them forever.

- Powerful recurring reminders
Vitamins before bed each night? Pay rent every 2 weeks on Monday? Submit a report on the last weekday of the month? Yup.

- Keep reminders in sync across your Mac, iPhone and iPad
Due supports sync through iCloud or Dropbox. Create a reminder on your Mac and it will be there on your iPhone and iPad.**

**Sync on iOS requires Due for iOS (sold separately). With Due for iOS 2.0, your iPhone and iPad can sync in the background using Dropbox. Otherwise, Due must be launched for sync to take place.

- Search and Create
Search your reminders and timers. And if you don't find what you want, press Return to create a reminder with your search term.

- Drag and drop to create reminders
Create reminders by dragging emails, calendar events, text, links and more to Due.

- Share reminders with drag and drop, or copy and paste
Send your friend a reminder via Mail, Messages or Twitter by dragging or copying it. It even comes with a link so that he can add that reminder to his own copy of Due.

- Optional Menu Bar, dockless operation
Run Due directly from your menu bar, badge it with unattended alerts, and take Due off your Dock if you like.

- Assignable alert sounds
Assign distinctive alert sound for each reminder; louder and longer ones for important reminders, and subtler ones for less critical reminders.

- Undo and Redo

- Take control of your notifications
Customize how notifications behave—whether they display a notification, play a sound, bounces the icon or highlights the icon in the menu bar—when reminders and timers become due.

If you're on OS X 10.8 Mountain Lion, you can choose between Notification Center or Growl. If you have Growl installed (sold separately), you can also customize how notifications look with themes.


◆ COMPATIBILITY ◆

Requires Mac OS X 10.9 Mavericks or later.


◆ WE LOVE TO HEAR FROM YOU ◆

Email mac@dueapp.com, or choose Help > Send Feedback… from Due. Follow us on Twitter @dueapp.
What's New in Version 1.3
Updated to support various new features from Due 2.0 on iOS, including:

- 45 new alert tones from Due 2.0 on iOS
- Pause and resume timers
- Choose different alert sound for different timers
- New DIN font for timers
- Improved search
- Deprecation of 'Alarm mode' for timers in favour of two separate functions: 'Snooze until stopped' and custom alert sound

Optimized for OS X 10.10 Yosemite

- Menu bar icon supports Yosemite dark menu bar
- Fixes bug in menu bar icon where number of notifications gets clipped
- Fixes bug where users who've switched off NSAutomaticWindowAnimationsEnabled explicitly find themselves unable to create or edit reminder or timers (much thanks to Bernard Schembri for reporting the bug and discovering the cause)

Now requires OS X 10.9 or later
Screenshots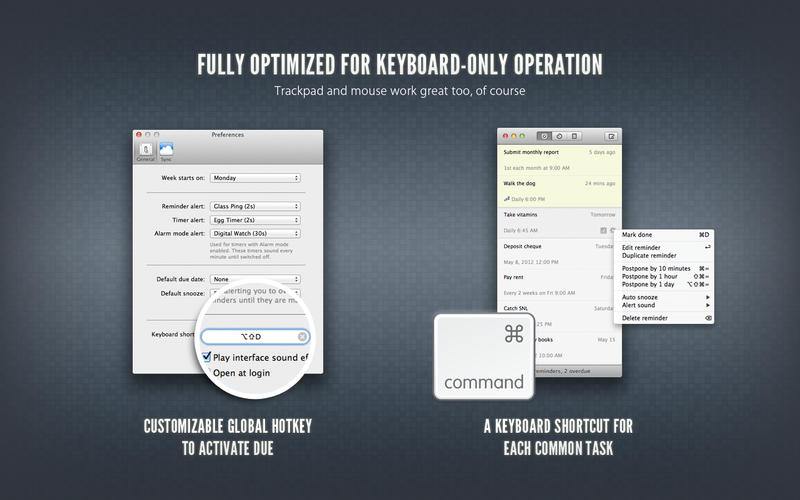 Customer Reviews
Great cross-platform qiuck to-do app
Due is a great little app that works across MacOSX and iOS. It keeps its data centrally on iCloud or Dropbox, so create a to do item and it's immediately availabe across all your Apple devices. It's not intended to be an all-singing GTD app like OmniFocus (which I also use). Tasks that go in Due are ones that I don't want to see in my calendar, and aren't 'important', project-oriented ones that would go into OmniFocus. Its competition are smaller apps like Clear, which is generally easy to use, but is missing the ability to easily, in a single action, postpone tasks as they come due. You can customize 4 quick-access default times of day, and default postponement times. While the Mac app is still at version 1 while the iOS version is at 2, they have been, so far, fully compatible and similarly easy to use across platforms.

Thanks to John Gruber for the initial recommendation to check this app out. Big win.
Sync not as reliable as others; Not even close to iOS version…
I'm an avid user of Due on iOS and love it; the new UI is phenomenal. So I decided (was forced) to buy Due on OSX just to get sync to work (because, unlike all other reminder apps, Due doesn't support sync with iOS reminders). The sync via dropbox from OSX is not reliable, which basically defeats the purpose of purchasing this app.

Needs better sync, needs UI update for Yosemite, needs to be compatible with iOS reminders.
Sync issues
I love the iOS version and use it all the time, but I'm often on my Mac so I got this version. However, I found it ususable because of the sync issues - tasks I create rarely sync properly so I'm left with two list with many discrepancies between them across devices, which is a pretty fundamental drawback. I am unable to use this until the sync issues are resolved.
View in Mac App Store
$9.99

Category:

Productivity

Updated:

Jan 16, 2015

Version:

1.3

Size:

16.0 MB

Languages:

English, Japanese

Seller:

Due Apps LLP
Compatibility: OS X 10.9 or later, 64-bit processor