Duke Nukem Forever
By Aspyr Media, Inc.
Open the Mac App Store to buy and download apps.
Description
The King is Back!

Duke Nukem arrives with an arsenal of over-the-top weapons, non-stop action, and unprecedented levels of interactivity. With hours and hours of action, and a range of bodacious multiplayer modes, rest assured knowing the fun goes on and on.
Story

Did the Aliens not learn their lesson the first time? Duke has been on hiatus for some time now, kicking back and franchising himself on the fame he gained from saving Earth from the first invasion. The Aliens have returned to Earth yet again, messing up Duke's sweet routine of dirty leisure habits.

The Alien invaders are stealing Earth's women, especially the hot ones! And they drank Duke's beer. This. Won't. Stand. As Duke battles his way through waves of aliens, the once beautiful gambling haven and Duke Nukem franchise chains are crumbling before his eyes. Time to bring the pain!

*** Please Check System Requirements Prior to Purchasing. ***

*In order to run the game with satisfactory performance, your Mac must meet these minimum system requirements: 2.4 GHz CPU Speed | 2 GB RAM | 5.0 GB
free disk space | (ATI): Radeon 2600; (NVidia): GeForce 8600 | 256 MB VRam

*Recommended System Requirements:
CPU Speed: 2.6 GHz | Memory: 4 GB or higher | Video RAM: 512 MB

*Notice: This game is not supported on volumes formatted as Mac OS Extended (CaseSensitive)

*Notice: Online multiplayer is Mac to Mac only

*Notice: Online multiplayer is not compatible with the Steam version of Duke Nukem Forever

*Notice: This game is rated M for Mature by the ESRB.

_______________________________________________________________
BE THE FIRST TO KNOW!
Get the latest Aspyr news, get insider information, deals and more…
SURF US: http://aspyr.com
LIKE US: http://facebook.com/aspyrmedia
FOLLOW US: http://twitter.com/aspyrmedia

Thank you for playing Duke Nukem Forever from Aspyr!
What's New in Version 1.01
- Includes the Hail to the Icons Parody Pack and the Doctor Who Cloned Me DLC, with a new single player campaign, 8 new multiplayer maps and 3 new game modes
- Includes latest patch update
Screenshots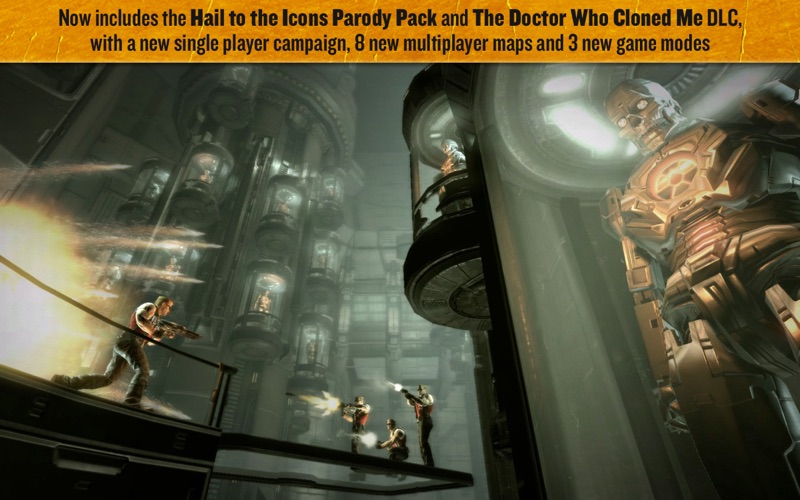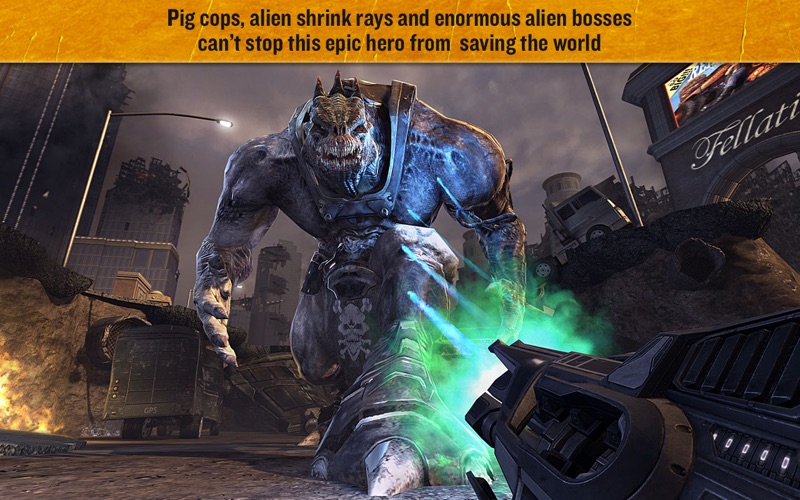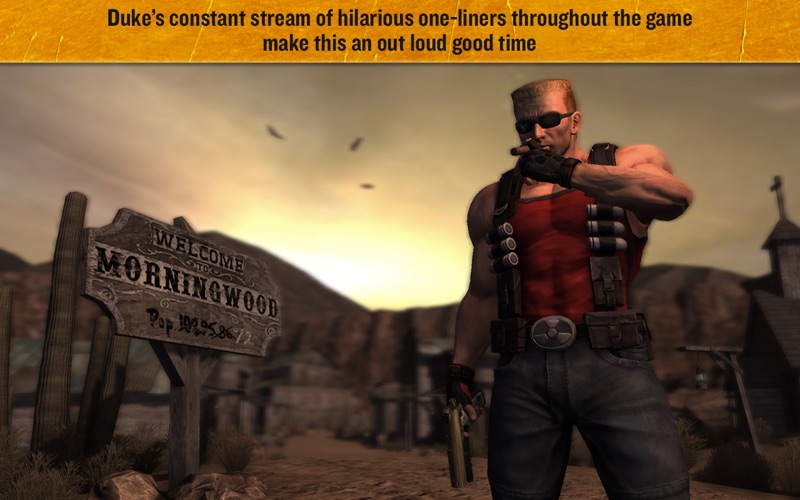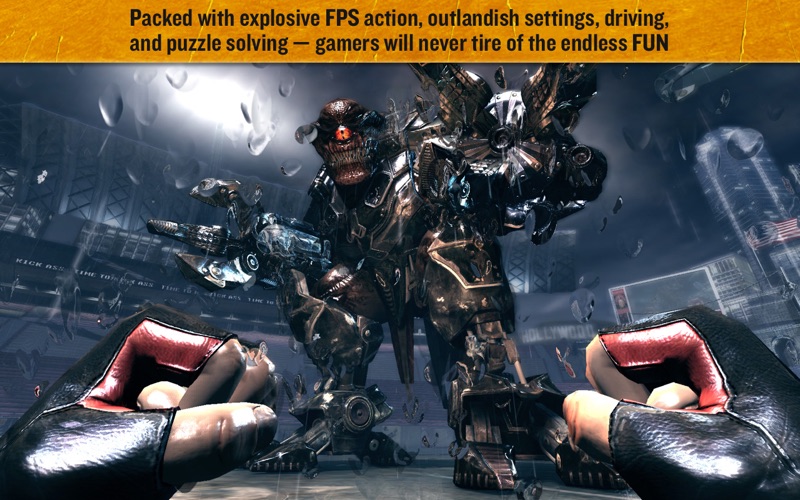 Customer Reviews
Terrific Game! Extremely Fun to play and Highly Entertaining!
I was a Duke Nukem 3D early adopter. I was the guy that got all my other friends to get on the Duke train. I bought Duke Nukem Forever game few years ago and never had time to play it. Over this last Christmas break, I decided to fire it up and a few weeks later, finished the game. This was one of the most fun and entertaining games I've ever played. While the graphics may not be on par with some of the newest games that require ultra-high-end GPUs to play and/or appreciate, this works great on my MacBook Pro with configure to order NVIDIA GT 750M GPU. I was impressed that the graphics could be this good on a MacBook Pro.

Duke's commentary throughout the game made me chuckle, with new salty phrases and familiar old ones from Duke Nukem 3D. The game play is genius with plenty of interesting worlds to explore and items to interact with. Once you start playing this game, you will want to keep playing it.

Finally, I would say don't pay much attention to the negative reviews of this unique game. It should not be compared to the latest first-person shooter as it's in a league of its own. I hope the developers continue releasing updates and next versions of this game series - Duke Nukem FOREVER!!!
Looks Great!
Let's face it, we all know the story of this game, and were all a little disappointed when it came out. But aside from years of anticipation, and high expectations, this game is actually fun, and pretty funny in Duke Nukem terms. I am not going to comment on the language, misogyny, alcohol and drug content; this game is inappropriate and for ADULTS with a sense of humor only. PERIOD. This is a Duke Nukem title.

My main input is, I bought this for the XBox and was pretty bummed with bad anti-aliasing, a lot of glitches, awkward controls, and INSANE load times. I was concerned it would look the same, if not worse on my Mac desktop (Radeon HD 5770), but took the gamble. The game actually looks MUCH better than on XBox, and I'm not sure if it's my personal bias, but I feel like the keyboard mouse configuration makes the game MUCH more enjoyable than a game handset. The load times on the Mac are neglibible, which also makes it much more enjoyable.

In terms of multiplayer; this game is really not good. I played it for about an hour on the XBox, and even less on the mac. If you want a multiplayer shooter, this is not the game to buy. The only merit is the campaign.

I was between giving this game four and five stars, because it is a lot of fun, but decided on four because of the multiplayer.

At any rate, if you bought it for XBox and bailed on it because of any of the reasons I listed above, you might want to give it another shot. I'm really enjoying it this time.
Meh
As a huge fan of Duke Nuken 3D circa 1998 I'm a bit disappointed...

In campaign mode this game has way too much storyline (Duke was never supposed to have a great story line), puzzles, and scenes where there's no shooting. You don't even get to use a gun for an extended period of time until after Level 3. The game takes the lightheartedness of the original Duke and emphasizes it WAY too much - the catchphrases, puzzles, interacting with background objects all USED to be secondary to shooting aliens, now shooting aliens has taken a background seat

Haven't tried multiplayer yet so limiting my comments to the campaign. Original Duke = used to be making alien pay for blowing up his ride, from the very first second of gameplay… and chewing bubblegum despite the lack of having gum.

That said it's still somewhat fun. Fix all this in Shadow Warrior Forever… you no mess with lo wang
View in Mac App Store
$19.99

Category:

Games

Updated:

Apr 05, 2012

Version:

1.01

Size:

5.50 GB

Languages:

English, French, German

Seller:

Aspyr Media (iDP)
Compatibility: OS X 10.6.8 or later