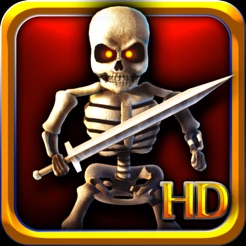 Description
OUR BEST SALE PRICE EVER - NEW YEARS SALE
Command an evil skeleton army, sworn to protect the realm of the dungeon king from hordes of heroes seeking fame and fortune. Select and place three different skeleton types strategically. Increase each undead soldier's power when you need it. Heal or resurrect a comrade just in the nick of time.

Every time a hero falls you earn gold to build your army into an unstoppable force. Feel the excitement with fully animated chaotic battle scenes complete with melee attacks, magic spells and more. Battle through waves of ever more powerful heroes, through multiple rounds of play, until all your enemies have been vanquished and you stand victorious or taste the sting of defeat.

LEVELS: Three levels of difficulty allow you to start easy and move up as your skill grows, or start at the top if you have the touch. Earn achievement medals as you master each level of play.

MAPS: Each map is a completely different game experience:
* Crypt Siege
* Dungeon King
* Blood-Orb
* Portal

Defender Special Abilities:

* Swordsman – backstab, double damage
* Archer – fire arrows, splash damage
* Axeman– heavy armor, taunt (attracts hero attack)
* King – haste army, slow heroes, lightning attack
* Orb – lightning attack, life drain (heals the orb)
* Sarcophagus – poison gas
Ratings and Reviews
Fantastic tower defense game
I typically do not care for tower defense games, but I am hooked on this one. It has great graphics, good sound effects, and very fun game play. The interface includes the ability to stop or speed up game play which is critical when you are playing a level for the tenth time. I also appreciate the multiple difficulty levels as this is a challenging game, even on easy mode.

The one shortcoming of the game for me is that there are only 4 "maps" in the game and I would love to see more. I was able to complete the game within a few hours within a single difficulty level. Still, I certainly got my entertainments dollars worth.

In summary, this is an outstanding game. That is no surprise for me as I own two other games from this developer which are both great as well.
Great game.
Well worth whatever I paid for it. I think it is worth $5 maybe more.

For you winers that cant stand a challenge; If you want something easy don't choose the hard setting, or stick to kids games:p. Would like some scrolling levels, and more character types. A level editor, or extra levels would be worth some $$ to me!
Excellent game, but why no updates?
You really need to update the game to improve performance and fix some of the bugs. You should also add some new levels.

If you don't I might be forced to create a clone and compete with you. I've finished all levels on hard and want more. It feels like you've abandoned the game.
Information
Seller

InMotion Software, LLC

Size

27.4 MB

Category

Compatibility

Requires iOS 3.0 or later. Compatible with iPhone, iPad, and iPod touch.

Age Rating

Rated 12+ for the following:

Frequent/Intense Cartoon or Fantasy Violence

Infrequent/Mild Horror/Fear Themes

Copyright

© 2008-2010 InMotion Software, LLC

Price

$2.99
Supports
Game Center

Challenge friends and check leaderboards and achievements.

Family Sharing

With Family Sharing set up, up to six family members can use this app.