Dungeon of the Endless
By Amplitude Studios
This app is only available on the App Store for iOS devices.
Description
The awarded smash-hit Rogue-Like Dungeon-Defense hybrid game, in which your team of heroes must protect the generator of their crashed ship while finding their way out of a mysterious and dangerous dungeon!

- Pocket Gamer (9 out of 10 ""Gold Award"" | ""Game of the Year Nominee"")
"The mix of genres feels fresh, the art-style is fantastic, and there's a rich beat to the play that keeps things exciting throughout"

- Touch Arcade (4 stars our of 5)
"There are a lot of great roguelikes and tower defense games on iOS...One thing is for sure, however. If you've been looking for a deeper experience in either genre, you'll want to find a home for this game on your iPad."

- 148 Apps (4.5 stars out of 5)
"If you have a thing for strategy, tower defense, dungeon crawling, roguelikes, or pixel art, then you really can't go wrong by checking it out."


GATHER A TEAM
- Form a team of heroes, each with their own strengths (and psychoses)
- Equip them, deploy them, and earn powerful abilities
- Crash your team in various spaceships, each of them being a new mode

BUILD YOUR DEFENSES
- Use the Dust you gather to power the rooms
- Build minor and major modules to hold off waves of monsters
- Decode Endless ruins to discover life-saving technologies

OPEN THE DOOR
- Each door is a danger; prepare yourself and your team for anything
- Explore and discover an infinity of levels and layouts
- Carry your crystal through waves of monsters to the exit of each level


**The game includes the "Deep-Freeze" and "Bookworm" PC add-ons.**


Languages Supported:
* English
* Français
* Deutsch


** IMPORTANT - SUPPORTED DEVICES **
Due to the massive amount of awesome content, the game requires an iPad 3 or newer devices.


©2015 Amplitude Studios, Inc. All rights reserved. Dungeon of the Endless and GAMES2GETHER are trademarks or registered trademarks of Amplitude Studios, Inc., in the U.S., and/or other countries.
What's New in Version 1.0.1
Performed some memory and CPU optimizations.
Fixed an issue where the player remains stuck on the Floor cleared screen when the last part of a story should take place.
Fixed an issue where, upon finishing a story in which a Hero dies, he is still available on the next floor.
iPad Screenshots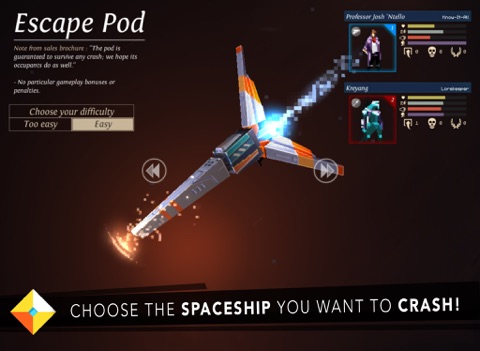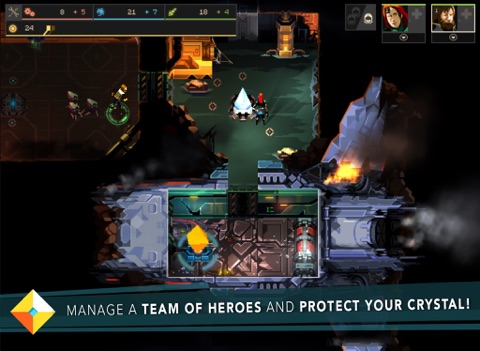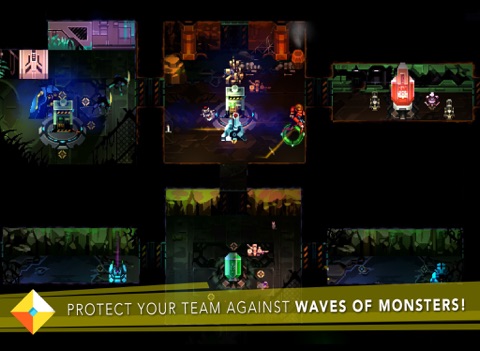 Customer Reviews
What you need to know
This game is a port published on steam as a spin-off of the endless franchise and is rated mostly positive, so you know that this isn't some random money baiting tower defense. This game is quality made, comical, challenging, and filled with lore. The game has 2 difficulty settings which are humorously labeled "too easy", and "easy". For beginners, you will find you should play on "too easy" first. If you want guides to help show you the ropes, google it, there is a beginner's guide. There are no micro-transactions in the app, on top of that what used to be dlc content on steam is given to you already in this app for free. Overall, this is one of the best games you could possibly get in the ipad. DON'T listen to people who complain that the game is too difficult, it's really not that hard. I would know this because I have 88 hours dedicated to playing this game on my laptop. I bought the ipad version because of how cheap and fun it was. This is my goto time killer ipad/iphone-wise.
Fun game, and not so difficult
Some reviewers saying 'Dungeon of the Endless' is too difficult, but I beat it on my first play-through, with some struggle (lost two party members) on the 'very easy' setting. It's not a game you can just slop your way through -- it demands a modicum of careful planning and attention to detail. I love the old-school pixel pixel look/feel. Good sound effects and music, a sense of humor. All good. I'm getting set to play it through again on the easy setting., then I'll try playing it endless. Decent replayability, good for casual play in that you can save at any point. No crashes. Definitely worth a few bucks. If I had a quibble, it's too limited on loot variety. Recommended. I'm a longtime gamer, and I'm super picky. This makes the cut.
Fun game!
I really like this game. I even like the music! I would like to save that for those of you that don't like losing your character that you've worked so hard on.....this game on the auto saves at the beginning of each level. So if you exit the game and go back to the home screen and then kill the app, when you reload the game and select continue it will start over at the beginning of the current floor you were on with all of your heroes alive again it does not save that you had a death until you finish the floor! I figured that out and thought I would share! It kind of takes away the stress of permanent death of your characters while playing. Not sure if that ruins the fun for somebody or not. I kind of wish they would patch it because it takes away much of the challenge.
View in iTunes
$1.99

Category:

Games

Updated:

Aug 27, 2015

Version:

1.0.1

Size:

371 MB

Languages:

English, French, German

Seller:

AMPLITUDE Studios
Compatibility: Requires iOS 7.0 or later. Compatible with iPad.