Dungeon Raid
By Fireflame Games
This app is only available on the App Store for iOS devices.
Description
Dungeon Raid is going to challenge your strategy skills to the max! Trace a path and match the tiles to collect treasure, buy and upgrade weapons and defeat monsters in this exciting and addictive puzzle roleplaying game. Things happen fast in Dungeon Raid, so gather your courage and dive in!


"Dungeon Raid is an effortless recommendation... download this game now."
- TouchArcade

"Pick this one up. For its price, they definitely made me feel like it was well worth the money in so many ways"
- appSafari

"If you're looking for a different type of match 3 game or you're an RPG nut that wants to get a quick fix every now and again, Dungeon Raid is just the game for you"
- TouchMyApps

"Dungeon Raid manages to capture the essence of both rogue like dungeon crawling, and addictive match 3 in a easily accessible formula"
- TouchGen

"It's a fun mix of match-three puzzling and role-playing"
- Pocket Gamer


Dungeon Raid is a puzzle RPG, a blend of puzzle game with roleplaying mechanics. Your mission is to trace a path through a set of matching tiles, but watch out – you may be attacked by enemies who improve as fast as you do.

As you go, the object is to collect as many resources as you can, like gold and experience. Get enough points and you can buy or upgrade equipment and level up. All the while, remember to avoid those nasty enemy skull tiles and fight them off for as long as you possibly can. And don't get too greedy, or you risk being overwhelmed!

The higher you go in a Dungeon Raid game, the more strategy you're going to need to match a greater number of tiles, grab bonuses and stay ahead of those evil adversaries. Never forget that they improve as the game continues.

Keep your wits about you as you play Dungeon Raid. As you level up, there are many trade offs to consider and complimentary combinations of skills to be chosen. If you're not used to the tense pace of the higher levels, go ahead and start on easy difficulty. That gives you the chance to play the game in a more relaxed way, and watch how powerful your avatar can become.

Regardless of your skill level, you'll never get bored with Dungeon Raid because there's so much going on! There are hundreds of items to collect, a growing list of character skills and many different strategies for you to use. You'll be itching to play just one more turn, just one more game for hours and days on end.

Features:
★ 4 difficulty levels: select a relaxing easy game or go for a challenging and strategic experience
★ 2 challenge modes
★ 400+ unique items to buy and upgrade
★ 77 achievements to unlock
★ 40 diverse abilities to help you and hinder your enemies
★ 30 special monsters to defeat
★ 20 powerful upgrades to apply to your items
★ 10 character classes to unlock & customise
★ Level up and improve your avatar as you kill enemies and collect experience points
★ Global leaderboards using Game Center & OpenFeint
★ Play your own music during the game
★ Constant save system: quit the game and return to it at any time

If you want the thrill of playing a truly exciting game, you've come to the perfect place. Download Dungeon Raid now and prepare to be impressed!

See this exciting game in action here: http://www.youtube.com/watch?v=eumnCTG0AE8
What's New in Version 1.3.4
- Fixed bug that occasionally made the More Games button trigger when starting new challenge
- Fixed unlockable syncing across devices
- Vengeful enemy now gains attack instead of HP
- Fixed poisoned phylactery glitch
- Meat Shield now tougher but receives damage done to other enemies
iPhone Screenshots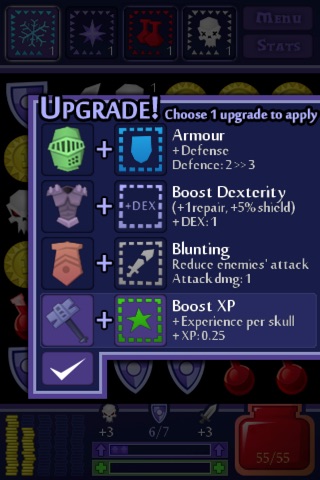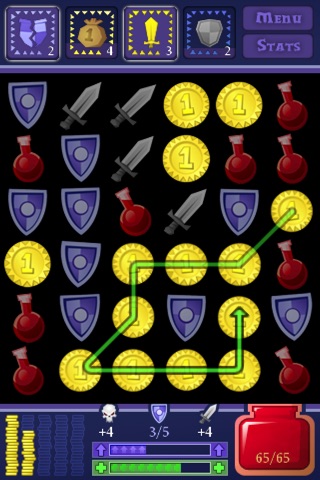 Customer Reviews
Hasn't been updated in years, but still great!
I love casual games, and stumbled upon Dungeon Raid while researching all time fan favorites. This game looks simple, and plays easily enough, but actually has a deep and rewarding class/skill/perk unlock and reward system that has me playing it again and again. The best part of this casual game, is you can close it at any moment, and never lose your place. The designers made sure your game state is saved after every move.

one piece of advice, do not enable open feint when you install the game. The connection no longer seems to be supported, and enabling it will only slow down your getting back to your current game. If you did enable open feint, you can uninstall the game, and reinstall it, but you will lose your game progress.

All in all, fantastic game, well worth $1!!!
Great spin on tile matching game.
Dungeon raid is a tile matching rpg that is really fun and has tons of depth. The game offers many different classes each with their own buffs and weaknesses. Eventually you are able to customize these once the class is leveled up which doesn't take very long. I really love games where I can invest time into a certain build or play style and be rewarded and Dungeon Raid does just that. There are tons of builds that can be created using the limited amount of skills and buffs/weaknesses of each class. This makes the game feel not repetitive at all and keeps me coming back to try new classes and new skill combinations. Very fun and very challenging all at the same time. Amazing game to say the least.
A Pleasant Surprise
I didn't expect much from this game (it looks like some kind of "Bejeweled" clone), but was surprised by the innovative, intuitive touch-based controls and well-balanced, strategic gameplay. You swipe your finger along a grid with money, monsters, health potions, and more to make a line (of any shape - any adjacent tiles o the same kind will do, in any order!) to kill monsters, earn gold, and heal yourself. You can also learn spells that will do any number of things, from collecting all gold on the board, to making enemies attack themselves, to turning all gold in play into monsters (more EXP to level up with)!

You can play as a tank with high armor and health regeneration but low damage, or as a glass cannon with ridiculously high damage but almost no health; or, in fact, anything in between, or you can invent your own upgrade path, however you want! You will earn additional classes and customizations as you play, which add even more options you can choose to further make your character your own!

Really, really fun, and it responds really well to multi-tasking and sleep mode, so you won't lose a game because your bus reached its stop, or your boss made a surprise visit to your cubicle!
View in iTunes
$0.99

Category:

Games

Updated:

May 03, 2011

Version:

1.3.4

Size:

11.9 MB

Language:

English

Seller:

Alex Kuptsov
Compatibility: Requires iOS 3.1 or later. Compatible with iPhone, iPad, and iPod touch.
More iPhone Apps by Fireflame Games