Earnin - Get Paid Today
De Activehours Inc.
Esta app solo está disponible en App Store para dispositivos iOS.
Descripción
No more waiting for payday. Access up to $100 per day of the money you've already earned. There are no fees or interest. Just pay what you think is fair.

YOU WORKED TODAY. YOU SHOULD GET PAID TODAY. PERIOD.

We believe that having access to the money you've earned is a right, not a privilege.

Whether you're avoiding overdrafts, dodging late fees, or just making sure you don't miss out on activities with friends, you should always have access to the money you've earned. With the Earnin app, you can send your money to your checking account instantly whenever and wherever you are.

HOW IT WORKS

Connect your bank, enter employment info, and get access to your earnings! Then, choose what portion of your paycheck you want to deposit in your bank account and Cash Out. When your paycheck arrives via direct deposit, we'll debit back the amount you cashed out, and voila! Payday, your way.

Plus, with Earnin, there are no fees and no interest. Tip what you think is fair to help keep the app going. We're a group of people coming together to change the way people get their paychecks.

FEATURES

Balance Shield - Save yourself from overdraft fees! When your bank balance is low and Balance Shield is enabled, money from your upcoming paycheck deposits automatically.
Lightning Speed - Connect your debit card, and we'll be able to send your Cash Out instantly!
Pay Booster - Earn more on every paycheck by getting Shop Your Way® points with every Cash Out.

Say goodbye to the feast and famine of the traditional paycycle. Now you can easily manage your personal finances and budget for expenses with ease. Gone is the stress of waiting for payday. After all, you already earned it!

ADDITIONAL INFO

To use Earnin you must receive your paycheck via direct deposit to a checking account. Works with Wells Fargo, Bank of America, Capital One and thousands more. Savings accounts and prepaid accounts are unsupported.

We don't require timesheets or employer integrations. However, for people with timesheets, we've partnered with Brink, Tsheets, Nimble Schedule, When I Work, Deputy, and WebPunchClock to make your experience even easier.
Novedades de la versión 6.3
Check out the new financial calendar to see a history of your cash outs, upcoming payments, and any gifts you've been given for sharing the app with friends.
Capturas de pantalla del iPhone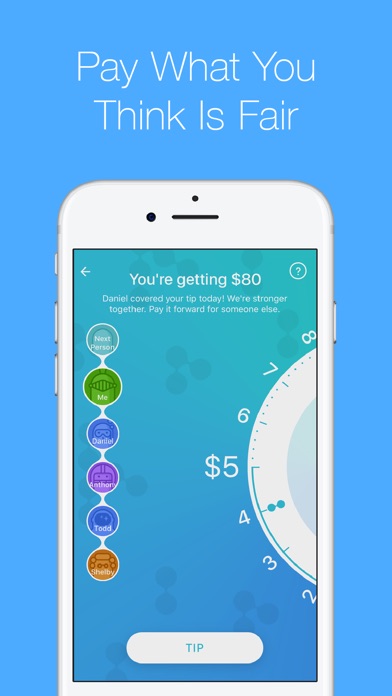 Reseñas de usuarios
Re-reviewing
EDIT: I had them at 5 stars previously and those comments are below. But I switched jobs, went from hourly to salary (no time sheet) and from bi-weekly pay to monthly. I uploaded my first pay stub and they accepted it and were accurately showing my hours and amount I could cash out. Then suddenly they "unaccepted" my pay stub and all my hours went away. Seriously? I don't work for some small startup (no offense). I work for a huge organization. I contacted them and we were communicating about it. Now I haven't heard from them for two days. They literally sent an email 48 hours ago saying "hang tight". I want this resolved on general principle. But hopefully once I adjust I won't need them again. So right now I would NOT recommend them to anybody. I've had customer service issues with them before but things eventually got resolved. The only reason they are not at one star here now is because I'm again waiting on a resolution. We'll see. I don't much trust their customer service right now.

OLD REVIEW:
Awesome support when you need it!
Beyond frustrated
First of all I would like to begin with that this app started or working pretty good. I loved it and was helpful. Up until now. I get paid weekly and today is payday for me so I went in to see how much I had made because with the holidays around the corner as well as my birthday I am trying to make purchases. But to my surprise I discovered that Earnin charged me $111? I work part time given I'm a full time student so that is majorly of my paycheck. I was not aware that I would be charged especially $111. I've contacted support but I have yet to receive a response. I am just upset because had I known money especially semi large amounts such as $111 would be taken out of my account I would've never registered. I'd like to dispute because I was never aware of this and it has never happened to me in the past up until now. So to anyone reading this do not register because they will steal your money. I just want my money back!
Amazing (not a computer)
No one paid me to say this. Here's a typo to pr ove it. But this is an amazing service once you take the time to learn how to use it. You have to be patient at first, but once you're a trusted user and your paperwork is together it's really amazing. And far easier than its competitors!! 5 stars. It saves my life ever so often. Love & appreciate the geniuses that made this app happen. Great and much necessary service!!
Ver en iTunes
Gratis

Categoría:

Finanzas

Actualizado :

14/12/2017

Versión:

6.3

Tamaño:

70.4 MB

Idioma:

Inglés

Vendedor:

Activehours Inc.
Compatibilidad: Requiere iOS 10.0 o posterior. Compatible con iPhone, iPad y iPod touch.