EAT24 Order Food Delivery & Takeout
By EAT24
Open iTunes to buy and download apps.
Description
Your iPhone can now feed you. No, your phone hasn't learned to cook but you won't have to either, thanks to the free, easy-to-use EAT24 Order Food Delivery & Takeout app.

Order food delivery from over 20,000 restaurants in 1,500+ cities, with more being added each day. Search from wherever you are, or wherever you're going to be when you're ready for some food. The EAT24 app remembers your preferences, which saves you time, and gives you coupons on a regular basis, which saves you money.

What can our app do?

- Search for specific cuisines, restaurants...even particular dishes.

- It has Yelp inside. See what the foodies of Yelp think about a restaurant without leaving the app.

- Eye Candy. Eat with your eyes and browse delicious food photos on the restaurant menu page. As if you weren't hungry enough already.

- In unfamiliar territory? Search by your current location, order, and the EAT24 app will have it waiting (well, really the restaurant will, but you get the idea).

- Like to play favorites? We understand completely (Mom always liked us best). The EAT24 app lets you save your favorite restaurants so you can find them more easily next time.

- Do you enjoy entering your credit card numbers over and over again? That's a rhetorical question, no one does. Which is why the EAT24 app lets you scan your credit card directly into the app and securely stores your payment information for you.

- Hate credit cards? Use Google Wallet or PayPal!

- 24 Hour Live chat and order status support. If it isn't right, we'll make it right. No robots, no problem.

- Cash back for future orders through our CashCoupon rewards system.

- Exclusive offers and content through our Eat24Hours VIP program.

- Take pictures of your food and capture the memory of your meal before you devour it. Because a picture is worth 1,000 yums, and because they make other people jealous and hungry. (And really, isn't that the point of taking food photos?)

- EAT24 Notes. Write a note about your meal right on your phone and remind yourself to order/not order an item again. (Because hunger affects memory in mysterious ways)

- The My Menu feature lets you assemble an All-Star team of your favorite past-ordered items from a restaurant for easy re-ordering. And less thinking than ever before.

- We added the popular Tweet My Meal function, because everyone knows that if you didn't tweet about it, it didn't actually happen.

Best of all, once your order's in, EAT24 handles every aspect of the delivery experience. Which means no more screwed-up orders. No more wondering where the delivery driver is. Just the ability to take back a few precious minutes of your day and enjoy. Something not quite right? Hit up our 24 Hours Live Support within the app and chat with a real human being about any issue or question you may have. We'll make things right.

Tap, Relax and Enjoy with the EAT24 app.
What's New in Version 5.4.3
Do you love updating your phone to the latest operating system? US TOO! We knew we were soulmates ;) Anyways, our app has been updated for iOS9 and is better, faster and of course, sexier. Hmmm... What else? That's about it, but we will take this time to say: We love you more than deep-dish pepperoni pizza.

<3,
@Eat24
iPhone Screenshot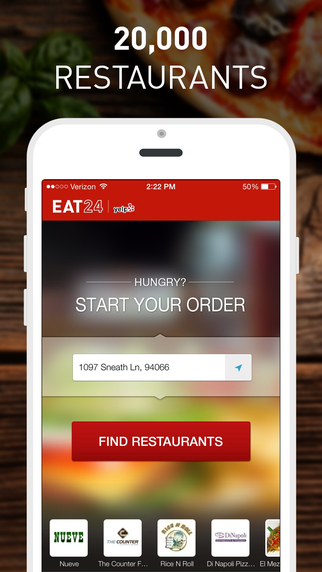 Customer Reviews
Things seem to be going downhill
As far as I can tell, the app itself works just fine. But the business itself and its method of communicating information from end user to restaurant seems to be falling behind. I've been using the app for over a year and had no problems until a few weeks ago. Suddenly there are numerous problems...the restaurant telling me they never received my order while the app tells me my order is on the way...the app telling me it'll be 45 minutes and my order showing up two hours later...the restaurant telling me they don't check "this thing" all that often so they don't know when they've received an order. What does that mean? What kind of interface are they using? A stone tablet? I really could just call the restaurant directly and place the order. If things don't go back to their former level of speed and truthfulness, I'll have to stop using the app.
I Wish All Apps Were Like This!
This is one of the few apps I have used which really makes something effortless that used to be such a struggle. With Eat 24 you don't have a complicated series of steps to go through to figure out the phone number of the place you want to eat, or if they are opened, or if they deliver to your address. Everything is already there, in the app, for that day you come home late and just need to eat...then notice there is nothing in the cupboards. Personally I work shift work, and it isn't easy to coordinate when I am going to be home with when the stores are opened. I'm very glad Eat 25 makes ordering food as easy as picking up my phone and clicking on what looks delicious!
iPad Misery
This app is good, as in adequate. However, I won't be satisfied until you create a larger app for the iPad. On a little bit larger app, one gets a better description of the food choices. Until then, I'm satisfied, but not too pleased with this itsy bitsy app. Update: I'm on an iPad 1. So maybe you have created an app for the ios6 operating system. I certainly hope so, because soon I will buy the impending ipad 5. I hope to order on an app that is designed for the iPad. Update : I still like ordering thru my Safari app. I can see more of the menu, at a glance. Also I can browse the menu anytime I want to. This is more convenient for a night owl. By the time the restraint opens, I know what I want to order. Also I hate being forced to charge all payments. This app is for the birds.
View In iTunes
Free

Category:

Food & Drink

Updated:

Sep 21, 2015

Version:

5.4.3

Size:

59.8 MB

Language:

English

Seller:

Eat24Hours.com Inc
Compatibility: Requires iOS 7.0 or later. Compatible with iPhone, iPad, and iPod touch.
More iPhone Apps by EAT24