EatRight - Daily food log diet checklist healthy nutrition guide
By Steven Romej
This app is only available on the App Store for iOS devices.
Description
** FEATURED IN Bon Appetit's Jan 2010 issue! **
Latest release includes (optional) progress sharing, default icon theme as well as the colored squares theme.

Tap and check. Throw away your paper log.

Join the thousands that are using EatRight.

With EatRight you can track food group consumption, glasses of water, and sweets/fats. Make your own diet, and use the 7 day log to track your progress.

Also be sure to check out my YouDo app for simple task management and planning.

REVIEWS

***** As a nutritionist, I would definitely recommend this app!
***** This app is exactly what I need to keep track of my food intake during pregnancy
***** I have been waiting for someone to create an app like this!
***** Great app.
***** I am on p90x and I needed an app that allows me to keep track of my portions
***** I've searched around the app store for a dietary log like this, but the others I've seen were just too complicated
**** This app is visually appealing and super easy to use
**** I love this app. It is easy for me to use, just open and touch to check off the food groups you have eaten.

NOTE

IF YOU ARE HAVING AN ISSUE AFTER AN UPGRADE, HOLD THE ICON DOWN, DELETE, AND RE-SYNC.

SUMMARY

EatRight is an easy to use diet log that encourages eating the correct amount of food from each of the five food groups every day - a daily food diary.

It's useful for those on a diet that want to follow published USDA guidelines for nutrition and health in the form of a checklist.

You can also track water and sweets/fats intake.

Can be used to keep track of core P90X diet requirements (keeps track of Proteins, Dairy, Fruits, Vegetables, and Carbs).

A log of the last week is kept for easy reference.

No internet connection required, ideal for the iPod Touch.

THE FOOD PYRAMID

Based on the latest diet guidelines from the USDA mypyramid.gov, similar to the paper checklists used in many fitness classes and outdoor bootcamp programs. Rather than carry a paper food log, you carry an app.

CUSTOM DIETS

Opt out of the default diets and create your own portion plan. Meet your goals every day.

SERVING SIZES

The flip side shows each food group and provides common serving sizes in case you're wondering if you should tap off two grain servings or just one.

EAT, TAP, CLOSE

Simply tap a food group icon when you've eaten a serving from that group and watch the icon flip around to reveal a check. The application will indicate your progress, saving the date if you eat the recommended servings from each group. If you're eating well, your last healthy day will always be yesterday. The clock rolls over to a new day at midnight your time.

REUSABLE

Most apps aren't used days after they're purchased. Don't waste your money on a complex diet tracker when all you need is a checklist. EatRight is easy to use, which means its easy to *keep* using.

GUARANTEE

Any issues or suggestions? You can contact me directly at steven.romej@gmail.com or call me at 404-939-0723.

UPGRADE NOTES

If you experience issues with the free upgrade, delete the app from your device then sync or re-download the app. Please leave a review if you like the upgrade.

Feature requests? Send them!
What's New in Version 1.6.2
* Updated Twitter sharing tool (blue chat bubble in lower right of Settings screen) to use the new Twitter OAuth protocol.
iPhone Screenshots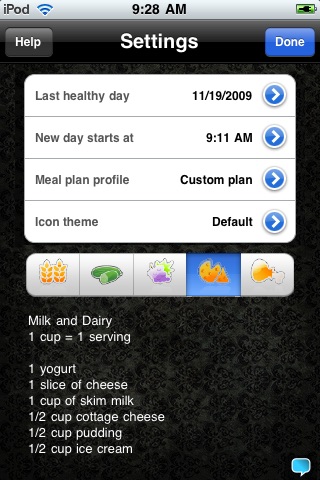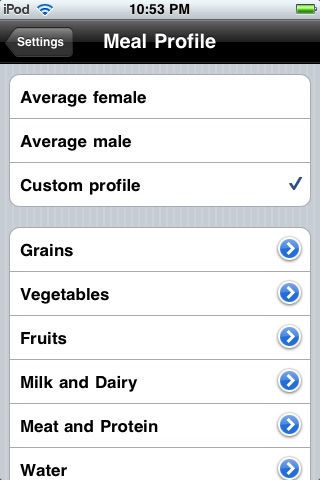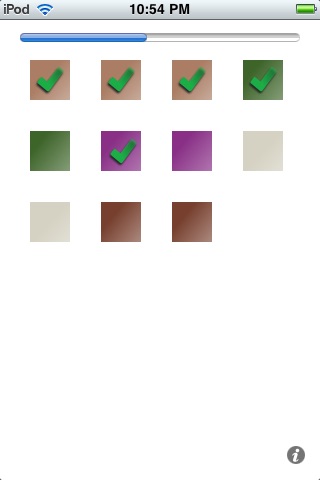 Customer Reviews
Great, simple tool
This app is very good, for what it is. It is NOT a calorie counter or a detailed nutrient tracker. It is a tool for people like my pregnant self who want to keep track of the major food groups... It lets you customize your grains, fruit, veggie, dairy, protiens, water, and sweets goals, and then you simply check them off as your day goes on. I try to stick to only whole foods and this a great tool for me to make sure i am getting a healthy balance. I didnt give it 5 stars bc ideally i would like it to allow you to add your own categories, or else have a few more categories like vitamins and healthy oils. Overall, i think this is a great simple app.
Perfect
This ap is very simple and exactly what I was looking for. Counting calories doesn't work for me. My nutritionist said I should check off my portions and this is simple and easy to use. Yeah! Why complicate life more than it already is? I too have had lots of nutrition training. This gives me accountability without cumbersome tracking. The reviews were very helpful. I probably wouldn't have purchased an ap with only 2 stars. It pays to read the reviews! History or print options would be nice for review but I love the simplicity!
Great for pregnancy!
Exactly what I need! I couldn't find an app for pregnancy anywheres to keep track of my daily nutrition. I stumbled across this one and after fully understanding how to work it, i love it! Study the nutrition pyramid on the internet first to fully understand. If you are pregnant and need more of one food group than another, you can customize your own meal plan instead of using the default 'average female' plan this app offers. I also love the examples on the flip side letting me know what is considered a serving of each food group. Great app!!!
View in iTunes
$1.99

Category:

Health & Fitness

Updated:

Feb 25, 2010

Version:

1.6.2

Size:

0.7 MB

Language:

English

Seller:

Steven Romej
Compatibility: Requires iOS 3.0 or later. Compatible with iPhone, iPad, and iPod touch.