eBay: Buy, Sell, Save! Electronics, Fashion & More
By eBay Inc.
Essentials
Open iTunes to buy and download apps.
Description
This holiday season, cross off everyone's wish list and save money with eBay! From stocking stuffers to Black Friday deals, finding the perfect gift is easier than ever with eBay's new and improved browsing and search features. Get personalized recommendations and discover new favorites as you browse eBay's catalogue of millions of items.


Download the eBay app now to find the best deals on items you and your friends will love!


The eBay app makes it easy to sell your items and manage your eBay experience, whenever and wherever you are! Set up a store page instantly with the barcode scanner, or create a custom page with important details. eBay notifications will let you know each time an auction ends, a customer messages or a user outbids you in an auction.


With the eBay app you can:


Get great Black Friday deals, all Holiday season long:
• Find great deals on gifts for everyone – yourself included
• Check back throughout the holiday for even more deals and discounts
• Bid on auctions for sale-level prices any time of the year
• Browse eBay Deals to find featured discounts on top brands, all with free shipping


Sell your items in minutes:
• List your used, new or duplicate items and start making extra money.
• Auto-fill product details for even faster setup.


Stay up to date with push notifications:
• See when customers view, bid and watch your items.
• Message buyers, with instant notifications when they respond.


Discover new items with our improved browsing experience:
• Use the new and improved eBay search to find new items
• Get personalized recommendations based on your shopping habits


Save money on the products you love:
• Get the things you love for the right price. eBay has everything from clothes to electronics to cars.
• Buy your favorite items from our trusted seller and save money.
• Choose Buy It Now to get the items you need instantly.
• Follow your favorite searches and sellers for quick access to the latest inventory.


Bid and buy for incredible discounts:
• Find deals on new items or purchase in bulk straight from the source.
• Search the best deals on millions of items.


Track orders and get notifications:
• Get customizable alerts about your eBay items and activity.
• Track your packages.
• Leave feedback for sellers.
• Read and respond to eBay messages.
• Report missing or un-shipped items.


Use the barcode scanner to search and sell stuff faster:
• Scan items to search eBay for deals.
• Auto-create a listing with a simple scan to speed up the selling process.
• Users scanning items will be able to find your listings faster than ever.


Buy and sell in categories like:


Clothing, Shoes & Accessories
• Find your favorite brands at unbeatable prices
• Collect sneakers, sandals, heels, running shoes and more
• Buy designer fashion, jewelry, watches and more cheaper than in-store


eBay Motors
• Buy new and used cars, trucks, motorcycles and more
• Outfit your vehicle with decals, accessories and safety equipment


Cell Phones & Accessories
• Find the perfect phone for you and get the best price
• Get cases, chargers, headphones and accessories for your new phone


Home & Garden
• Home decor, furniture, paintings, pillows and more
• Garden and patio furniture, tools and decorations
• Fun DIY projects, and the materials to make them


And so much more!


eBay gets you top prices on the items you love, and the best value for the things you want to sell. Whether you shop or sell, eBay's mobile app does it all. We'll stop here so you can start shopping now.


Download the eBay app and start your search today!
_____________________________________


KEEP IN TOUCH
Thanks to all our loyal fans for your support and suggestions! Your feedback is important to us. Please contact us with any questions by tweeting @askebay or join the discussion at www.ebay.com/iOS
What's New in Version 5.5.3
• Bug fixes and performance improvements

Your feedback is important to us. Please contact us by tweeting @askebay or visiting www.ebay.com/iOS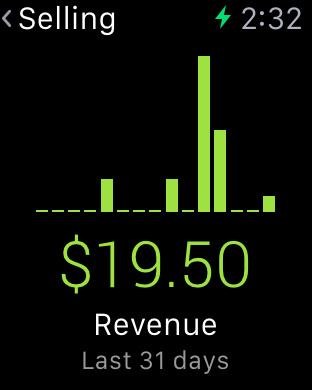 Customer Reviews
Great for purchasing
I don't sell, so I can only speak to browsing and purchasing but it seems like they really nailed it. The flow from searching, to looking and comparing, to watching is seamless and easy for anyone who can use a smartphone.
My only complaint is the inability to sort your watched items by date added, or times viewed, or even by a custom script you choose. I have many items in there waiting for a big paycheck or for a birthday or for many other reasons. Having to scroll through 50 items gets tedious.
Also, it would be nice if you could add the purchase options (size, color, quantity) and then send a question to the seller regarding those options. Several times I have a question about how something would fit and they can't tell what size I am referring too.
Overall it's a great app for even the heaviest buyer. I would like to start selling this summer and I hope the desktop site works better for sellers than the mobile site apparently works.
Just keeps getting worse
I was never a fan of this app but I have to say it just keeps getting worse. Due to the lack of simple options in app I constantly have to move task my browser to complete them. Of course it takes me to the mobile web page which is just as bad if not worse than the app. It's a round an round an battle of requesting the desktop site which in a few clicks sends me back to the page I first requested the desktop page, long story short it take about 5 min to do something that should take 30 seconds. When I add photos it shows a random mix of photos from years ago at the top of my most recent photos list. The biggest issue I have is it causes me to miss message, sometimes showing up days later or not at all. This was a huge issue an cost me pretty big when I was have emAil problems on my phone. I thought I could count on such a simple task but learned the hard way. Another huge issue is updates I make via the app say they're updated yet they are not, if not caught this could be costly. The bottom line is this app has been a huge disappointment for me an often creates issues for which I'm held accountable for by eBay.
Addictive, Fun, & A great place to meet the most honest & nice people!
I've now bought over 140 different items on eBay & I NEVER had even ONE bad experience, wether it be a person I've dealt with, an item or product I've bid on, regardless of whether I've lost or won the item!

Putting that into my own personal & most basic perspective, I just did a comparison with all the local places I've shopped at for many years & I can quickly realize that I can't even say that about one of the local stores I shop at!!

That said, what I find to be the best part of being on eBay, is the ability to meet & even though online, getting to know so many wonderful people from all over the world. Also, many I now would consider to be "friends" of mine. Friends I trust & buy from, friends I know without doubt will send whatever it is I want and/or ordered from, be it new or used, & 99% of the time, priced much less than the exact same item I can buy locally, and/or anywhere else online. That goes for both new & used items alike!

I'm so glad I found eBay & the many good people I've been blessed to meet on the site, & who I've now discovered are good folks just trying to earn a living like me & most everyone I know.
As long as I do not spend too much money on the site, which is easy to do when it's things you want or collect, it's fun & great!

eBay is definitely my favorite site online!!

RA
View in iTunes
This app is designed for both iPhone and iPad
Offers Apple Watch App for iPhone
Free

Category:

Shopping

Updated:

Dec 13, 2016

Version:

5.5.3

Size:

107 MB

Apple Watch:

Yes

Languages:

English, Dutch, French, German, Italian, Polish, Portuguese, Russian, Spanish

Seller:

eBay Inc.
Compatibility: Requires iOS 9.0 or later. Compatible with iPhone, iPad, and iPod touch.