eBay: Buy, Sell, Save! Electronics, Fashion & More
By eBay Inc.
Essentials
Open iTunes to buy and download apps.
Description
The eBay app is the easiest way to sell your items and manage your eBay experience, whenever and wherever you are! Set up a store page instantly with the barcode scanner, or create a custom page with important details. eBay notifications will let you know each time an auction ends, a customer messages or a user outbids you in an auction.

With the eBay app you can:

Bid and buy for incredible discounts:
• Find deals on new items or purchase in bulk straight from the source.
• Search the best deals on millions of items.
• Price check with different sellers to get the best deal.
• Browse eBay Deals to find featured discounts on top brands, all with free shipping.

Sell your items in minutes:
• List your used, new or duplicate items and start making extra money.
• Auto-fill product details for even faster setup.

Stay up to date with push notifications:
• See when customers view, bid and watch your items.
• Message buyers, with instant notifications when they respond.

Discover new items with our improved browsing experience:
• Use the new and improved eBay search to find new items
• Get personalized recommendations based on your shopping habits

Save money on the products you love:
• Get the things you love for the right price. eBay has everything from clothes to electronics to cars.
• Buy your favorite items from our trusted sellers and save money.
• Choose Buy It Now to get the items you need instantly.
• Follow your favorite searches and sellers for quick access to the latest inventory.

Track orders and get notifications:
• Get customizable alerts about your eBay items and activity.
• Track your packages.
• Leave feedback for sellers.
• Read and respond to eBay messages.
• Report missing or un-shipped items.

Use the barcode scanner to search and sell stuff faster:
• Scan items to search eBay for deals.
• Auto-create a listing with a simple scan to speed up the selling process.
• Users scanning items will be able to find your listings faster than ever.

Buy and sell in categories like:\

Clothing, Shoes & Accessories
• Find your favorite brands at unbeatable prices
• Collect sneakers, sandals, heels, running shoes and more
• Buy designer fashion, jewelry, watches and more cheaper than in-store

eBay Motors
• Buy new and used cars, trucks, motorcycles and more
• Outfit your vehicle with decals, accessories and safety equipment

Electronics, Cell Phones & Accessories
• Find the perfect phone for you and get the best price
• Get cases, chargers, headphones and accessories for your new phone
• Miss out on that Black Friday deal? Find amazing deals all year on TVs, laptops and more

Home & Garden
• Home decor, furniture, paintings, pillows and more
• Garden and patio furniture, tools and decorations
• Fun DIY projects, and the materials to make them

And so much more!

eBay gets you top prices on the items you love, and the best value for the things you want to sell. Whether you shop or sell, eBay's mobile app does it all. We'll stop here so you can start shopping now.

Download the eBay app and start your search today!
_____________________________________

KEEP IN TOUCH
Thanks to all our loyal fans for your support and suggestions! Your feedback is important to us. Please contact us with any questions by tweeting @askebay or join the discussion at www.ebay.com/iOS
What's New in Version 5.6.0
• New: A brand new way to browse - Tap Categories to discover the best deals, top trending items and more
• Fixed: Unable to follow sellers and searches when lists were full
• Fixed: Notifications would sometimes be difficult to turn on and off
• Fixed: My eBay would sometimes display as tiny icons

Your feedback is important to us. Please contact us with any questions by tweeting @askebay or join the discussion at www.ebay.com/ios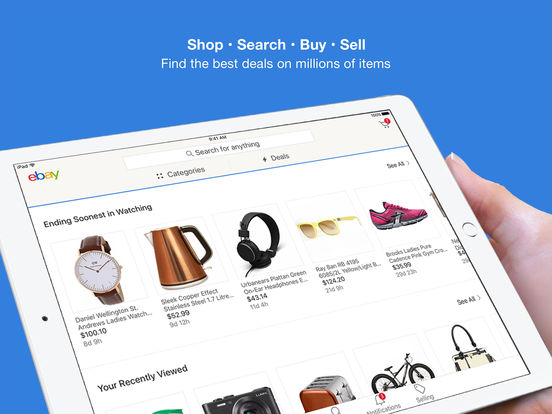 Customer Reviews
Decent, but needs more seller tools
The current version of the eBay app lacks some seller tools. Specifically, it needs a notification for sellers that experience a return. When a buyer wants to return an item you sold them, there is no way to see it on this app. If you don't check your eBay account on your computer, you will not know their is a return, until it has been turned into a case against the seller. This is a poor function that eBay needs to deal with. I've had more than 1000 items sold and in the last month, my first flaws have occurred due to this issue. It is frustrating and eBay has said that sellers need to check their eBay account on a computer. Some sellers only use mobile devices, so this poses a huge problem. It gives sellers a disadvantage and affects their seller performance. After years of being a top rated seller, I am now on the verge of losing my status, due to two returns that were closed without resolution, because I was not notified on the app that there was a pending return. It is very unfair to sellers that make a living from using eBay, and have their feedback experience flaws, without their knowledge or ability to remedy the situation. eBay needs to fix this issue asap.
Improved greatly - consider what this app does
This app serves buyers and sellers on one of the busiest platforms on line. There is actually quite a bit of work that one can get accomplished, although what's missing is frustrating. I am both a buyer and a seller. On the buyer side, the app works very well with the exception of saving refine search is. I am not sure why eBay lost functionality in this area. On the seller side, if you don't get too crazy you can do a lot with new placements, and a fair amount with revisions of existing placements. One of the things that a seller cannot do is change the type of sale mode, that has to be done on a pad or computer. It is a fairly difficult thing to do, much more so than it should be. I know that mobile is everything, and eBay deserves criticism for failing to plug holes. Without sellers, eBay is nothing. Bear in mind though that eBay pushes millions of items and multiple millions of pictures. If this app doesn't do everything, it may be the best it can be expected at this point.
eBay seller app
This app gets 5 stars from me! I use it everyday to list on my stores and it allows quick easy Listing to my stores. Definitely the most reliable app on my phone!
Another feature that may or may not be intentional is that it really doesn't use much battery. I can list 5-6 items completely with this app before I lose 1% on the battery.
Another great feature is that you can use the phone to take the pics or add whatever you want and then save to drafts and continue the listing from the PC. This makes fast work of listing.
The pictures are very easy to work with from the Mobil app basic editing makes it easy to fix pics.
I will admit it took quite a while to get everything figured out i.e.
#1.... How to change the duration of the sale is a sub menu on the price tab that doesn't show unless you open it. So it defaults to 30 days and you will need to relist again.
#2....the scanning icon on the listing page is useless. It used to work well but now out of 10 scans of different items not ONE was recognized needs to be corrected
#3..... shipping can be a problem if you don't clear the last shipping details you used.
For example if you listed a free shipping item the next item you list will default to free shipping. Not good if it will cost you more then it should. I must reset ship every time which you kind of have to do anyway because of weight and dimensions
Overall great app thanks
View in iTunes
This app is designed for both iPhone and iPad
Offers Apple Watch App for iPhone
Free

Category:

Shopping

Updated:

Jan 30, 2017

Version:

5.6.0

Size:

113 MB

Apple Watch:

Yes

Languages:

English, Dutch, French, German, Italian, Polish, Portuguese, Russian, Spanish

Seller:

eBay Inc.
Compatibility: Requires iOS 9.0 or later. Compatible with iPhone, iPad, and iPod touch.