End Space VR for Cardboard
By Justin Wasilenko
This app is only available on the App Store for iOS devices.
Description
End Space VR is a first-person arcade space shooter built for virtual reality. Using head based movement you pilot a small space fighter through intense space battles defeating progressively harder waves of enemies. Fire your ship's lasers with your headsets trigger button, or if no trigger is available with gaze based targeting.

Featuring triple AAA graphics and the use of 3D positional audio, End Space VR delivers the most immersive and compelling VR experience available on Cardboard. It has been fully optimized to squeeze out every bit of performance to provide a fluid and smooth VR experience.

End Space VR features:
- Fully immersive VR experience using AAA graphics and 3D sound
- 3 beautifully crafted space environments to fly through
- Never ending gameplay with progressively harder waves of enemies
- Highly detailed ships with damage modeling and destructible pieces
- Powerful upgrades to your ship and weapons
- Built with the latest guidelines for VR to provide a comfortable and immersive experience
- Bluetooth / Gamepad support

Game options:
- You can disable VR mode in the main menu
- If your Google Cardboard / VR headset does not have a trigger button disable the Trigger option in the main menu. This will allow head gaze based shooting. Or use a Bluetooth gamepad.

End Space VR is best experienced with headphones. Please play standing or seated on a swivel chair. Enemies will try and attack you from behind!

Important: Please note this game is built specifically for Google Cardboard and requires at least an iPhone 5 or iPhone 6.

If you experience steady drift, placing your phone on a flat surface for a few seconds can help to calibrate the sensors.

Have an idea how to improve the game?

E-mail me: justin@endspacevr.com
Facebook: https://www.facebook.com/endspacevr
Website: http://endspacevr.com
What's New in Version 1.2.2
Patch Notes End Space VR v1.2.2

Bug fixes
- Gamepad support should be fixed
- Fix for VR mode button black screen in main menu
- Hopefully fixed iPhone 6s+ white screen issue
- Radar should point correctly to enemies
- Update to Unity 5.3.4 Pro
iPhone Screenshots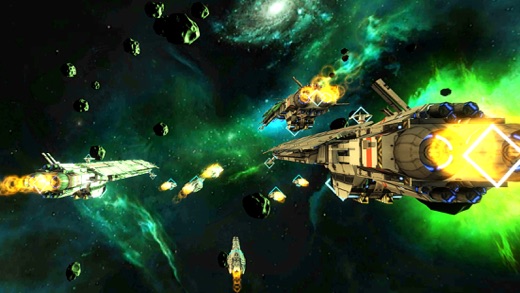 Customer Reviews
Hope it gets better
I'll try to be to the point. Everyone has all ready said for the most part what is good about the game. So like the others I agree the sbs 3D and Vr is really good as are all the values that make up the immersion of the game play. But it seems like it's an unfinished game. 1 area the game takes place in? No high score or kills board? No ship improvement system? No multiplayer option? As it stands for me at least the replay value is very low. I've already gotten bored with the game. I'm not saying I've stopped playing but without the above mentioned suggestions the game will go unplayed soon.
Now for the 1 thing that will most definitely make me stop playing. The way the game ends( spoiler alert ) you run out of ammo. YA! It's not the game get progressively hard and the enemy waves are just too hard to defeat. Nope, not at all. It's you and one other ship left from a wave of enemies that you have already take out. But your out of ammo so are left with no choice but run. So you run and... DIE. So basically a very unbalanced item drop system is the cause of the of the game. Please at least fix this issue. Thanks. 🙂🙂
3D space shooter
Great graphics. You start out in a highly detailed space station. Choose start and you are out in space with stereoscopically 3D enemy ships coming at you. Options for headsets with a trigger as well as those without. It would be nice if the voice told you when there are enemy ships behind you, but otherwise great game.
AMAZING VR Game
All of the other VR games I've tried have been pretty bad, so I was taking a risk when I bought this. This game did not disappoint. It has great graphics, fun gameplay, and you can really tell that a lot of effort was put into this. I would like to suggest maybe adding some kind of story, and a currency system where you can buy power ups or ship upgrades. Great work on this VR app!
View in iTunes
$0.99

Category:

Games

Updated:

Apr 11, 2016

Version:

1.2.2

Size:

140 MB

Language:

English

Seller:

Justin Wasilenko
Compatibility: Requires iOS 8.0 or later. Compatible with iPhone, iPad, and iPod touch.