ePunchClock
By Smallmake
This app is only available on the App Store for iOS devices.
Description
This app is based on a time card. It is ideal for recording how much time you spent on multiple projects in progress simultaneously. It simulates the sense of use of a time card. It can display a graph of the aggregate data and export it to a CSV file. It can also write events to an iCloud calendar in real time. However, it 'cannot' calculate things like hourly wages.

Small introduction: http://www.youtu.be/K2gH7Ccb5c4

How to use:
Assign a name to your daily task, studies etc and register it as a project. This corresponds with the time card.
When you start that task, punch the time card. When you finish, you can punch it again to record the task. For tasks, you can register "context" and "location" in addition to the start and end times.
A context is like a tag. In my case, for example, I have two development projects, and both share the programming, design and test contexts. This means that by doing this, I can find out how much total time or what proportion of my time was spent in development overall on programming.
By double tapping or holding the time on the time card, you can open the task card and edit or delete it. You can also record a memo here.
If you use iCloud, you can write tasks to the iCloud calendar automatically.

Functions:
- Record contents: start time, end time, context, location, memo
- Select project: When you flick upward on the time recorder at the bottom of the screen, the Project Menu will appear. By swiping the time card horizontally, you can also switch projects.
- Select context and location: Select context and location from the time recorder at the bottom of the screen. Your selection will be marked. You can switch by tapping the buttons or flick horizontally. You can also display the menu by double tapping.
- Punch: When you tap the Punch button on the card, the time and the context and location selected in the time recorder will be marked.
- Edit or Delete task(1): When you double tap the time on the time card, the task card will open. Here you can alter or delete any of the record contents.
- Edit or Delete task(2): When you tap and hold on the time on the time card the Edit and Delete menu will pop up.
- Compact display: The display is usually compact. In the expanded display, the context and location are also displayed. You can return it to the compact display by tapping the button or pinching.

Miscellaneous:
- Time interval settings: You can adjust the time marked on the time card for intervals of 10, 15, 30 minutes, for round numbers.
- CSV export: The project title, start time and date, end time and date, context, location and memos will be exported in CSV format. The file can be transferred by iTunes file sharing, or it can be transferred directly by email to tap the list.
- If the end date overlaps dates, the end time will be displayed in blue. Tap it, the end date will be displayed in a pop-up.

Graph display:
- Choose up to five items from projects, contexts or locations, and it will display the daily total (line graph), monthly total (bar graph) and overall total (pie chart) of the time for each.
- There is also a screen that lists the numerical values. To switch from graph display to list display, either tap the button or swipe vertically.

Limitations:
- Up to three tasks can be recorded for a single project in a single day.
- There is no function for calculating hourly wages etc.

iCloud Synchronization:
Tasks generated ePunchClock and their modification or deletion will be displayed sequentially on iCloud calendar. However, if the corresponding event on the calendar is modified, that modification can be displayed in reverse in the ePunchClock tasks by tapping the synchronize button or selecting the launch option. When you do this, plans created independently on the calendar without going through ePunchClock will not be displayed on ePunchClock. Only modifications to events written by tasks created on ePunchClock will be displayed in the ePunchClock tasks.
What's New in Version 1.0.2
- fixed the issue of turning iCloud Calendar sync on.
iPhone Screenshots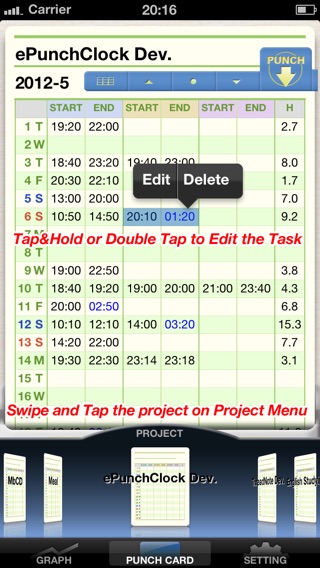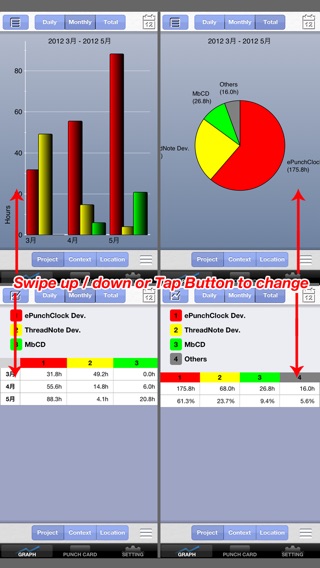 Customer Reviews
Close
Overall, I would have gone with 3.5 stars, so I rounded up to 4. I have 4 items I would like improved or added to.

For me the biggest improvement needed is making the punch button static on the screen, and maybe a little bigger or centrally located. Worth 0.6 of a star to me.

The next issue is a little more flexibility with the rounding. It has the options to satisfy most people I would guess. At my job, we round to the nearest 1/4 hour. This app does that. But if I punch in at 6:53 and out at 19:08, it records 7:00 and 19:15 and then totals the hours at 12.3. I want to record punches at the actual minute and have it do the rounding behind the scenes so to speak, and then display the hours to 2 decimal places to accommodate the 1/4 and 3/4 hour total. Worth 0.4 of a star to me

The third handy addition (for me) would be the ability to punch into sub categories. I manage lawn care. It would be nice to use this app to track my time doing different duties. For example, some of my time is in the office doing scheduling, posting production, marketing, and so on. Other parts of my day also include working in the shop, travel time, and doing production work. Worth 0.325 of a star to me.

Lastly, a little more statistical and graphing power. This isn't a huge priority in my opinion since there is the ability to export the data into a spreadsheet where I can do these things. I'm a bit of a stats and graphs geek. I like to know my shortest day, longest day, mean, median, and mode average hours worked. And tie this in with my third item of sub-categories, this would come into play even more. Worth 0.175 of a star to me.

Critiquing and wish list done, I'd say this app is moderately robust. There are others with a simpler interface if you are just looking to keep track of punches in and out of work or lunch time. I haven't had the app crash thus far. It's detailed, easy enough to use with just a little time learning. Some buttons are tough to hit but in exchange you get a lot of detail info on a screen with out having to navigate multiple screens to get to what you want. I'm a tough guy to please. After looking at about 50 apps, I purchased 3 and this is the one I liked the most of them.
View in iTunes
Free

Category:

Lifestyle

Updated:

Nov 28, 2012

Version:

1.0.2

Size:

2.4 MB

Languages:

English, Japanese

Seller:

Eiji Nakai
Compatibility: Requires iOS 5.0 or later. Compatible with iPhone, iPad, and iPod touch.
More iPhone Apps by Smallmake