Essential Anatomy 5
By 3D4Medical.com, LLC
Editors' Choice
Open the Mac App Store to buy and download apps.
Description
Essential Anatomy is the most successful anatomy app of all time, with more content, features, structures and ease of use than any other anatomy app — bar none! Now with over 8,200 structures including female 3D model.

Download our FREE "Essential Skeleton" app in the free section to experience our groundbreaking 3D technology.

NOTE: Not compatible with MacBook Pro (2008) or earlier due to graphics card limitations.

- - Number 1 Top Grossing Medical App in 117 countries worldwide.

- - This app is the only one that can combine 3 stand alone apps. Don't waste your time purchasing other stand alone apps for Muscle Premium and Skeleton Premium content - it's all available with a price effective "in-app purchase" and just a fraction of the cost other companies charge. In Essential Anatomy - everything is available in one app (see in-app purchases below).

- - Stunning Graphics: No competitor comes close. Essential Anatomy's proprietary engine was developed and optimized to showcase our new generation anatomical models for a completely immersive user experience. Other 3D Anatomy apps are limited by off-the-shelf gaming engines.

- - Easy Navigation: Instantly and seamlessly zoom into any area of the body, remove layers of muscle and turn on/off systems. Other apps are restricted to a multitude of limited predefined "views".

- - Accurate Content: Essential Anatomy is used by hundreds of Anatomy Professors worldwide and has become the standard in third level education. In many cases, our app is now mandatory with text books optional.

- - Read the reviews of previous versions: Our visionary app has enhanced the lives of reviewers, both professionally and academically.

TUAW: "Make no mistake about it: Essential Anatomy by 3D4Medical is the future of touch-based anatomy learning. Essential Anatomy is an app every doctor, physiotherapist, OT, nurse and medical student should own."

IN APP PURCHASES:
In-app purchases allow additional muscle and skeletal content to be downloaded and accessed from within the app. These boosts add muscle insertion and origin points, skeletal bone parts and surfaces and 100s of animations detailing movements for each articulation.

Visit www.3D4medical.com and watch videos that highlight the app's functionality and quality. You'll understand why Essential Anatomy 5 is the most successful medical reference app of all time!

ESSENTIAL ANATOMY 5
Essential Anatomy 5 is a full-featured anatomical reference app that includes MALE and FEMALE models, with 11 SYSTEMS and a total of 8,200 ANATOMICAL STRUCTURES. The app is fully 3D, meaning that you can view any structure in isolation, as well as from any angle. It represents the latest in groundbreaking 3D technology and innovative design. A cutting-edge 3D graphics engine, custom built by 3D4Medical, delivers outstanding quality graphics that no other competitor can achieve.

FEATURES OVERVIEW:

--Cutting-edge 3D technology
--Over 8,200 highly detailed anatomical structures
--Hide/Fade/Isolate/Fade Others/Hide Others options for individual structures
--Multiple Selection Mode
--Pins: Create customized pins with notes and place anywhere on the 3D model
--Slice: Slice through certain structures using 3D plane tool
--Bookmarks: Preset and Customizable
--Correct audio pronunciation and Latin nomenclature for every structure
--Search via English and Latin nomenclature
--Dynamic Quiz: Drag and Drop and Multi-choice
--Share images via social media and e-mail
--Includes anatomy for 11 systems: Skin, Skeletal, Muscles, Connective Tissue, Veins, Arteries, Nerves, Respiratory, Digestive, Urogenital, Lymphatic, also includes the Brain and Heart

Feedback or Question? Contact our customer support at info@3d4medical.com. You will receive a prompt response!
What's New in Version 5.0.2
Fixed issues with slice tool.
Screenshots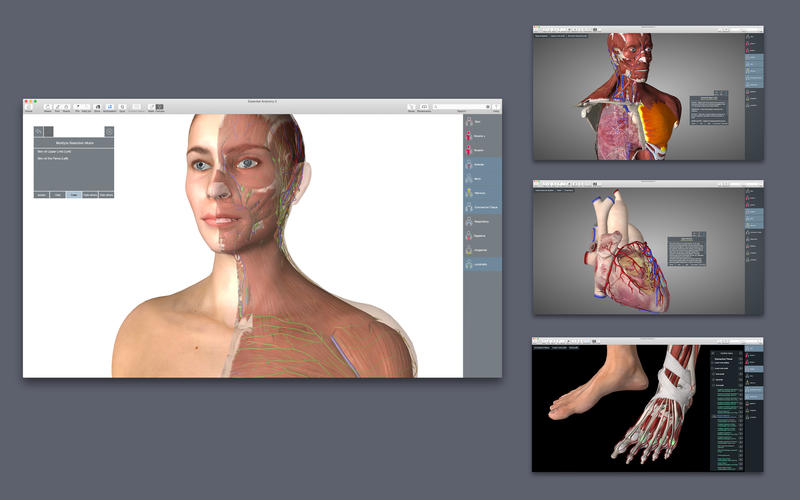 Customer Reviews
WONDERFUL — PLEASE CREATE SIMILAR APPS FOR VETERINARIANS
This is a remarkable anatomy app, a visual anatomical feast. It's incredibly easy to use, yet reveals a plethora of visual structures - all with the ability to rotate, enlarge etc. to your heart's content. Plus, there are icons you can press for further information, videos, etc. My only suggestion for improvement, as a number of other viewers have stated, would be the ability to move the information box around the screen, so that it doesn't cover up the very visual images you're trying to look at. (Or to turn the information box off altogether, so that our knowledge can be tested before viewing the written content.)

It is my hope that 3D4Medical will consider veterinary apps as well, specifically for horses, dogs and cats, which is needed world-wide and would likely become enormously popular in short order. There is no animal anatomy app I'm aware of that comes even close to this company's breathtaking imagery, anatomical accuracy, depth of information and ease of use.

Vets and Vet students - please join me in letting 3D4Medical know that there is a market for comparative anatomy software on this level! Thanks much -
Great app, disappointing navigation and UI
I'm blown away at how detailed this app is. It's been able to keep up with my college courses without a hitch. Everything is on there. Unfortunately, just using the program can be stressful at times.

Touchpad navigation is very poor compared to their mobile app (which I am not going to spend another $25 on). The search bar shortcut wont activate upon pressing Space, despite what the instructions say. There's only one touch pad gesture as well, which means full navigation relies on clicking and using the keyboard in some instances. Even quizzes are a chore. You cant exclude certain features from being part of a quiz. If you are to test yourself on cranial bones, prepare for almost every question to be on the location of teeth. These oversights in navigation and UI are hard to dismiss when the app is 35USD.

I wish I could get a refund on the app so I could get the iOS version instead, since that is far more enjoyable to use (even if it means going to a much smaller screen). Developers, this app has 5-star, first-in-class detail. But navigating the app is nightmarish and something i'd expect from a free app.
From Optometry School
Love the detail of the vessels and nerves! Great on muscles (includes innervation, origin, insertion, and action)! Bones are great. I would like to see some bone structures and be able to click on them and have them labeled. Also I would like when I click on the structure not to have the title right in the middle of my screen where I am trying to view the structure. Also I would like the zoom when you move close to structures not to be so choppy. Other than that, totally worth the money! One of the most helpful things I have used to study anatomy in both under-grad and graduate school! This App helps bring all the structures together, where you might otherwise have to piecemeal a bunch of pictures together to try to figure out what is superficial and what is deep, what is more lateral and what is more medial, etc.
View in Mac App Store
$34.99

Category:

Medical

Updated:

Mar 15, 2016

Version:

5.0.2

Size:

695 MB

Language:

English

Seller:

3D4Medical.com
Compatibility: OS X 10.9 or later, 64-bit processor
Top In-App Purchases
Muscle System Plus$9.99
Skeletal System Plus$9.99
More by 3D4Medical.com, LLC