Essential Skeleton 4
By 3D4Medical.com, LLC
Open the Mac App Store to buy and download apps.
Description
***** DON'T MISS! - Number 1 Free Medical app in over 95 countries worldwide
***** NEW anatomical models that have more detail and take less processing power
***** Groundbreaking 3D Technology - No competitor competes with graphics and medical accuracy

NOTE: Not compatible with MacBook Pro (2008) or earlier due to graphics card limitations.

THIS APP IS NOT COMPATIBLE WITH 10.6

Essential Skeleton 4 is a fully functional, self-contained app covering the essential anatomy of the skeleton. This app is being offered free to demonstrate the groundbreaking 3D technology and innovative design inherent in 3D4Medical's new range of apps.

3D4Medical have developed a cutting edge 3D graphics engine designed specifically to maximize what can be done with anatomical models in the mobile and Mac environment.

Now 3D4Medical have also created custom built anatomical models which have been built from the ground up specifically for the proprietary 3D Display engine. The result is unparalleled graphics and functionality.
It is a stand alone app and does not contain any In-App purchase requirements.

We encourage you to download this app, as well as the free version of any competitor's app. Compare and decide for yourself which is better in terms of 3D models, functionality, medical accuracy and ease of use. Afterwards, let us know -- we'd love to hear from you!

NEW 3D TECHNOLOGY
Essential Skeleton 4 is responsive, visually stunning and effortless. The app is fully 3D, meaning that you can easily manipulate the skeleton and individual bones, as well as view them in isolation from any angle. Our new Multiple Selection Mode allows you to select multiple bones and isolate, hide or fade them.


FEATURES
- New 3D technology via 3D4Medical's latest graphics engine.
- Simple navigation and user friendly, intuitive interface.
- Correct audio pronunciation, Latin nomenclature and description for each bone.
- Select areas or the entire skeletal system using the Breadcrumb Trail.
- Multiple Selection Mode.
- Create and save custom views with Bookmarks.
- Search by English or Latin nomenclature.
- Dynamic quiz function - Drag and Drop and Multi-choice.
- Extensive social media tools and sharing capability.
- Pin feature: Create customized pins with notes and place anywhere on the 3D model.

3D4MEDICAL'S COMMITMENT:
We take pride in our apps at 3D4Medical and continually strive to engage with our customers. From the first edition of Muscle System Pro, we have consistently listened to our users and upgraded our apps, continually and throughout. 

Email us via the App Feedback address below to engage with our development process:

EssentialSkeletonMac@3D4Medical.com
What's New in Version 4.1
OS X 10.10 (Yosemite) compatibility.
Minor content changes.
Screenshots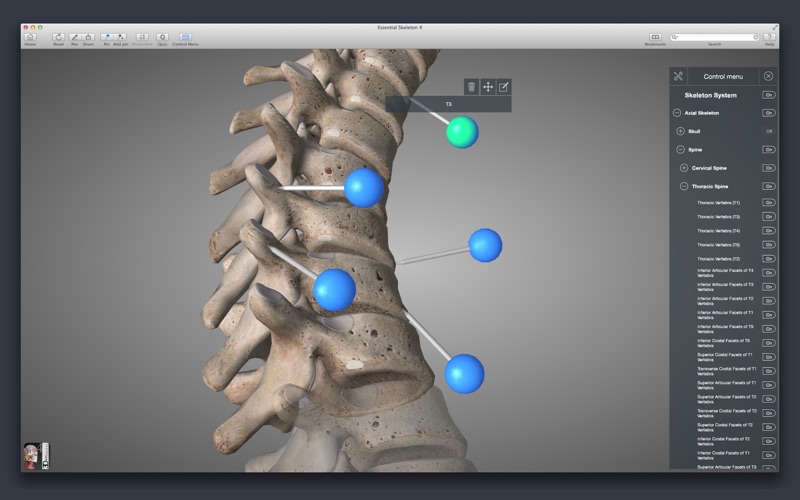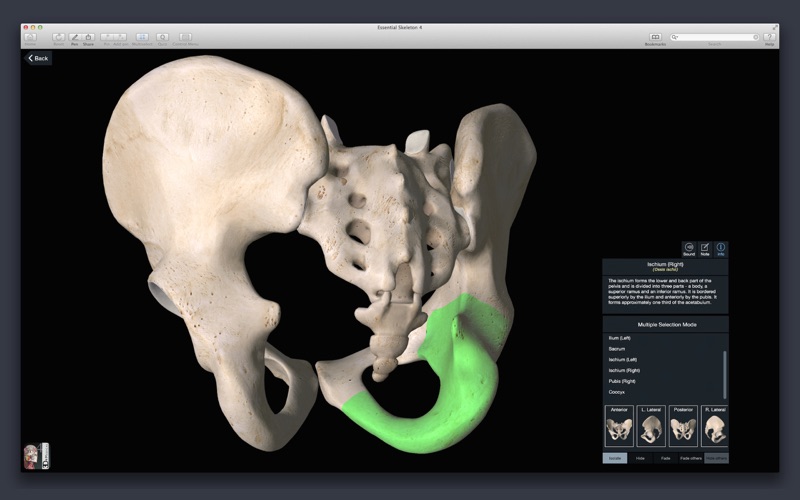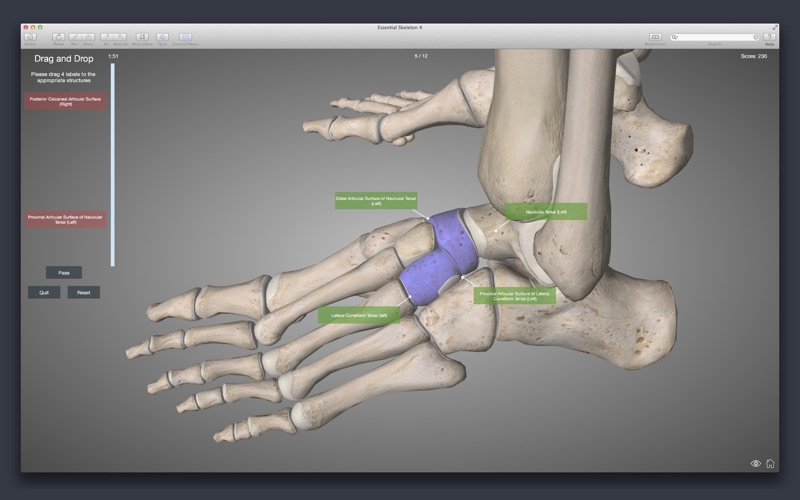 Customer Reviews
Free, interactive, educational, 10 stars if it were allowed
I am amazed and grateful that a company is kind enough to give this educational product away. There is incredible detail in Essential Skeleton. You can zoom in to click on individual bones, add your own notes, hear the pronunciation of the bone by clicking on Sound, isolate the bone (or bones), choose from 4 different views of each bone, and click and drag to view and rotate the skeleton in real time 360 degrees! You can quiz yourself, choosing what parts of the body on which to assess your knowledge. I am not a medical student, just an interested plebeian, so I can't speak to medical school needs. It's free, though.
I have found zero bugs, but if someone did, I see a link to Essential Skeleton 4 Support right above where I am typing this review.
Every medical student NEEDS this app and it's FREE!
This app is super amazing! The detail of the model is second to none. I use it every day as a reference. Most of my classmates have it installed on their Mac devices too. I do have to disagree with the other reviewer - this is a free download and you expect to get bone landmark details, and are complaining that it's really bad for medical students. C'mon on! I'd love if they included more detail too, but this is a free app, their paid version features bone landmarks. I'm all for supporting great developers and because I've found this app so beneficial I feel it's my duty to defend it when silly reviewers make outrageous comments like that.
Really Awful for Medical Students.
Medical Students are expected to know all the bones in the app, because they are very basic. What this app does not have is 'parts' of subsections of bones. What Essential Skeletal Anatomy wouldn't have Greater or Lesser Trochanter, where several muscles attach. Think of one, and trust me, its not in there…. Iliac Crest, Iliopubic Eminence, Ramus, Nuchal Line, not even Transverse Processes! Maybe for grade school students, but not Medical Students. I think the Skeletal System Pro app may have what I'm looking for, but the justification I have for giving this free app 2 stars, is because by no means does it provide a display or explanation of essential skeletal anatomy.

Essential Anatomy 4 is a pretty good app though
View in Mac App Store
Free

Category:

Medical

Updated:

Oct 30, 2014

Version:

4.1

Size:

110 MB

Language:

English

Seller:

3D4Medical.com
Compatibility: OS X 10.8 or later, 64-bit processor