ET Contact Tool
By Sirius Technology Advanced Research
This app is only available on the App Store for iOS devices.
Description
The ET Contact Tool is a self-contained course on making contact with ET beings authored by Steven M. Greer, M.D., which includes working scientific instruments for detecting anomalous activity.*

Dr. Greer is the director of CSETI (The Center for the Study of Extraterrestrial Intelligence). He is widely regarded as the most credible and influential figure on the subject of ET contact. He has briefed astronauts, a sitting CIA director, and military and government officials in the US and around the world.

He is also the father of the world-wide disclosure movement, which has recently led to governments around the world releasing hundreds of thousands of previously-classified documents on UFO and ET-related matters, emphasizing the reality and importance of this issue.

Dr. Greer is a retired emergency physician and was the chairman of the Department of Emergency Medicine at Caldwell Memorial Hospital in North Carolina before dedicating himself to this work full-time.

As a meditation instructor for over 30 years, he has pioneered techniques that combine meditation and remote viewing for making ET contact. He has trained thousands of people around the world in the use of these methods.

The ET Contact Tool provides you with a full course in these techniques, as well as a suite of tools to help you make contact on your own. It includes over two hours of audio tutorials and guided meditations, along with Dr. Greer's complete written guide on the science of making contact, custom-tailored for the iPhone.

** Search the App Store for "ET Contact Tool HD" to see our new iPad-optimized version!

Features:

•Official training materials authored by Steven M. Greer, M.D.
•Well-organized instructional manual with over two hours of audio tutorials and guided meditations by Dr. Greer.
•Working scientific instruments including a magnetometer and compass for detecting anomalous activity.*
•Includes images, sounds and written examples of prior contact events.
•All materials are self-contained within the app- no web connection is required.

* Magnetometer and Compass require iPhone 3gs, iPhone 4, iPhone 5 or iPad
What's New in Version 2.2
-Fixed sound looping issue
-Full support for latest versions of iOS
iPhone Screenshots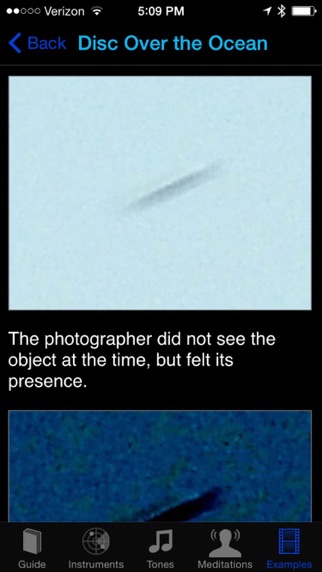 Customer Reviews
Amazing App! I have an iPhone6, why only 4 star.
(Sorry about my English)

This App answered on all my questions that I had before about ETs and of course contacting them!
ET instruments as Magnetometer and Compass working when Airplane mode is on!, no internet need! ET instruments are awesome and very useful tool I found! Recorded Tones helps you establish your presence to nearby beings. I was working last night alone and I had result at the first night. I've seen Orbs! What I also found and was surprise me is that Tones in App helps me block my mind reality and focus your third eye energy!
Why only 4 stars rate, after playing the Crop Circles Tone for about 10sec the Tone stopped playing and turned all of iPhone6 sounds off, then after 10sec App (might not app at all) independently start playing Tone again but it was a different Tone! for about 10min! and I couldn't turn it off, even App was turned off, so I start working with this new Tone I was hearing from iPhone. (By the way I have had experience seeing Orbs at this time).

I found two reason for my 4 stars rate.
-First, the Team of ET Contact App needs examine the reasons why it happened.
-Second, I think what had happened it's ET presented and that why my iPhone6 was start independently playing Tone, (yes I felt ET present as well) And it might cause this independently playback Tone (I checked all Tones in App and didn't find any similar Tone I heard).
Thank you for attention reading my Review.
Just what it says it is!
This is a handy little app that gives you exactly what it advertises. 2 handy tools, a couple meditations, a few sounds and videos.
Right after I got it I put on the Crop Circle recording at night on the trail and saw a brilliant green shooting star within minutes. Only happened that one time but it was pretty cool!
I would probably purchase it again. It's a handy tool. Not too fancy but gets the job done.
Nice app, but could use some updates.
You get over an hour of meditations. Some interesting tools and videos. I would love some updated UFO pictures, as I'm sure your team has collected thousands over the years. There are a few bugs with the electromagnetic/sounds not working properly but it is fixed with an app reboot. A solid start, but an update with improvements would be welcomed. Still pleased with my purchase!
View in iTunes
$6.99

Category:

Utilities

Updated:

Jul 10, 2015

Version:

2.2

Size:

176 MB

Language:

English

Seller:

Sirius Technology Advanced Research, LLC
Compatibility: Requires iOS 6.0 or later. Compatible with iPhone, iPad, and iPod touch.