EVE Tracker
By Saggy Software, LLC
This app is only available on the App Store for iOS devices.
Description
Track your EVE Online pilot stats and training status. Review already trained skills and training times for subsequent levels. Research your pilot's next skills with the built in skills browser (supports searching by title or full text on the skill descriptions). Includes the latest Empyrean Age data. Supports multiple pilots and accounts.

This handy application helps you know when you need to excuse yourself from that incessant meeting at work so you can go log onto EVE and start training your next skill!

NOTE: You need an active EVE Online account to be able to use the pilot tracking features.

Please contact support if you are having trouble.
What's New in Version 1.1
NEW: You can now look up and automatically enter your EVE service user id and api keys.
NEW: You can display absolute or relative time to completion for the currently training skill by tapping on the progress bar.
NEW: You can add all pilots in an account or select them individually.
NEW: Added locale based number formatting.
FIX: All items in the skill lists are now accessible (no longer partially covered).
FIX: Perception attribute calculations and implant handling bugs have been corrected.
FIX: Pager control width resizing is now correct for 4+ users.

For a more complete list and further details, please refer to …

http://www.saggysoft.com/products/evetracker/notes.html


iPhone Screenshots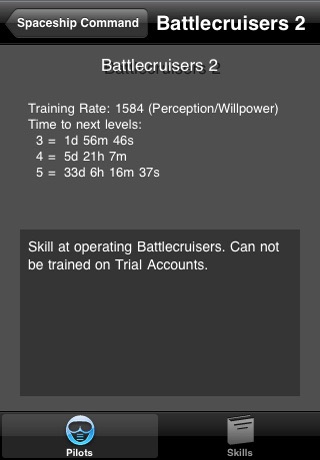 Customer Reviews
Best app for the job
Lots of features and quite useful, though still needs tweaking. There's so much unused space on the main screen, and the progress bar is so small. Others complained about how hard it is to get the readout to switch between 'countdown' and 'deadline' modes (names I just made up to describe them), and that's directly related to the size of the bar, not whether it works or not. Guaranteed every time people tap it and it doesn't work, they didn't actually tap it. This is just a problem iPhone/Touch users should have gotten used to in the first few days of use anyway, and thus should be able to understand why something may or may not work all the time due to this interface problem. Another thing related to the design of the iPhone is the issue of an alarm: The iPhone doesn't run anything in the background, so how are you supposed to have an 'alarm' set in this app go off? Just use the Clock app the device came with, don't expect developers to do the impossible. Lastly, some have taken issue with the way this app offers an alternate way to input the API, and I will at least say this much: there is a better way to handle it as I've found out.
Not sure if it works for all...
22 Feb 09- I just got my Iphone yesterday, enjoying it. I pulled this app, but cant get it to work. I've asked ppl that I know do have it and it is working. Used the trouble shooting that Apple store gave me. Even went as far as regen'ing a new API. Still not working. I know this much.... 1) Open app, hit + (add Pilot) 2)Eve API page loads.. Log yourself in..... 3)Eve API page loades -showing API, lower sceen 'Get Key' has spining circle... Wait for it to stop spining 4)Tap 'Get Key'... On step 4, my button never becomes 'tap-able'...real word? Do I need a flash utility? Any assistance would be nice...More instuctions, something..... Would love to use it, but it doesnt seem to work. 8G Iphone. 2.2.1 software 2 days old.....
Needs work... lots of it
It took me about 45 minutes to get this program to work when I first got it (the get API button has not worked for me since I got it so it took many attempts to get the entire key put into it...). One day it just up and stopped working so I reinstalled it and since then I can not get it to get the API to validate. Almost all the buttons on the main screen are nearly impossible to press. I understand the program is free but with a lack of tools for checking on skills on the go for the iPhone/iPod touch, it would really be nice if the creator of this software would give this an update so it is not so aggravating to use.
View in iTunes
Free

Category:

Utilities

Updated:

Sep 21, 2008

Version:

1.1

Size:

0.5 MB

Language:

English

Seller:

Scott Guyer
Compatibility: Requires iOS 2.0 or later. Compatible with iPhone, iPad, and iPod touch.