Evernote – stay organized
By Evernote
Essentials
Open the Mac App Store to buy and download apps.
Description
Let Evernote change the way you organize your personal and professional projects. Dive in: take notes, create to-do lists, and save things you find online into Evernote. We'll sync everything between your phone, tablet, and computer automatically.

---

"Use Evernote as the place you put everything… Don't ask yourself which device it's on—it's in Evernote" – The New York Times

"When it comes to taking all manner of notes and getting work done, Evernote is an indispensable tool." – PC Mag

---

GET ORGANIZED
Evernote gives you the tools you need to keep your work effortlessly organized:
• Write, collect and capture ideas as searchable notes, notebooks, checklists and to-do lists
• Take notes in a variety of formats, including: text, sketches, photos, audio, video, PDFs, web clippings and more
• Use the camera to effortlessly scan, digitize, and organize your paper documents, business cards, handwritten notes and drawings
• Use Evernote as a digital notepad and easy-to-format word processor for all your thoughts as they come

SYNC ANYWHERE
Evernote gives you the ability to sync your content across devices:
• Sync everything automatically across any computer, phone or tablet
• Start your task working on one device and continue on another without ever missing a beat
• Add a passcode lock to the mobile app for more privacy

SHARE YOUR IDEAS
Evernote gives you the tools to share, discuss and collaborate productively with others:
• Create, share and discuss with the people who help get your work done, all in one app
• Search within pictures and annotate images to give quick feedback
• Develop your projects faster and let multiple participants work on different aspects

EVERNOTE IN EVERYDAY LIFE
• Make personal checklists to keep your thoughts organized
• Set reminders to keep on top of activities and write to-do lists
• Gather, capture and store every thought you need to stay productive
• Plan events such as holidays, weddings or parties

EVERNOTE IN BUSINESS
• Create agendas, write memos and craft presentations
• Annotate documents with comments and thoughts during team meetings, then share with colleagues
• Get your projects underway faster and maximise productivity by letting multiple participants access and work on different aspects alongside each other

EVERNOTE IN EDUCATION
• Keep up with lecture notes so you don't miss a vital thought
• Clip and highlight articles from the web for academic research
• Plan and collaborate for better academic group work

---

Also available from Evernote:

EVERNOTE PLUS - More space. More devices. More freedom.
• 1 GB of new uploads each month
• Unlimited number of devices
• Access your notes and notebooks offline
• Save emails to Evernote
$3.99 monthly, $34.99 annually

EVERNOTE PREMIUM - The ultimate workspace.
• 10 GB of new uploads each month
• Unlimited number of devices
• Access your notes and notebooks offline on your mobile device
• Save emails to Evernote
• Search inside Office docs and attachments
• Annotate PDFs
• Scan and digitize business cards
• Show notes as presentations, instantly
$7.99 monthly, $69.99 annually

---

Price may vary by location. Subscriptions will be charged to your credit card through your iTunes account. Your subscription will automatically renew unless canceled at least 24 hours before the end of the current period. You will not be able to cancel the subscription once activated. Manage your subscriptions in Account Settings after purchase.

---

Privacy Policy: https://evernote.com/legal/privacy.php
Terms of Service: https://evernote.com/legal/tos.php
What's New in Version 6.12.3
New for Version 6.12.3: Fixed crash and sync issues some users are encountering
New for Version 6.12.2: A fix where text when copied from Evernote and pasted into another app sometimes has additional punctuation and other characters added to it
New for Version 6.12.1: A fix for a crash some users are encountering on quitting the app

-------

*Major improvements to tables!*
Some highlights of what you can do with tables now:
Add more rows and columns with a single click: Point to where you want a new column and click the plus button that appears.
Select the contents of a cell by clicking and dragging.
Choose the entire column or row just by clicking the header.
Drag and drop entire rows & columns.
Copy and paste multiple cells: Select the cells you want to move, copy them, move cursor to a new spot and paste all the cells with one click.
Adjust the width of one column without affecting the width of the column next to it.
Scroll horizontally to view a table with many columns without expanding your window.
Hover within a cell to activate advanced table options.
- You can distribute columns evenly
- Match the table width to the width of your window
- Change the alignment of items within cells
- Add and change background colors

*New image gallery*
Double-click on an image to enter the gallery mode, which allows you to quickly browse all the images in your note.

*Multitasking improvements*
Keep your Evernote content organized using tabs. Create a new tab by selecting the 'New Tab' option under the File menu.
Pick up from where you left off - if you exit the app and reopen it, you'll return to your previously opened windows / state.

*Separation of Business and Personal*
No longer intermingle your business and personal content in your Evernote experience but still multi-task when you need to.

*Other bug fixes & changes*
We've fixed several bugs that users reported including:
Evernote does not update business tags list after the sync
Pasting a large amount of text into a note fails with no error message
An intermittent crash on account switching
Updated Notebooks view
Screenshots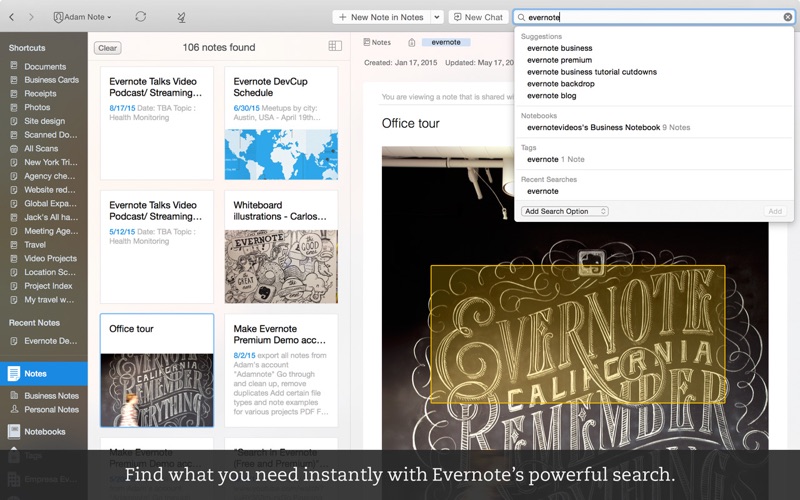 Customer Reviews
Problems with sync, customer support, and sharing have gotten unbearable
I have been an evernote user for years, and lately I have been concerned about its performance. I had an entire notebook just disappear (I used this notebook for work). I have a premium account, because although I work on my own, I like being able to share notes with clients and I need to sync across multiple devices. One promise with premium accounts is enhanced support via email and chat. Instead of being sent to support, though, I was sent to an Evernote ambassador who didn't work for the company. Because they didn't work for the company, they couldn't see the back end of my account, which meant we spent hours trying to fix the problem, but to no avail. I feel with that, I am not getting the support I paid for. With Evernote's premium plan, I have been willing to make expensive payments in the hopes that the app would improve over the years, but it has actually gotten worse. Content does not transfer well - if at all - with other devices. Sharing is too confusing for most of my customers (and I work for doctors, so it's not a lack of intellect that is the problem). Content seems to disappear at random.
Incredibly useful, never lets me down
Evernote is ingenious for its simplicity and how to organize thoughts. I use it personally for clipping media articles on political issues, collecting information for my car collection, and health issues. For business (my private law practice), it has been indispensable. I organize legal authorities, articles, documents and notes of meetings, interviews and teleconferences. Evernote's tools allow me to organize all these various kinds of documents by client, and I can share these documents through my law practice "notebook" with my co-workers. I wish it had the ability to calendar deadlines and tasks to provide ticklers and track progress on projects. If it DOES have that capability, I wish I knew how to use it because it is not inherently obvious how to do that. I subscribe to KanBanFlow to track my tasks there. If Evernote had that kind of capability, I'd cancel KanbanFlow and rely on Evernote exclusively.
Useful, but making it harder to use on Mac. Took my money but no upgrade after a week.
I like Evernote, but they're making it harder to use with just local data. I don't want everything in the Cloud, but want some sensitive stuff kept completely local to one device.

They removed the ability to make a local Notebook a default so you can use Scansnap to quickly upload. A pain but usable. Now they hide the ability to even create a Local Notebook unless you dig for it.

Then a new version of OS X means you can no longer use Preview to fix documents scanned (rotate, delete blank pages, etc). They've been aware of this for some time based on online notes, but still haven't fixed it.

I finally bit the bullet and decided to pay for the upgrade to one Evernote Plus. Bought it through the App store by using the button inside Evernote. It failed, and now everytime I launch Evernote it tells me to re-launch or contact support. I contact Evernote support, open a ticket, more than a week has gone by, and nothing. Apple store took my money, but still nothing from Evernote. I opened a ticket with the Apple store - they were responsive, but just told me to contact Evernote.

I have to give this a lower rating than I wish I could.
View in Mac App Store
Free

Category:

Productivity

Updated:

Sep 22, 2017

Version:

6.12.3

Size:

56.5 MB

Languages:

English, Danish, Dutch, Finnish, French, German, Indonesian, Italian, Japanese, Korean, Malay, Polish, Portuguese, Russian, Simplified Chinese, Spanish, Swedish, Thai, Traditional Chinese, Turkish, Vietnamese

Seller:

Evernote
Compatibility: OS X 10.10 or later, 64-bit processor
Top In-App Purchases
Evernote Premium$4.99
Evernote Premium$5.99
Evernote Plus$3.99
Evernote Premium$44.99
Evernote Plus$2.99
Evernote Premium $7.99
Evernote Premium$49.99
Evernote Premium$7.99
Evernote Plus$3.99
Evernote Plus$34.99