Exporter For Aperture
By Blue Pill Software Ltd.
Open the Mac App Store to buy and download apps.
Description
Export your Aperture libraries to Lightroom or whatever your heart desires

There are plenty of guides on the internet detailing how to get your images out of Aperture and into another photo manager such as Adobe Lightroom. It's a multistep and complicated process that is easy to get wrong. Exporter for Aperture consolidates the process into just a few clicks and provides features not possible with any manual process.

Exporter for Aperture is also a great way to back up your Aperture Libraries in a format that is not reliant on the future use of Aperture.

Exporting will always generate files for your originals without adjustments. Versions with Aperture adjustments baked-in can be generated optionally.

Migration
--------
Exporter for Aperture was designed specifically for Aperture users who have decided to move to Lightroom. With only a few options and a click of a button, Exporter for Aperture re-generates your Aperture Library as a set of folders and subfolders containing your images.
Moving to a photo management tool other than Adobe's Lighroom? Don't worry, we probably have you covered too.

Features
-------
Export your Aperture library to a set of folders
Retain meticulously crafted project hierarchies.
Keep all your metadata including ratings and comments.
Convert identified Aperture Faces to keywords.
Original/Master images saved with XMP sidecar files for ultimate compatibility.
Aperture adjusted images saved as TIFF or JPEG depending on image rating. Adjustments are baked-in the image.
Exports images contained in your albums and smart albums.
Converts Aperture flags and colour labels to keywords.
Your Aperture libraries are unaltered and unaffected.

Exporter for Aperture REQUIRES Aperture 3.0 OR GREATER.
What's New in Version 1.3.3
Bug fixes
Screenshots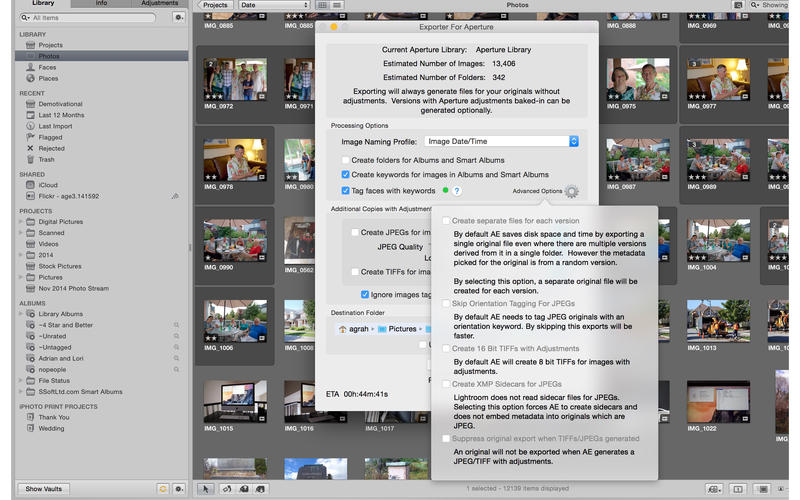 Customer Reviews
Not Worth It
I spent 20 bucks on this app and ended up having to export dozens of my folders manually. This does not work as well as advertised. I contacted the developer for a refund, and he wanted to blame my computer (which is brand new) and the Aperture library (which was in perfect shape). Don't waste you rmoney like I did. This could be the last app I buy via the App Store. The Apple refund policy does not protect you from junk apps like this. If Aperture hadn't been scrapped, I would have never looked for this app.
helped a -LOT- , made the changeover possible.
Why is this worth $20 bucks when other fun apps are less? It does a lot of work for you. You'll only use it a few times to get from Aperture to Lightroom, but it does a LOT of work for you, and does it well. You are paying for someone else really thinking about what needs to happen to make it all work. This is a Utility that you'll need to make a big change in your photographic workflow because Aperture is no longer supported. It works EXACTLY as advertised, but you still have to do lots of work - not the fault of the developer, but that Aperture is a very different beast than Lightroom. There is no easy way, but this app does help. You have to understand what's going on, so plan to do some reading online - it's the only way you can appreciate what the app does for you.

Be aware, you MUST have working version of Aperture (pre Sierra 10.12) for this to work. This ap uses Aperture to export files into a form Lightroom (and others) can use. If your Aperture library has faults it may fail. That includes errors in the database, nested smart folders, missing originals, and more. Aperture was very forgiving, but there are certain things it simply can'd deal with on exporting files. AE uses a running Aperture program to export files, adding flags and other goodies you can use to recreate most of your smart folders and such in Lightroom. And more importantly, since Aperture applies changes to VERSIONS it creates on the fly, AE will allow you to bake those in, meaning you won't loose your edits (just the history of the edits, because that's apple proprietary code.).

As Aperture slowly dies from neglect and no support (doesn't work well in Sierra) you might find yourself freaking out a bit. Moving to Lightroom isn't at all easy. You can do it all yourself by hand, but you have to do LOTS of research and LOTS of tests, and really know what's needed on both sides. This ap, while not a one touch move-my-library-from-Aperture-to-Lightroom solution is probably the best you can get … there simply isn't anything available that can do that. Yes, Aperture is quick and wonderful, but it does it's magic behind the OS X scenes with proprietary code and encoding schemes.

You have to do work in any case. My advice:

- read all you can on the net about moving from Aperture to Lightroom
- read THIS APP's web pages, including the step-by-step guide written by one of the users
- try to understand the difference between the two. This is mainly that Aperture keeps all the goodies encoded in it's Libraries and databases, Lightroom keeps your originals and some history data as folders and files on your disk.
- Split up your main Aperture library into managable smaller libraries (such as by year).
- you CAN bake in your Aperture changes into new TIFF files using this app. Give LOTS of thought about what that means. If you do every image you've ever edited, you will not only get the default original image transfered, but a new heavy TIFF with the changes as well, and while that's -really nice-, it means more space on your drive. This app lets you make some decisons about that - I ended up only doing TIFFs of my 5 star edits, because I ran out of disk space quickly.

There are some tricks and tips, even if you don't use this app…
- rebuild your database, look for lost masters (File->Loate Referenced Files), fix permissions.
- keep track of how many images are in each new smaller library you create in Aperture, so you can check what gets exported. Remember it will be the originals PLUS any TIFFs you decide to bake in. In reality, your new Lightroom library will be LARGER than your original Aperture library if you save any changes.
- Don't mess with Apertuer while this AE app is running.

Do these steps once you've split your Apertuer library into smaller chunks….
- quit Aperture
- hold down OPTION + start Aperture
- pick one of your small libraries
- make sure it looks right in Aperture
- pick top level Photos to view all, hit V until you get the grid view, note how many photos you have and write that down
- pick whatever you will set in AE for making TIFFs (in my case, only 5 star images) and note that number too. Add them to get to total you'll be looking for later
- open the Activities Window to see what's going on if you like
- THEN start AE. AE needs Aperture to be running first. It uses the current Aperture session to do all the work.
- set the options as needed. Again, read the step-by-step tutorial to see what's going on.
- NOTE: set a top level folder where you are storing your images. It's much easier than doing it later on.
- Do the exports. They take time. It took me two days plus to do a 30K image library on the fastest iMac for roughtly 10 years of images in folders by year, then subfolders by month, and subfolders by day. I exported by year. AE duplicated my Aperture folder structure.
- if you have any errors, it's most likely an Aperture problem, because in reality, AE is mostly asking Aperture to do things. I had one image that simply crashed everything else. It took awhile to find, by exporting smaller and smaller libraries, but once manually exported and saved to desktop then deleted in Aperture, all worked fine.

-After the export, QUIT AE. This is important! AE expects Aperture to be running and not being changed. IF you don't QUIT AE, then change Aperture libraries, you'll get really bad results, like alsheimer's.

- THEN QUIT APERTUE. DO-NOT-USE-APERTURE to change to another library. Really. Don't.

- RESTART Aperture by OPTION + clicking on it's icon, then pick your next library to export.

- THEN RESTART AE and continue.

After 3 solid days and one restart from scratch because I was trying to save EVERY edit as a TIFF and ran out of space on a 4TB drive, I now have a manageable Lightroom version of my saddly extinct Aperture library. Yes, I DID have to use a CLONE backup version of my El Capitan drive to do the work, but it DID WORK.
View in Mac App Store
$19.99

Category:

Photography

Updated:

Jul 31, 2015

Version:

1.3.3

Size:

0.4 MB

Language:

English

Seller:

Blue Pill Software Ltd.
Compatibility: OS X 10.7 or later, 64-bit processor