Carrier Landings Pro
By RORTOS SRL
Open the Mac App Store to buy and download apps.
Description
The most advanced Flight Simulator and Aircraft Carrier Landing System ever created.

Landing on an aircraft carrier is one of the most difficult tasks a pilot has to execute. The flight deck is only 150 meters long, just enough to stop the aircraft.
Accept the challenge, take on over thirty missions in the world's most dangerous and spectacular scenarios and join the best Top-Gun pilots.
Take control, climb into the realistic 3D cockpits and fly the most famous military aircrafts, faithfully reproduced.
Exceed your limits and get the excellence in all 90 engaging challenges!

Discover the REAL WORLD TECHNOLOGY and begin now to plan your flight!
WORLDWIDE NAVIGATION and FLIGHT PLAN with 500+ accurate AIRPORTS, DAY&NIGHT CYCLE, REALTIME METAR weather conditions, AIR SPACES CARTOGRAPHY with over 8,000 WAYPOINTS.

Try out the latest evolution of the RORTOS flight system, already appreciated by millions of users around the world: unprecedented graphics, realistic weather conditions and a REPLAY function that lets you review your flight moves.

For an even more thrilling experience, connect two devices online and activate the multi-screen mode.


Featuring:
* Game campaign with 6 training missions and 30 missions in 5 different scenarios
* WORLDWIDE TERRAIN AND NAVIGATION SYSTEM
* 90 new challenges
* Free flight with choice of weather conditions and time
* Landing competitions with worldwide ranking
* Multi-camera Replay with dynamic CINEMA view
* Aircraft carrier landings, airbase landings and emergency landings
* Take-off, practice, transfers, recon and flights in formation with a flight guide
* Vertical take-off and landing (F35B Lightning II, AV-8B Harrier II)
* In-flight refuel
* More realistic extreme conditions with wind, rain, snow and lightning
* 3D virtual cockpit with integrated instrumentation, rain/snow effects and 6 different camera angles
visual perspectives
* Radar with runway and aircraft carrier orientation
* Realistic fuel consumption
* Approach system I.F.L.O.L.S.
* Radio communication
* REMOTE CONTROL: you can connect two devices and use one of them like a remote control with a complete instrumentation view

Aircraft:
* F/A-18 Super Hornet
* F-14 Super Tomcat
* C-2A Greyhound
* F-16 Fighting Falcon
* AV-8B Harrier II (vertical)
* F35B Lightning II (vertical)
* MiG-29K Fulcrum
* F4E Phantom II
* A-6 Intruder
* A-7 Corsair II
* F-22 Raptor
* SU-47 Berkut

Scenarios:
* Islands
* Canyon
* Arctic
* Arcs
* Volcano
* Flight Simulator
What's New in Version 3.0
WORLDWIDE TERRAIN AND NAVIGATION SYSTEM
FLIGHT PLAN
500+ accurate AIRPORTS
DAY&NIGHT CYCLE
REALTIME METAR weather conditions
AIR SPACES CARTOGRAPHY with over 8,000 WAYPOINTS
AIRCRAFT FUEL AND WEIGHT SETTINGS
Screenshots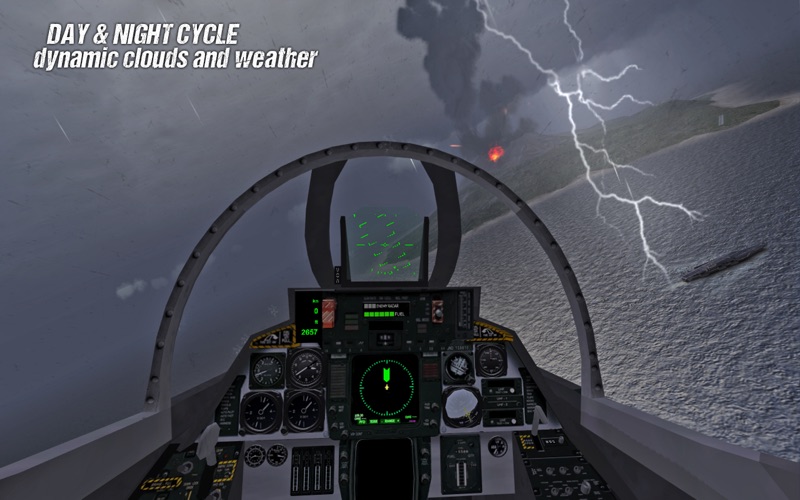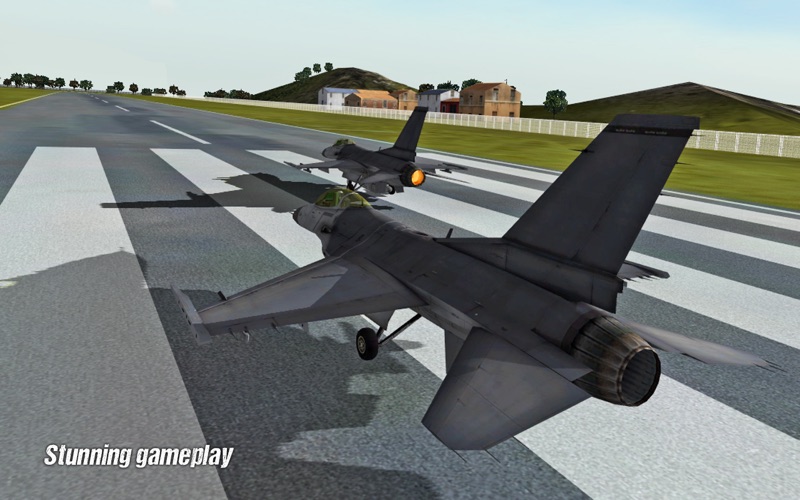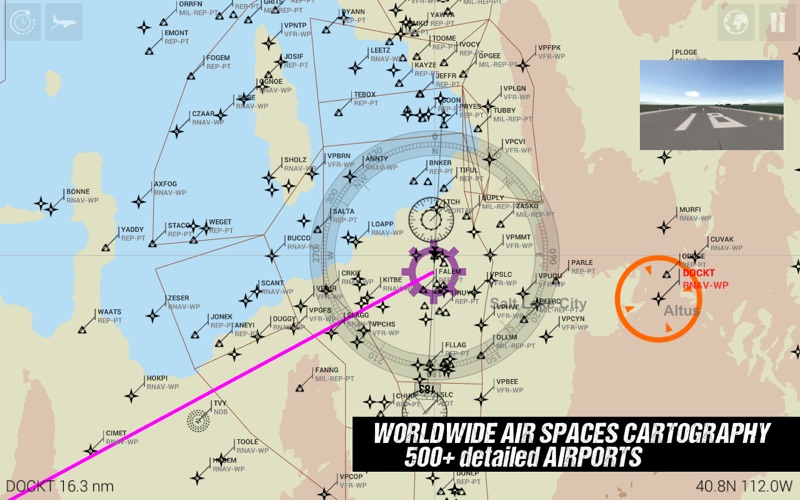 Customer Reviews
Fun Simulation
Great game and I really like the new missions and additional aircraft.

One problem: When going from outside view to inside view the game freezes and must be restarted. This is an intermittant problem, but you loose data when this happens.

Some comments for improvement:

I like to fly using the heads up display, but unless I change view I have no idea what aircraft I'm flying, without changing the view. It would be great if you add aircraft type (i.e. F/A-18, C-2, etc) in the upper right hand corner of the display. This is a real problem when in competition landings and the mission has you on short final at the start.

The other thing is your rank structure just wrong. I'm a US Navy veteran and there haven't been enlisted pilots since the 1970's. A better and more authentic ranking would be to make everone an Ensign to start. Then award "Wings of Gold" when training is completed. After that you would work up through the officer ranks. Lieutenant (Junior Grade), Lieutenant, Lieutenant Commander, Commander, and finally Captain.

Great Game!
Only one problem...
When I switch from the outside view, to the cockpit view, the game freezes and then I have to force quit. This really stinks when you are on a flight plan for 45 nm, and then you switch to cockpit view and the game crashes. In addition, I think a cool feature to add would be a save button for Flight Plans. This would allow the user to save a flight, exit the game, come back another time, and continue his/her previous flight. I think that would be a great feature.
stil waiting for a fix.
This company has no idea what the term "customer service" means. After several weeks and repeated e mails I am still waiting for company to address the problem of the new version not working on Snow Leopard and Lion. The program quits as soon as you click Play in the dialogue box. Other than an apologetic initial e mail promising a quick fix along with new features NOTHING!! It has been months and still no word from them. They have the $9.99 and still no fix.
View in Mac App Store
$9.99

Category:

Games

Updated:

Aug 27, 2015

Version:

3.0

Size:

266 MB

Language:

English

Seller:

RORTOS SRL
Compatibility: OS X 10.6.6 or later