Fake-A-Text FREE [Fake Text Free & Fake A Call—Call It A Prank Conversation]
By Imagination Research Labs
This app is only available on the App Store for iOS devices.
Description
⭐Best Fake Text App In The Store!⭐
⭐FREE TODAY ONLY!!!⭐

⭐⭐⭐⭐⭐⭐⭐⭐⭐⭐⭐⭐⭐⭐⭐⭐⭐
    OVER 3⃣ MILLION USERS &
 FEATURED IN THE NEW YORK TIMES❗
⭐⭐⭐⭐⭐⭐⭐⭐⭐⭐⭐⭐⭐⭐⭐⭐⭐

THE ORIGINAL FAKE-A-TEXT❗

This app has helped people get out of over 25,000,000 awkward situations! C'mon and join our 3⃣ MILLION other users❗

Have you ever needed the perfect excuse to get out of a situation❓Have you ever felt the need to show your friends that you *really* are friends with that celebrity you've been talking about❓

Well now you can❗

Pull out Fake-A-Text and instantly type in the sender and the message of a fake text that will be sent you your iPhone or even iPod Touch❗

Now on the What's Hot list… AGAIN❗ &
Now in the Top 1⃣0⃣0⃣ in the whole App Store❗

⭐⭐⭐⭐⭐⭐⭐⭐⭐⭐⭐⭐⭐⭐⭐⭐⭐

FEATURES
🔸Create entire fake conversations 😉
🔹Get a notification when you receive the fake text, even if your not in the app! 🆕
🔸VIBRATES when you receive the "text" (iPhone only) 🔊
🔹Timer 🕒
🔸Full retina display support 📱
🔹Beautiful graphics 🐧
🔸Choose from pre-written texts 📝
🔸Type in a "sender" or select from your contacts 🙇

POSSIBLE USES
🔹Get "permission" from your parents for whatever you want 😜
🔸Show your friends that you know a celebrity 👸
🔹Trick your friends that you're getting texts from their girl/ boyfriend 👄
🔸Get out of a meeting 🏃
🔹The possibilities are ENDLESS! 💫

⭐⭐⭐⭐⭐⭐⭐⭐⭐⭐⭐⭐⭐⭐⭐⭐⭐

REVIEWS:
This app is the BEST! It worked perfect and I tricked my friends! [⭐⭐⭐⭐⭐- Jadey Wadey]

This app is great for tricking people! [⭐⭐⭐⭐⭐- Elyseiwaza]

AWESOME! Even works on iPod Touch, not just iPhone [⭐⭐⭐⭐⭐- King23z]
What's New in Version 4.2.0
🌟AWESOME UPDATE!🌟
Get out of class, get "permission" from your parents, "text" your favorite celebrity—the possibilities are endless❗

⁌~~~~~~~~~~~~~~~~~⁍
    4.2.0
⁌~~~~~~~~~~~~~~~~~⁍
Got the PRO version? We got you covered!
🔸50 MORE pre-written messages added for PRO users—over 100 total now!
🔹Directly importing contacts is now considered a PRO feature
🔸Made it easier to "Go PRO"
🔹No longer required to close app in order to receive the fake text (although you can still do so).

⁌~~~~~~~~~~~~~~~~~⁍
    4.1.0
⁌~~~~~~~~~~~~~~~~~⁍
🔸Bug fixes! You should no longer see a black screen on the app launch if you did before.
🔹Over 50 pre-written texts added for PRO users
🔸Added in-app-purchases to remove all ads and unlock PRO features
🔹Less intrusive advertisements (we got rid of some ads)

⁌~~~~~~~~~~~~~~~~~⁍
    4.0.1
⁌~~~~~~~~~~~~~~~~~⁍
🔸Minor bug fixes & backend updates

⁌~~~~~~~~~~~~~~~~~⁍
    4.0.0
⁌~~~~~~~~~~~~~~~~~⁍
The HUGE update contains the following:
🔹NOW WITH CONVERSATIONS! You can now reply to your fake texts to create entire fake conversations!
🔸Option to choose between "iMessages" and "regular messages"
🔹Ability to receive your fake texts after leaving the app
🔸Unbelievably faster
🔹Fixed bug that would crash the app on launch for some users
🔸The "email us" button now lets you contact us without leaving the app
🔹Support for the iPhone 5's and new iPod touch's larger screen
🔸New frequently asked questions page
🔹Less intrusive advertisements (we got rid of some of the ads)
🔸Updated graphics
🔹No more character limit for texts

We hope you enjoy! Once again, please remember to update your review in iTunes & we will keep the updates coming :D
iPhone Screenshots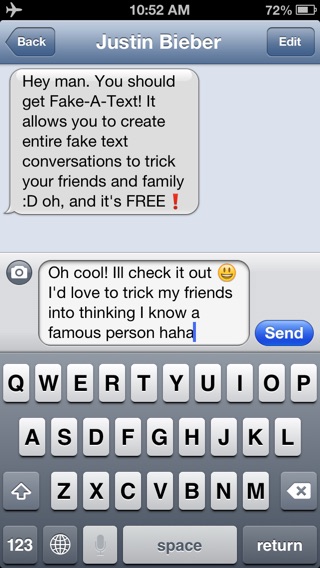 Customer Reviews
Great App, BUT...
I like this app. It, honestly, isn't bad. And (say a secret "Yipee!", THIS APP IS FREE! Absolutely NO annoying in-app purchases, unless if you count the "PRO" feature (which just removes ads and unlocks set-up messages). However, the texting screen is not like the universal iMessage texting screen. Also, on the lock screen (on iPhone) it doesn't really show the message, just says "incoming message". And, on the lock screen, it literally says, "Fake-Text-Message-App", and not "Messaging" like it should, this kind of defeats the purpose, you can really tell it's fake from the lock screen. However, pretty much every app has its drawbacks, and there are much worse ones out there, so until I find a PERFECT app, I'll just keep using this. 😎
So outdated!
This is a wonderful app! It's fun and amazing, yet, it can be easily known that it's fake.
READ THIS PLEASE.
Well first of all, it's great, BUT (don't mean to be rude with capitals it just that there ain't any italics) it's really outdated and can easily be found out that's it's a fake texting app! It should be how the new iMessage is which is currently IOS 10. PLEASE UPDATE IT! Also when the message on the screen shows up it shows up saying FAKE A TEXT and doesn't say the actual message! It just says fake a text and should say Messages and should show the name of person AND message they wrote.
Thanks and PLEASE READ! It's REALLY outdated so PLEASEEE!
Would be 5 stars
Okay!!!! I love it because you can actually receive the text then slide to open it like a real message BUT the message is the wrong iOS update and when the notification appears on the home screen, it says 'new message' then it says 'so and so sent you a message' where it should say the message. Also, the apps picture thing that shows up next to the notification on the home screen shows something that doesn't look like iMessage so people know it's another app.
View in iTunes
Free

Category:

Utilities

Updated:

Jan 28, 2013

Version:

4.2.0

Size:

2.7 MB

Language:

English

Seller:

Imagination Research Labs
Compatibility: Requires iOS 4.3 or later. Compatible with iPhone, iPad, and iPod touch.
Top In-App Purchases
PRO Version$4.99
More iPhone Apps by Imagination Research Labs