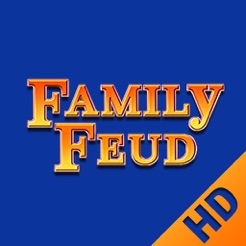 Description
Survey Says, play the Family Feud in High Definition! Get a true-to-TV game play experience thanks to new, eye-popping HD graphics designed and optimized for the iPad's advanced capabilities. With all your favourites like the Face Off, Stealing and Fast Money rounds. Hours of fun guaranteed!

Based on one of the most successful and beloved family game shows of all time! Now you can play anywhere, anytime as the leader of a 'family' in a contest to name the most popular answers to survey questions posed to 100 people. The game features all of the favorite elements of the show as played on television, including the scoreboard, face offs, strikes, stealing and 'fast money' rounds. Enjoy Family Feud in multiplayer mode as you challenge family and friends head-to-head, or compete solo against the computer.

Features:

• new, eye-popping HD graphics designed and optimized for the iPad's advanced capabilities
• Two game modes: single player and multiplayer.
• Fully customizable player avatar- choose hairstyles, clothing, accessories and more.
• Predictive text input and auto spell checker make typing answers lightening fast.
• Unlock bonus items as a reward for progress in the game.
• Authentic stages, theme music and sound effects create a true-to-show game experience.

Get it now for your iPad!
Ratings and Reviews
So-So
Would be great to have an option to play fast money rounds only rather than having to play the entire game.

Game doesn't always do a good job with synonyms resulting in the player getting an X instead of a correct answer. For example: coffee maker got a strike, but coffee pot was one of the answers. That can get annoying paired with the other family always getting every answer and stealing if I get all but 1. Then you need to remember that the answers aren't necessarily the best or correct but were answered by someone, and you have to wonder about those people... It's better than nothing, but it could stand some improvements (especially their portrayal of my family - yikes!)
Who did you ask these too?
Name something you smell before you buy it. -milk.. How can you smell milk before you buy it who even allows you to open it in the store to smell it before you buy it? On top of that why isn't any type of cleaning solution up there like soap, shampoo etc.? Also who smells their meat before they buy it?

I'm not saying go to Harvard and ask them to do the panel but go to everyday people like the real show

Name a fruit NOT used in juice: answers Bananas, Strawberries (I have strawberry juice right now), watermelon (you know the juice that you get from when you OPEN a watermelon) blueberries.....
Great game
I really like the TV show "Family Feud" so I thought maybe I should get the app and it will be fun. It actually was really amusing to play and it gets harder each level you pass so it is also challenging. The only problem with the game is that it is a little too expensive more my likings.
Information
Seller

Ludia

Size

79.3 MB

Category

Compatibility

Requires iOS 3.2 or later. Compatible with iPad.

Age Rating

Rated 4+

Copyright

© 2010 Ludia Inc. All rights reserved. The Family Feud is a trademark of FremantleMedia Operations BV. Licensed by FremantleMedia Enterprises. www.fremantlemedia.com©2010 FremantleMedia North America, Inc. All rights reserved. The Family Feud content and logo are used by Ludia Inc. under license.

Price

$6.99
Supports
Family Sharing

With Family Sharing set up, up to six family members can use this app.