Fantastical 2 - Calendar and Reminders
By Flexibits Inc.
Editors' Choice
Open the Mac App Store to buy and download apps.
Description
Designed exclusively for macOS, Fantastical 2 includes powerful features such as an incredibly intuitive parsing engine, a full calendar window (with day, week, month, and year views), a quick access mini window, iCloud reminders support, time zone support, and much, much more.

"Fantastical 2 is the calendar app your Mac has been waiting for." - The Verge
"Terrific new version of one of my very favorite apps." - John Gruber (Daring Fireball)
"It's my favorite calendar app for OS X." - MacStories
"The calendar app you've been waiting for." - iMore
"Fantastical 2 is a crazy-powerful calendar app for your Mac." - Wired

Fantastical 2's natural language event and reminder creation, beautiful calendar views, and ultra-smart event list make it the best calendar and reminders app you'll ever use. Just type in that you have "Lunch with John on Friday at 1pm" and Fantastical 2 will schedule it! Or type in "remind me to Buy Milk on Tuesday" and Fantastical 2 will create a reminder with a due date!

WHAT'S NEW IN FANTASTICAL 2

• Beautiful, all-new design exclusively for macOS
• Full calendar window with Day, Week, Month, and Year views
• macOS Today Widget, Action Extension, and Share Extension
• Handoff support between Fantastical 2 for Mac, Fantastical 2 for iPhone, and Fantastical 2 for iPad
• Calendar sets - quickly toggle multiple calendars on or off with a simple click or automatically when you leave or arrive, based on location
• Maps are now displayed for your locations
• Improved iCloud reminders with a separate reminders list and support for geofenced location-based reminders
• Multiple parser improvements including improved repeating event and reminder support, the ability to add alerts (like "Meeting 3pm alert 1 hour"), time zones, and many other improvements
• Time zone support including floating time zone support
• Dark and light themes
• And much, much more!

THE EASIEST WAY TO ADD EVENTS AND REMINDERS

• Open Fantastical 2 with a single click or keystroke
• Type in your event or reminder details and press return
• That's it!

STAY ON TOP OF YOUR DAY

• The infinite scrolling event list and calendar let you easily locate and plan all of your events and reminders
• Today's past events fade to gray so you can focus on your upcoming events
• Add event notes, URLs, or locations to new or existing events
• Use search to instantly locate your events

WORKS THE WAY YOU DO

• Works with your favorite calendar services with native CalDAV support including iCloud, Google, Yahoo, and more
• Automatically add alarms to your new events
• Fantastical 2 is fully localized in English, French, German, Italian, Spanish, and for the first time ever, Japanese
• Start typing your event or reminder in any of these languages and Fantastical will automagically understand!

Fantastical 2 — the frustration of calendaring has been solved.
What's New in Version 2.4.1
Welcome to Fantastical 2.4! Please watch our video that highlights some of the new features in Fantastical 2.4 on our videos page: https://flexibits.com/fantastical/videos

2.4.1:
- Fixed a crash when syncing with certain CalDAV servers
- Fixed an error when trying to download invalid attachments on some Exchange servers
- Various fixes and improvements

2.4:
- Attachments!
- View, create, and edit attachments on iCloud and Exchange
- View attachments on Google Calendar
- Travel Time!
- Receive notifications when you need to leave to reach an event on time
- Define travel time so you can plan how long it will take to reach an event
- Fantastical will now combine identical events that are on multiple calendars (this can be disabled in the preferences)
- Undo and redo adding, editing, and deleting events and reminders
- Facebook push updates shows new and updated events immediately
- Click "more..." on a busy day in the Month view to show more events and reminders
- Customize the number of weeks shown in the month view
- Include a message when responding to Google Calendar invitations
- The number of guests of invitees is now shown on Google Calendar invitations
- Forward invitations to other people on Exchange accounts
- Click and hold on the Accept, Decline, or Maybe buttons to respond to an Exchange invitation without sending a message to the sender
- Anniversaries from contacts show the year of the anniversary, if available
- Facebook events in secret groups are now shown
- Various fixes and improvements

By the way, App Store reviews are very helpful to us. If you think Fantastical is worthy, would you mind taking a moment to write a nice review? We'd greatly appreciate it. Thanks for using Fantastical! :)
Screenshots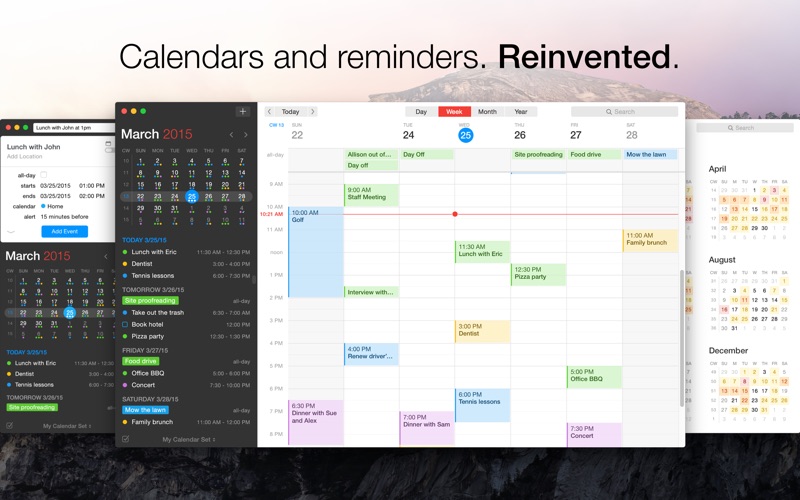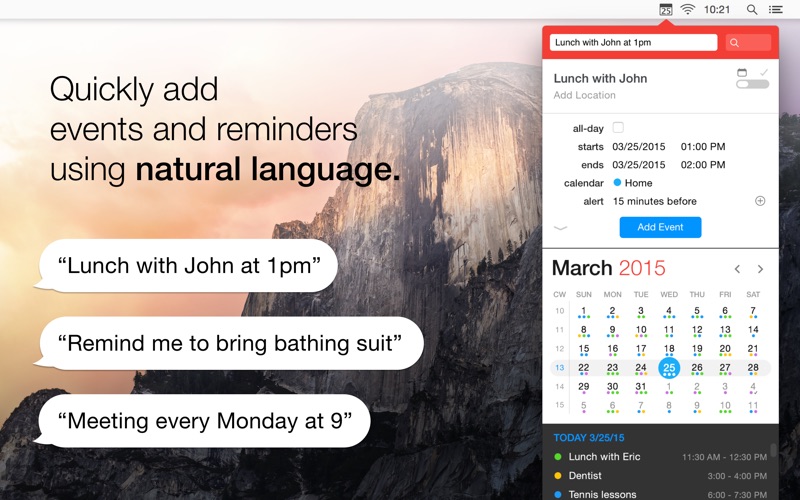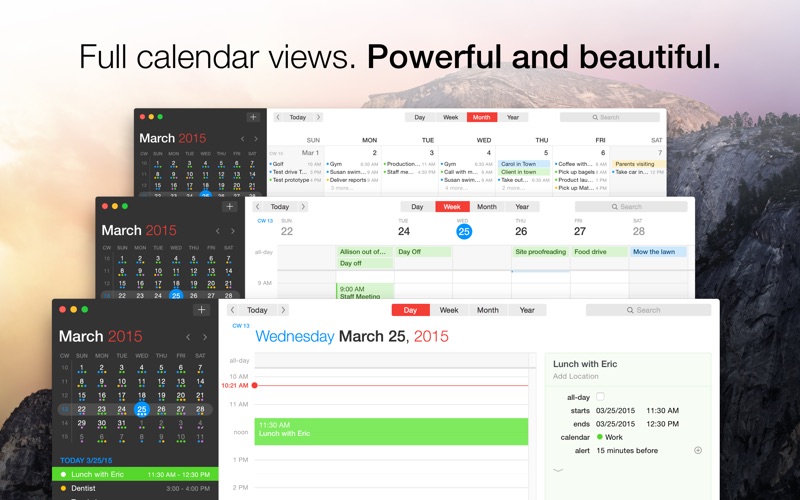 Customer Reviews
Finally Upgraded From V1 & I'm Very Happy
I bought Fantastical V1 right when it was first released and have loved it right up till this morning. I held off upgrading when V2 came out because I was perfectly happy with the last version of V1, and didn't feel like spending the money. It was an expensive upgrade back then as now. However, the latest version has improved on things to the point where I felt it was only right and proper that I upgrade, though I'm still not happy about the pricing, and, despite that, I'm happy that I did so: from the new color schemes to the wealth of additional data that's now available (time to leave, which I want to see if it works with public transportation here in NYC), I'm happy. Had there been a reduced price for those upgrading (on top of a generally lower price overall), even so long after V2 first came out, this would've been a 5-star review. Instead, a star loss because of the price.

If you're still using V1, I think it's time to come around and support the developer, despite the lack of an upgrade price.

If you've never used it before, you'll be very happy with it. The ease of the drop-down calendar from the top-line menu is simply terrific and I've used that all the time.
Great Improvements
This app has made major improvements and highly recommend it. Time to Leave is now available which is awesome. Since it's not available on iOS yet, it's not too practical, but imagine that will be available quite soon.

Currently it does not support push for iCloud, and iCloud is required for syncing your reminders. This maybe a limitation of Apple however, not sure. Attachments are now possible which is awesome, however not available for Google Calendars meaning the power users who want attachments the most won't be able to use them, but imagine this maybe a Google limitation.

Even though this is not a dedicated Reminder app, it's accurate human parsing and menu bar app, and Alfred integration make it my desired choice for Calendar and Reminder entries which I think go hand and hand. Apps like Things and Todoist blow Fantastical away in regards to features for reminders, but that is primarily because it's limited by the features of Apple Reminders which hasn't seen new features in years. Most notably no sub tasks, tags, etc. Looks like it maybe another year at least until Apple gives Reminders some love or longer so Fantastical can add those features.

So all in all, the app is very good, and the things holding it back are limitations from third parties in my opinion.
Just the best calendar
I've been using this calendar both the Mac version and iPhone version for some time. It works as advertised. Love the intuitive typing when adding events. I haven't expeirienced issues with the two factor authorizations. Very nice interface. I thought I was having trouble with sending invites. (so I thought). I contacted support, and Kent responded promptly! I think the problem was either me or the invitee. Because it worked fine…thanks Kent. I highly recommend Fantastical! Keep up the great work. Might I suggest a e-mail app since your good at calendars?? Just saying.
View in Mac App Store
$49.99

Category:

Productivity

Updated:

Jul 22, 2017

Version:

2.4.1

Size:

13.1 MB

Languages:

English, French, German, Italian, Japanese, Spanish

Seller:

Flexibits Inc.
Compatibility: OS X 10.11 or later, 64-bit processor