Fantastical 2 for iPhone
By Flexibits Inc.
Editors' Choice
This app is only available on the App Store for iOS devices.
Description
Fantastical 2 is the award-winning calendar app with features such as natural language parsing, reminders, a beautiful week view, and much more!

"Great iOS update to my favorite iPhone calendar app. Looks great, works great, and now integrates iOS reminders." - John Gruber (Daring Fireball)
"...if you need a pure replacement for the iPhone's stock calendar-app, Fantastical 2 is your best bet." - The Verge
"Fantastical is one of those apps that just works. Love it." - Jim Dalrymple (The Loop)
"Fantastical is my new favorite iPhone app. It looks great, it works reliably, and, more importantly, it made managing my schedule better." - MacStories
"Fantastical 2 is not only the absolute best calendar app on iOS, but the best reminders app as well." - iMore

Just enter "Lunch with Elon in Palo Alto on Friday" and Fantastical 2 will schedule it! Or type in "todo buy milk at 5pm" and a reminder will alert you at 5PM! If your device supports dictation, you can speak the details for your event or reminder and Fantastical 2 will handle the rest.

ONE NEW APP, MANY NEW FEATURES
• Reminders!
   - See your events and dated reminders together in the main list
   - Add reminders directly from the Reminders list or new event screen - just flip the switch to toggle between events and reminders
   - Set dates, times, and geofences (when I arrive/when I leave)

• Significant new parser features, including:
   - Create reminders by starting your sentence with "reminder", "todo", "task", or "remind me to"
   - Expanded, expressive repeating events such as third Thursday of every month, every weekend, last weekday of the month, and more
   - Create alerts with phrases such as "remind me tomorrow at 3PM", "alert 1 hour before", or "alarm 3PM"

• All-new event details, including a map to show your event's locations and better repeating event options
• An elegant week view when you rotate your iPhone to landscape
• Background app updating allows events, reminders, and alerts to be pushed to Fantastical 2 even if you don't launch the app very often
• An extended keyboard when creating new events or reminders, providing instant access to numbers and symbols for dates and times (only for 4" screens or larger)
• Birthday options - tap on a birthday to see contact information or send a quick greeting
• TextExpander support
• Many other refinements and improvements

ADDING NEW EVENTS OR REMINDERS IS FUN
• The easiest and fastest way to add new events or reminders
• Just type in your details or use dictation and watch your words magically turn into an actual event or reminder!

THE FUTURE LOOKS BRIGHT
• Fantastical 2's DayTicker is the efficient and enjoyable way to see your schedule
• The expansive and beautiful event list makes it easy to find your events
• Tap an event or reminder to show and edit its details
• Tap and hold an event to duplicate, move, or share
• Use search to instantly locate specific events or reminders

FAST, FRIENDLY, AND FLEXIBLE
• Supports the same calendar services as the built-in Calendar app, including iCloud, Google Calendar, Exchange, and more!
• Fantastical 2 is fully localized in English, French, German, Italian, and Spanish
• Just type or speak your event or reminder in any of these languages and Fantastical will automatically understand
• 3D Touch, including Peek and Pop
• Accessibility support
What's New in Version 2.9.3
- Improvements for iPhone X
- Added Scribble support when adding events and reminders on Apple Watch
- Various fixes and improvements

By the way, App Store reviews are very helpful to us. If you think Fantastical is worthy, would you mind taking a moment to write a nice review? We'd greatly appreciate it. Thanks for using Fantastical! :)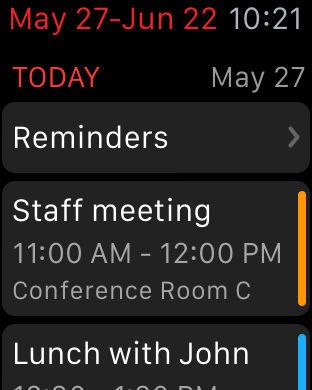 Customer Reviews
Great design both visually and functionally
Fantastical has a wonderful design both visually and functionally. It not only looks great all over iOS (the app itself, the widget, watch app, an especially the iPad app) but it also carries that thoughtful design with it through its functionality. From natural language parsing, to the flow of elements, to the extended keyboard for adding events, it keeps things simple yet complex in a well refined way.

My only complaints are that it can take a little to sync across devices on occasion but that may be the fault of iCloud or Google. One thing I really wish it offered was an auto snooze for reminders. I appreciate that it gives me multiple manual snooze buttons but often I have my hands full and can't snooze. If it goes a few minutes without a manual snooze or completed, it should keep reminding you until acknowledged so as to truly help you never forget.

Overall great app though, worth every penny, I hope to see many more improvements over time.
Almost Perfect
I primarily use the app in list view as a daily planner and organizer. When I scroll to the top of my list I don't want it to go back 2 months at a time and have to tap the month every time to reset to the current month. It is annoying to need to do this and easy enough to just scroll back within the calendar to need this useless feature. The lack of ability to turn this off is my biggest issue with the app.

Also you cannot edit imported calendars like a holiday/birthday calendar so those calendars span six years and the events cannot be deleted. In order to make a holiday calendar I have to manually enter all of the holidays into my work calendar and just use it instead which is also annoying. The lack of being able to edit things like these are what is keeping this for me from being a 5 star app otherwise the app is perfect for my needs and still easily the best calendar app available.
Really good, but not great
Easily worth 4 stars and the money paid, although $50 for the Mac version is steep.

That said, it's well made, simple and elegant. The search feature is one of the best I've ever used in any type of app. It's thorough and quick. The duplicate, move and copy with a long tap feature is terrific and should be implemented by every calendar developer.

The only downside (for me) with this app is the limited calendar views - I'd prefer a day view, and a more focused month view. I'd also like the ability to turn natural speech for event entry off. Sometimes the algorithm gets in the way based on how I type. For instance, sometimes I want to name an event, "Lunch at John's". Fantastical names this event "Lunch" and adds "John's" as the location. That works, but isn't really what I want, so I either have to change the way I enter information, live with it or do extra work to get it how I want.

I also wish there was a feature to set the app to switch between light and dark mode at certain times. I like light mode during the day and dark mode at night. Therefore, it would be great to be able to set times for the mode to change - say from 7 am to 8 pm light mode and 8 pm to 7 am dark mode.

An excellent overall app though.
View in iTunes
Offers Apple Watch App for iPhone
$4.99

Category:

Productivity

Updated:

Dec 08, 2017

Version:

2.9.3

Size:

46.4 MB

Apple Watch:

Yes

Languages:

English, French, German, Italian, Japanese, Spanish

Seller:

Flexibits Inc.
Compatibility: Requires iOS 10.0 or later. Compatible with iPhone, iPad, and iPod touch.