FaxFresh
By Purple Cover, Inc.
Open the Mac App Store to buy and download apps.
Description
*** SEND A FAX FOR JUST $1.99 ***

It's just $1.99 to fax a document of up to 8 pages. Each extra page beyond 8 is 25 cents. To cover telephony costs, a surcharge is applied for select international locations.

*** NOW WITH INTERNATIONAL SUPPORT ***

FaxFresh can now send faxes to over 100 regions, including Europe, Japan, Australia, and many, many more.

*** ABOUT FAXFRESH ***

The FaxFresh app allows you to send a fax from any Mac with an Internet connection to phone numbers in over 100 countries quickly and easily, using the FaxFresh cloud service. Just select the file to send, enter the destination telephone number, and pay a small fee and your fax is on its way. We'll send you an email confirmation so that you can be confident that your fax was received. If your fax is not sent successfully for any reason (e.g., wrong telephone number) then you will not be charged.

*** QUESTIONS? COMMENTS? ***

Get in touch with us: contact@faxfresh.com
What's New in Version 1.1.1
• Updated help to explain how to merge multiple PDFs.
• Updated help to explain how to add your signature to a document.
Screenshots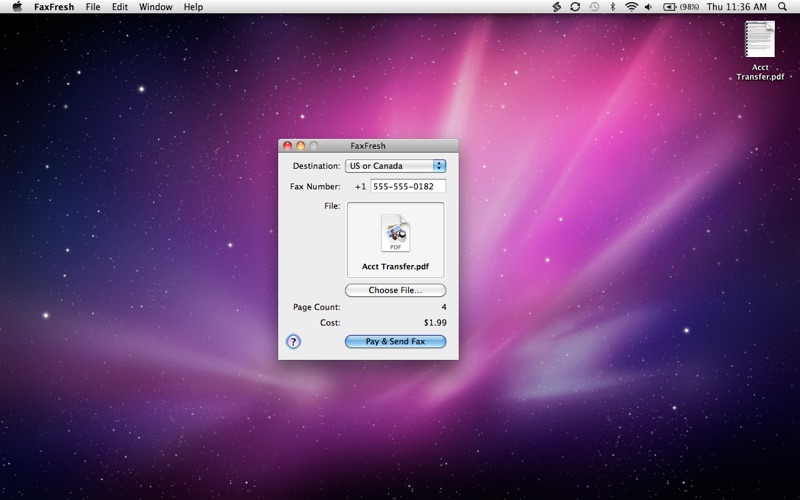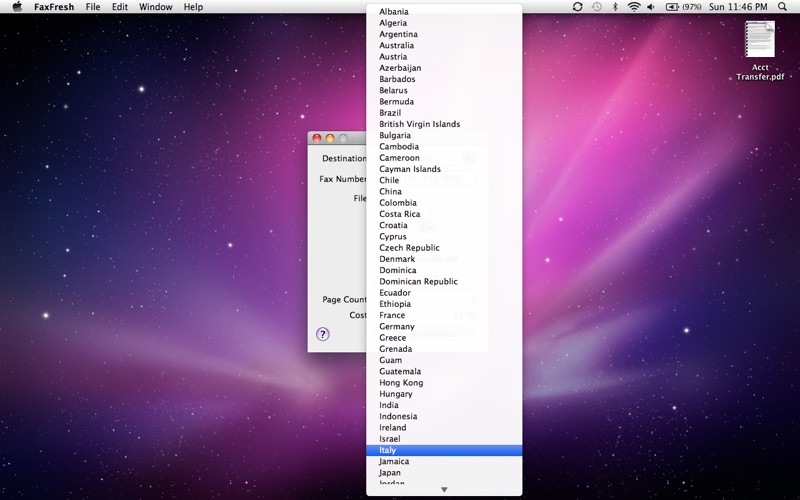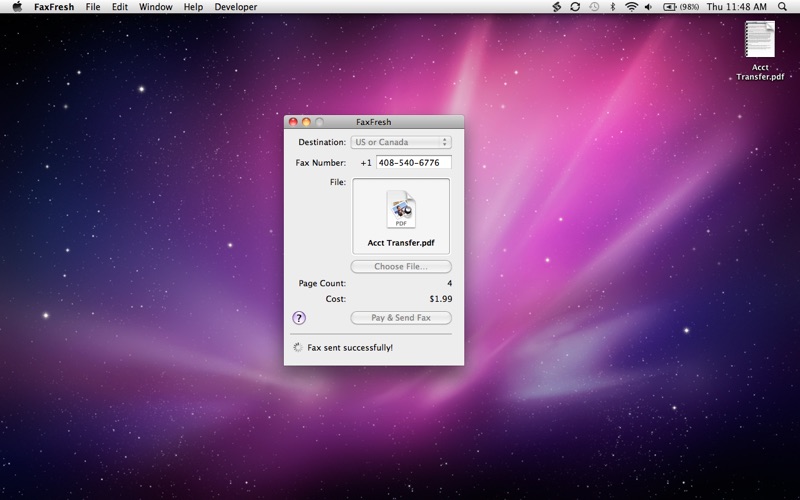 Customer Reviews
For the most part it's great!
I would have given 5 stars as this is a simple and easy solution to a need many of us have from time to time. I have a home fax but with my new land line carrier sending a fax is not compatable. For lack of a better way to express the one pit fall for me i would say it kind of spit and sputtered a little! Meaning, it appeared to hang up more than once and when I finally got my fax sent it seemed to handup several times then when it showed "fax sent successfully" it was hung up again so I couldn't trust that the fax had been sent. I called the recipient and verified their receipt. It did send the fax perfectly however, it left me second guessing which I hate. I did check my email and received a confirmation notice that the fax was sent successfully however the graphics on my computer screen still made it appear that the program was hung up? It may just be my computer,I don't know? Otherwise I am very pleased for a way to send a fax from home at a resonable price! Thanks!
A company that gets it
I was scratching my head, wondering why there are a dozen outfits offering to send my faxes at $8/month but none offering a la carte service. (There's one "free" service but your fax has ads and is not sent encrypted.) Lots of us only need to send faxes a few times a year, so the subscription model has to be losing lots of potential customers. And encryption is important, since it's mainly banks that still require fax over email.

Enter FaxFresh. It works exactly as it should, and the price is right. Beautifully simple interface, with encrypted contents, a progress monitor, and email confirmation. Just what I wanted. And I found that in Mountain Lion (and probably earlier OS versions too) that it's easy to add a cover sheet to the main document PDF using Preview (goodbye Acrobat!). You don't have to waste money by printing the document or time by driving to a local business that will happily overcharge you. Love this app!
Good BUT Needs IMPROVEMENTS! See My Notes!!
The company I work for requires that we fax certain receipts along with a transmittal sheet. Normally, I have been driving 15-20 minutes each way to do this, which is time waisting… They'll even pay for a in office land line, but like everything else, I'd have to expense that,too, with the same methods. I decided to try this app and see if it would save time. I couldn't find any support as to what format it needed to be sent in, so researched and found out faxes go in a bitmap format, then converted my pdf file online to a bitmap format, which the app doesn't take! Guess what, it DOES FAX A PDF format. OK, loaded the PDF into the app, entered the fax to phone number, then used Paypal as a form of payment. Spinning wheels….. said it was approving it and then showed an error! I clicked on it, confirmed payment and spinning wheels again! FINALLY it showed sent and got both a Paypal confirmation of payment AND a receipt showing the PDF document had been successfully sent.

Be patient on the first time. Just hope the second time goes smoother!

If the app developer is reading this, may I SUGGEST:
Make the App a little Bigger on the screen!
Add a way to store frequently used phone numbers so the user doesn't have to look it up all the time.
Make the payment process faster!
Make the speed of sending the fax FASTER!!! PLEASE!!!
View in Mac App Store
Free

Category:

Productivity

Updated:

Aug 15, 2011

Version:

1.1.1

Size:

1.2 MB

Language:

English

Seller:

Purple Cover, Inc.
Compatibility: OS X 10.6 or later