Fidelity Investments
De Fidelity Investments
Abre iTunes para comprar y descargar Apps.
Descripción
Get real-time access to important financial information in the palm of your hand.
The Fidelity Mobile® app for iPhone gives you access to brokerage and workplace savings accounts,* with the ability to trade stocks, deposit checks, and get real-time quotes. Key functionality ensures that you can take advantage of your next trading opportunity wherever you are. Features include:

• Multi-leg options trading for simultaneously buying and selling multiple option contracts.
• Standard and custom option strategies.
• Specific Share Trading for Stocks and ETFs, so you can control the gains and losses reported for your trades.
• Extended hours trading – you'll have greater flexibility in reacting to market news outside of standard market sessions.
• Tax lots for your positions.

CUSTOMIZABLE HOME SCREENS:
Customize your home screen to see the information that's most important to you. Choose from key tile-based screen options such as your accounts, portfolio gainers and losers, personalized watch list in heat map view, U.S. Markets, World Markets, Market Movers, and more.

FIDELITY MOBILE® for APPLE WATCH™
Find out what's moving the markets with a twist of your wrist. See a markets Glance view, push alerts, real-time access to domestic and international markets, market movers, and recent quotes from the Fidelity iPhone app.

MANAGE YOUR MONEY:
Move money between accounts, deposit checks with the snap of a photo, and pay bills with Fidelity BillPay® from virtually anywhere, anytime.

TRADE FROM ANYWHERE:
Trade stocks, options, mutual funds, and ETFs from virtually anywhere, anytime. Our mobile Apps are built with some of the most advanced encryption available in the industry, so you can safely trade from wherever you are.

ALERTS & PUSH NOTIFICATIONS:
Receive timely, customizable alerts via push notifications, or visit the message center to view and manage streaming alerts.

RESEARCH & NEWS:
Get access to news and views on the market, view real-time quotes and charts, and set up watch lists to track your preferred securities.

ENHANCED CASH MANAGEMENT & EQUITY DIVIDEND INFORMATION:
Banking enhancements include access to your credit card details—balances, payments and rewards—and a cash management overview page with current balance, interest earned, and ATM fee rebates. Plus, see detailed dividend information for your equity investments.

CALL A REP:
Instantly connect to customer support by tapping "Call a Rep".


To learn more about Fidelity's App, check out our video at fidelity.com/iphone and fidelity.com/applewatch.

*Workplace savings account functionality is limited to viewing account information only.

The images below are for illustrative purposes only.

Fidelity, Fidelity Investments and the Pyramid design logo are registered service marks of FMR LLC.
Fidelity Brokerage Services LLC, Member NYSE, SIPC, 900 Salem Street, Smithfield, RI 02917

We care what you think. With your help, we're able to constantly improve our Fidelity Mobile® apps and address the concerns you bring to our attention. All the feedback you provide is valuable to us – we read and consider every comment we receive.
Lo nuevo en la versión 2.7.1
This summer, we've turned up the heat and optimized our resolution.

Optimized for iPhone 6 and 6 Plus.

Notification badge is now cleared after tapping the app icon.
Captura de pantalla del iPhone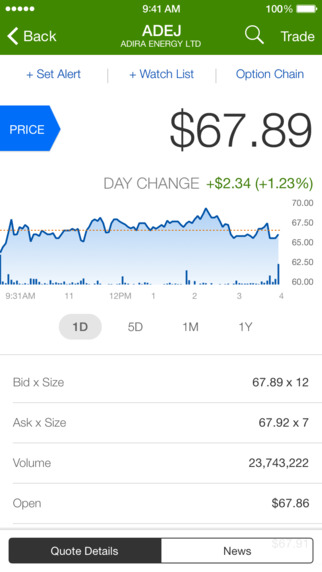 Apple Watch
Reseñas de clientes
Getting there but can't cut slack for all commissions that I pay
App has improved significantly over years but pace of innovation is not matching efficiency with which Fidelity deducts commissions from my account.

Fidelity is late to game for Mobile-first solutions for retail-working-day traders.

For example, app now has option info but placing a multi-leg option trade could be better done on a slate by a goat than your app. IMPROVE IT!!

Option Pairing - options are treated as individual security with no tie in whatsoever to other legs or underlying long or short stock position. I can know whether leg 1 has increased or decreased x% but practically useless for multi-leg options.

Alerts - alerts work but they could be easily set and refreshed (especially ones which are price-triggered as opposed to EMA or MA)

I can write about few other defects but let's first get these fixed !!

Also, under which rock from, do you guys develop these apps? Curious to know.

Quite a frustrating experience to have to work with Fidelity!!
Pathetic!!!!
One of the worst, if not the the worst, trading apps on iTunes. You offer the most basic functions compared to other Brokers and even then you fail to properly configure the app so that it doesn't crash and freeze every time you try to look something up. It's really pathetic that you can't even provide a decent app experience. The charts show basic price charts, whereas on TD you can load up to 5 different indicators to make educated trading decisions. I now have to use TD app to look up the charts cuz you simply don't offer them. I absolutely regret switching to Fidelity as you obviously don't take retail investors like myself very seriously. Pathetic!!!!
Additional bug!
App does not allow for selecting stock from "Positions" screen to do quick trades. This is very frustrating, I can select in portrait mode, but due to the non-optimized fonts for iPhone 6+, lots of columns are hidden in portrait mode, I use landscape mode.

Also, as others have pointed out, it's very hard to use this app for trading and logging in. Could take a page out of ETrade and TD Ameritrade Apps....

UPDATE - finally optimized for iPhone 6 and Touch ID integration (included from previous update), and got rid of the annoying notification glitch.
There are still a few more to quash - cannot select position in landscape mode and still cannot see option positions in portfolio (to see strike price and expiration date, have to click on position to see details - only works in portrait mode...)
Otros clientes también han comprado
Ver en iTunes

Ofrece la app para Apple Watch para iPhone
Gratis

Categoría:

Finanzas

Actualizado:

26/06/2015

Versión:

2.7.1

Tamaño:

39.4 MB

Apple Watch:

Sí

Idioma:

Inglés

Vendedor:

Fidelity Investments
Compatibilidad: Requiere iOS 7.0 o posterior. Compatible con iPhone, iPad y iPod touch. Esta app está optimizada para iPhone 5, iPhone 6 y iPhone 6 Plus.
Más Apps para iPhone de Fidelity Investments