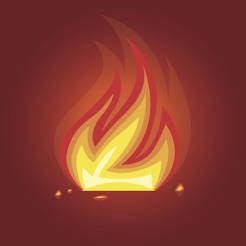 Fireplace (Yule Log) HD
4+
Description
Ever wanted an HD fireplace for your computer?? Well here's one, and it's only a DOLLAR!!!

This application includes a fireplace that has full 1080p HD that will look great on any size monitor.

INCLUDES:
✔ A full HD looping fireplace that can go on for hours

✔ No annoying buttons to press - just open the app

✔ Real fireplace sound effects with crackling noises. If you don't want it, you can always mute the sound.

✔ Unlike other fireplace apps, with 'Fireplace HD', you can either have the fireplace in complete full screen, or resize the window to any custom size you want!

✔ A completely unnoticeable loop that occurs only when the wood burns out!
Ratings and Reviews
IT STOPS INSTEAD OF LOOPS
I watched this fire for many minutes. I had it full screen on my 13" MacBook Pro. It was really great. The sound was wonderful. The video was OK. I could watch the wood burn away as the fire progressed. That was part of the appeal. But then I wondered, if this is a loop, there is some point when it will start over and the burned and settled logs would have to suddenly revert to the beginning in new form as they were at that start of the loop. I was curious to see how jarring this might be. Well, before that could happen the whole thing just stopped. It's as if it came to the end and the app stopped. What was left was a faint image of the fire on my screen. I clicked my mouse and nothing happened. I had to click ESC. The other thing I noticed was a small anomoly only at full screen mode. At the bottom center there is a small rectangular grayed out area of the video. It was noticeable, but not really distracting unless you looked down in that part of the screen.
Nice App, Needs Fix
This is a nice little app that does exactly what it says. Unfortunately, the loop feature is broken. It simply freezes with a black screen rather than looping. Seems like a simple enough fix so I'm surprised they haven't implimented it yet. Will be a 5 star app once they fix it.
!st comment
Basic (should be what you expect though)
-the app is what the picture shows accept moving like a fire would. The graphics are good not excellent but good. It makes the actual fire crackling noices.

I just got it and plan on using it while studying & reading next to it and listening to music

Overall
****
4/5
its a good app
Information
Seller

TapMedia, LLC

Size

316.5 MB

Category

Age Rating

Rated 4+

Copyright

© John H. Meyer

Price

$0.99
Supports
Family Sharing

With Family Sharing set up, up to six family members can use this app.