Fitbit
By Fitbit, Inc.
This app is only available on the App Store for iOS devices.
Description
Live a healthier, more active life with Fitbit, the world's leading app for tracking all-day activity, workouts, sleep and more. Use the app on its own to track basic activity and runs on your phone, or connect with one of Fitbit's many activity trackers and the Aria Wi-Fi Smart Scale to get a complete picture of your health—including steps, distance, calories burned, sleep, weight, and more.

TRACK ACTIVITY: Accurately record your steps and distance with MobileTrack when you carry your phone. For all-day tracking of stats like calories burned, active minutes, and sleep, pair the app with a Fitbit tracker.

RUN SMARTER: Enhance runs, walks and hikes by using MobileRun to track your pace, time and distance. You can also control your music, get voice cues and use your phone's GPS to map your routes. (Continued use of GPS running in the background can dramatically decrease battery life.)

RECORD WORKOUTS: Use your Fitbit tracker to track your exercise, then check the app to see your stats, their impact on your day, and how your performance is improving.

MONITOR HEART RATE: Use a Fitbit tracker with PurePulse™ to analyze heart rate graphs in the app. Identify trends, manage stress and see the results of your workouts. Review resting heart rate trends to see when your fitness is improving.

LOG FOOD FASTER: Easily log calories with our barcode scanner, calorie estimator, and expanded food database of more than 350,000 foods. See your meal history at a glance, and get nutritional insights.

MEASURE HYDRATION: Quickly log your water intake to make sure you're properly hydrated during workouts and throughout the day.

SET & MANAGE GOALS: Create weight, nutrition and exercise goals, and start a food plan to stay on track. Then get a visual picture of your progress with colorful, easy-to-read charts and graphs.

SEE HOW YOU SLEEP: Set sleep goals in the app, and use a Fitbit tracker to monitor how much time you spent awake, restless or peacefully sleeping.

SHARE & COMPETE: Connect with friends and family by sharing stats, sending direct-messages, and competing on the leaderboard or in Fitbit Challenges.

STAY MOTIVATED: Get a nudge in the right direction with notifications that pop up when you're close to reaching a goal or have already met one.

SYNC WIRELESSLY: Fitbit trackers sync your stats to computers and 200+ leading devices so you can continuously track your progress without needing to plug in.

MANAGE WEIGHT: Connect wirelessly to the Aria Wi-Fi Smart Scale to seamlessly track your weight, BMI, lean mass and body fat percentages, and to see your weight trends over time.

Learn more about Fitbit products and services at www.fitbit.com.
What's New in Version 2.44.2
*Bug fixes and performance improvements
iPhone Screenshots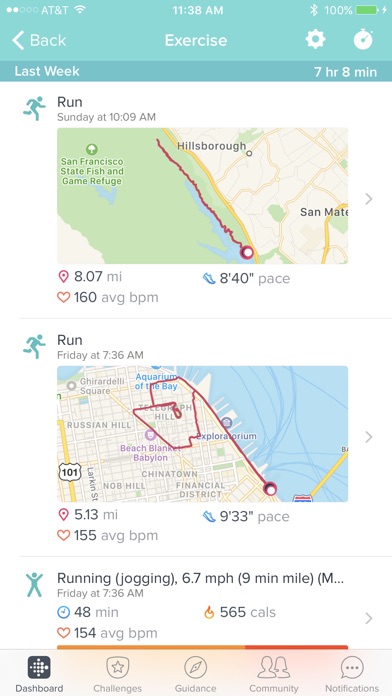 Customer Reviews
OK.....but too much
The Fitbit charge2 and it's app are a fine combo product, but the setup for a new user is upside down. The Fitbit has many functions and the app is loaded too, but as a first-time owner/user, I had to "learn"my way through a ton of functions I didn't want then weed them out until I got to my start-up set. A better way would be for the app to be kind of a blank slate, and then let the new user add in functions as needed. Maybe all I want to do on day one is count steps and see what time it is. Then next day add heart rate. Then maybe add hourly moves. And so on.....adding in functions and getting the app personalized to my situation. No distractions from functions and information I don't want or need.
So, I think the Fitbit & app work OK, but I still have to weed out some things that are getting in the way of the set of info & functions I will actually use regularly.

Btw - on the Charge2 device itself, that standard wrist strap has GOT to go! Really cheap rubber, uncomfortable, almost impossible to remove or adjust easily, ugly, and catches or tangles on almost any type of long sleeve garment or bed linens if worn for sleep. I will change it out for fabric one or stainless steel Milanese loop magnetic clasp one for sure!
Disappointed with sleep tracking/Blinding light
I purchased this to help track my sleep rhythms and enable me to improve my overall health. The light from the pulse reader that faces against my wrist is way to bright and blinding when I move around when falling asleep. Even though it is against my skin, a sliver of bright light comes out. It woke me up by being shockingly bright and dragging me out of sleep. I tried making the wrist band tighter and looser, but to my small wrist, it still let light out. Also I disliked that the app doesn't allow one to choose sleep functions as a primary purpose/ goal for wearing it.

The other features seem to work well. Thus my giving it two stars. - I will be returning it as I had a horrible night of sleep, completely woke up and had to remove the Fitbit out of the bedroom in order to sleep.

This is my first review ever, I wanted to write as I haven't seen others complain about this issue, but the light about the face of the devise - which is there but isn't as shocking as the laser light the is the pulse reader.
This app is horrible. Where is my privacy?
There is no reason for this app to sync with Fitbit only if there is internet. I believe that may violate my privacy. The data should go directly through Bluetooth from Fitbit to my iPhone and nowhere else. If I turn off WiFi and cellular data for this app, this app will not sync my FitBit with my iPhone. Why doesn't it?? Is the data shipped to cloud then sent back to my iPhone?Very concerning since I believe my health information is not to be shared with anyone else.
I will return my Fitbit and delete the app. The data from my Fitbit should go nowhere but my synced device (computer or iPhone). There should be no need for internet. Unless they are collecting my data and selling it with out my knowledge.
This is all fishy to me. Good bye Fitbit, my privacy is far more important than your stupid scheme.

You can see the developer responded to my review. Here is what I would like to add

FITbit privacy policy is "Trust FitBit". My response is "GO TO HELL FITBIT ". I will not Trust FitBit with my fitness data. Should be my choice not to share my fitness data. Fitbit app is flawed. Fitbit privacy is flawed.
If Fitbit doesn't give me the option of not sharing data, all else is just stupid excuses to snoop on others privacy and use of data in ways that might be totally unacceptable to the owner.

So "GO TO HELL FITBIT "

I should have a choice not to share my data. If you can't understand that, you are in the wrong business.
View in iTunes
Free

Category:

Health & Fitness

Updated:

Dec 22, 2017

Version:

2.44.2

Size:

154 MB

Languages:

English, French, German, Italian, Japanese, Korean, Simplified Chinese, Spanish, Traditional Chinese

Seller:

Fitbit, Inc.
Compatibility: Requires iOS 9.0 or later. Compatible with iPhone, iPad, and iPod touch.