Fitbit
By Fitbit, Inc.
This app is only available on the App Store for iOS devices.
Description
Live a healthier, more active life with Fitbit, the world's leading app for tracking all-day activity, workouts, sleep and more. Use the app on its own to track basic activity and runs on your phone, or connect with one of Fitbit's many activity trackers and the Aria Wi-Fi Smart Scale to get a complete picture of your health—including steps, distance, calories burned, sleep, weight, and more.

TRACK ACTIVITY: Accurately record your steps and distance with MobileTrack when you carry your phone. For all-day tracking of stats like calories burned, active minutes, and sleep, pair the app with a Fitbit tracker.

RUN SMARTER: Enhance runs, walks and hikes by using MobileRun to track your pace, time and distance. You can also control your music, get voice cues and use your phone's GPS to map your routes. (Continued use of GPS running in the background can dramatically decrease battery life.)

RECORD WORKOUTS: Use your Fitbit tracker to track your exercise, then check the app to see your stats, their impact on your day, and how your performance is improving.

MONITOR HEART RATE: Use a Fitbit tracker with PurePulse™ to analyze heart rate graphs in the app. Identify trends, manage stress and see the results of your workouts. Review resting heart rate trends to see when your fitness is improving.

LOG FOOD FASTER: Easily log calories with our barcode scanner, calorie estimator, and expanded food database of more than 350,000 foods. See your meal history at a glance, and get nutritional insights.

MEASURE HYDRATION: Quickly log your water intake to make sure you're properly hydrated during workouts and throughout the day.

SET & MANAGE GOALS: Create weight, nutrition and exercise goals, and start a food plan to stay on track. Then get a visual picture of your progress with colorful, easy-to-read charts and graphs.

SEE HOW YOU SLEEP: Set sleep goals in the app, and use a Fitbit tracker to monitor how much time you spent awake, restless or peacefully sleeping.

SHARE & COMPETE: Connect with friends and family by sharing stats, sending direct-messages, and competing on the leaderboard or in Fitbit Challenges.

STAY MOTIVATED: Get a nudge in the right direction with notifications that pop up when you're close to reaching a goal or have already met one.

SYNC WIRELESSLY: Fitbit trackers sync your stats to computers and 200+ leading devices so you can continuously track your progress without needing to plug in.

MANAGE WEIGHT: Connect wirelessly to the Aria Wi-Fi Smart Scale to seamlessly track your weight, BMI, lean mass and body fat percentages, and to see your weight trends over time.

Learn more about Fitbit products and services at www.fitbit.com.
What's New in Version 2.40
*Bug fixes and performance improvements
iPhone Screenshots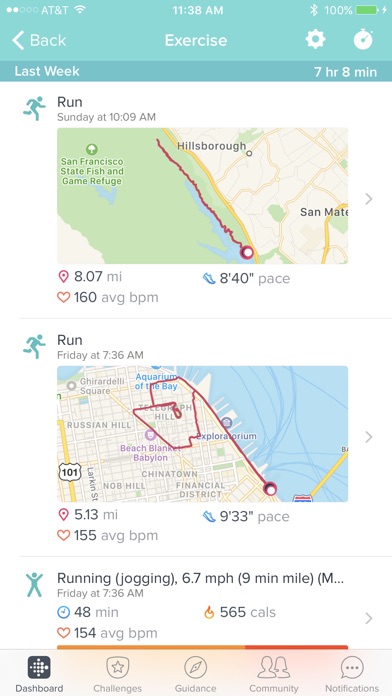 Customer Reviews
Creeps in the community
Firstly I would like to say, the app works great. I hadn't used a fit bit in a year or two so I had to figure out how the new look of the app worked but it wasn't hard. I loved that my history from my old Fitbit was there because it gave me motivation to get back to how I used to be.

Now the stuff I didn't like.
I wish the messages would be more of a messenger style. I can't go back and look at the conversation as a whole, all I can see are messages sent to me and it's all separate so it clogs up the message list. Would be much better to see the whole convo in one message so I can have proof of incidents like I just had. I have friended a few people from the different communities in the app. So far everyone is cool, we are all there for fitness and support. I recently accepted a friend request and the guy started messaging me. It started out innocent enough just talking about how long we have had a Fitbit and what our fitness goals are. Then he started getting weird and talking about my face based off my profile picture and started hinting at sexual intentions. I ended up unfriending him and blocking him. What I wish for this app is a way to report users like this. This isn't a dating/hook up app! And I don't need strange men hinting that my face gave them a boner lol
Black hole for step sync
I upgraded to the Charge2 because the Charge HR kept falling apart. The app synced fine with the old Fitbit HR but now with the Charge2 it drops steps all the time, typically about 2,300 steps are lost, very demoralizing. All I need are steps and floors. if Apple gets it together it would be worth the extra $ to be rid of the frustration factor as Fitbit seems to have stopped improvemrnts.
Update #1: Fitbit article recommended by support cover trackers that do not sync, mine syncs but consistently drops thousands of steps (as is the case for many users on the Fitbit forums). I don't have a PC sync dongle & all other config is per Fitbit reqrs except I have multiple Bluetooth devices on my iPhone (who doesn't?) This is noted as a potential issue but I would call it a fatal design flaw if that truly us the root cause. But likely all this all does not apply because this article does not address the problem that I & many others are having.
Update #2: Article 1136 has nothing to do with this product issue, it pertains to how wearing the Fitbit affect recording. My issue is that the Charge2 drops steps upon sync. It's insulting & a waste of my time to offer up such misdirected "advice".
Update #3 sent side-by-side photos if Charge2 before sync and lost steps in iOS app after sync
Won't sync since update
Since update my Fitbit Alta won't sync wth my iPhone 7 plus. Tried everything and now getting very frustrated. It does keep track of my steps but when I go to look at my previous steps they are a lot less than the original steps. Also sometimes the app on the phone and the Fitbit have two different step counts. The sleep doesn't record anything, I tried rebooting my phone and it seems to help somewhat but then the next day it doesn't work at all. I'm not rebooting my phone everyday. The Fitbit was working fine until the update but now I just don't know what to do. The Fitbit I have from April of 2016 so for the price I paid for it, I certainly hoped it would work better and for a much longer time. Really liked it but I wonder for all the frustration is it worth it?

Thanks for your reply. It really helped. It took me a couple of days to get the fitbit to sync with my iPhone but it is working fine now. It is syncing for the last couple of days. I really like my fitbit and I would be lost without it. Thanks again for the reply.
View in iTunes
Free

Category:

Health & Fitness

Updated:

Sep 11, 2017

Version:

2.40

Size:

154 MB

Languages:

English, French, German, Italian, Japanese, Korean, Simplified Chinese, Spanish, Traditional Chinese

Seller:

Fitbit, Inc.
Compatibility: Requires iOS 9.0 or later. Compatible with iPhone, iPad, and iPod touch.