Flashcard Hero
By Kitestack Software
Open the Mac App Store to buy and download apps.
Description
Make your own flash cards and take the pressure out of test preparation. Flashcard Hero keeps track of what
facts you already know so you can focus on what you don't know and save a lot of time.

Beyond your average-vocab-app: We made Flashcard Hero for those of you who want to fit more than a few words on each card. You can add images, lists, and use text formatting to structure your content. Cards even expand as you add more text so you can take notes during class and turn them into study cards later. All decks can easily be shared with others via the web.

FEATURES:

- iCloud Drive integration (compatible with the Flashcard Hero iPhone/iPad app)

- 3 study modes: Answer covered, Multiple choice tests, Typing the answer

- Audio output (text to speech) of text on cards in over 30 languages

- Group cards by topic (e.g. text book chapters)

- Add images from your Mac and the Internet

- Basic text formatting (lists, bold font, italic,…)

- Many deck cover styles

- Difficulty level for each card

- Group cards using the Leitner study system (similar to spaced repetition)

- Detailed study session summaries

- Take notes during class; cards expand automatically

- Import decks you already have (.tsv and .csv format, Cram.com, Quizlet.com)

- Share decks via the web

- Print decks

- Export as PDF and lecture notes


A note about iCloud Drive:

Starting with version 2.0 of the Mac app, using iCloud Drive requires at least Mac OS X Yosemite and iOS 8.


What's Next?
~~~~~~~~~~
This is just the beginning. If you'd like to see a certain feature, let us know through the feedback menu in the app.
What's New in Version 2.0
Over 30 new features and improvements. Most notably: improved iCloud upload speed, organizing decks into folders, multiple choice tests, audio output / text to speech, and much more.

Here is the full list.


Studying cards:

- New study mode: type the answer and have the app match letter by letter or word by word
- New study mode: multiple choice tests with answers taken from other cards
- Multiple choice cards with pre-defined right and wrong answers
- Have cards read out aloud in over 30 languages, many with different voices
- Jump to other cards while studying
- Use the Leitner study system (spaced repetition)
- Topics are shown when studying cards


Decks in Finder:

- Organize decks in folders in Finder (this is replacing the Deck Library)
- Support for Finder tags
- Support for Finder's Smart Folders (along with two custom search attributes "total cards" and "cards to study")
- Decks with due cards are automatically tagged (set via Preferences)
- Spotlight and Preview integration (to find all decks, search for kind:flashcards)


Working with decks:

- Open multiple decks at the same time
- Copy/paste or drag cards between decks
- Use your own pictures as cover cards
- Browse and restore older versions of a deck (integrates with Time Machine)
- Clear study statistics for selected cards (Control-click on selection)
- Zoom into cards
- Cards are placed next to each other in the editor if there is enough room
- Easy to tell which cards to study next (based on difficulty, last studied, Leitner system)
- Easier to study by topic: you can now see the study progress separately for selected topics (Ctrl-click on the topic)
- The app detects duplicate cards when dragging cards between decks
- Export as printable PDF
- Export as lecture notes


iCloud:

- App gets its own folder in iCloud Drive (decks in the "Flashcard Hero" folder show automatically in the iOS app)
- Drag individual decks in and out of iCloud Drive in Finder (no need to store all decks in iCloud at the same time)
- Improved the way decks are saved → decks take up to 80% less space and transfer quicker through iCloud



Improved:

- Scrolling large cards in study mode
- Swiping left/right during study mode to change cards
- Better undo support when reorganizing cards in the card outline
- Reduced text size for topic cards
- Number of study cards is now shown at the bottom of the card list
- Improved responsiveness when reordering cards in large decks
- Decks with a forward slash in the title would not export as tsv file
- Improved copy & paste text from MS Word documents


Gone:

- The deck library (replaced by folders in Finder)
- Sharing through cards attached to PDF (you can now share the deck documents directly from Finder or from within the app's Share menu)
- No more automatic combining of iCloud conflicting versions (the "Changed on another device" topic cards). You can drag cards from one deck version into the other, duplicate cards are skipped)
Screenshots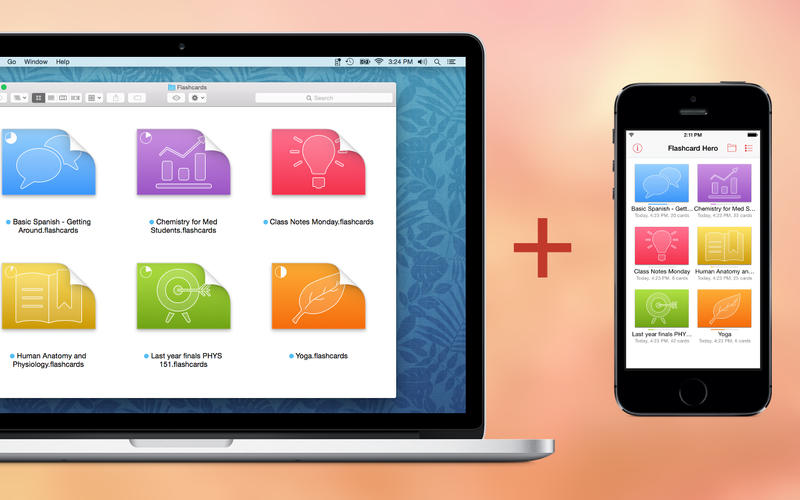 Customer Reviews
Very Satisfied
I RARELY purchase apps. But this is well worth the expense if you're a student looking to diversify your studying. I had a huge test coming up and was going to be out of town. At the urging of a friend I purchased this app, made a set of flashcards on my desktop, then imported that set of flashcards to my phone app where I was able to study on the go. Truly invaluable.

Although I highly recommend this app, my one critique would be the multiple choice setting. I wish it would allow you to set up the distractors specifically for each question. It seems to pull the responses from other questions as distractors and most of the time they're so obviously wrong that you're not really learning the correct thing, just how to identify outrageously incorrect options.
Surprisingly Complete for a 2.0 release
While this app hasn't been around terribly long, and is just getting into it's second version, it feels amazingly polished, well featured as well as being able to use without much of a learning curve. Along with that, it works seamlessly with iCloud and I have yet to have any issues with the integration so far. I don't think I've ever had it crash on me, and for having used it extensively for over a year that's quite an achievement. I wish they had charged me more, cause I got this app for $4.99 if I remember correctly, but I would have paid $15 for the amount of convince and usefulness it's given me even before 2.0.
What an Imrpovement!
This app and it's associated mobile app has come a long way since I first downloaded them last year. I just picked them up again after a few months, and what a difference in the new versions! I'm using the apps to quiz myself on German vocabulary. The combination of iCloud storage with sync, speaking (the app reads the cards to me in two languages!), and the ability to quiz myself on either the desktop or my iPhone has made this one of the best tools I have. Congratulations, developers! You've nailed it!
View in Mac App Store
$7.99

Category:

Education

Updated:

May 18, 2015

Version:

2.0

Size:

8.2 MB

Languages:

English, German

Seller:

Rico Gundermann
Compatibility: OS X 10.10 or later, 64-bit processor