FlyLadyPlus
By FLY Premium Services, inc.
This app is only available on the App Store for iOS devices.
Description
Say hello to a decluttered home and organized life with FlyLadyPlus!

FlyLadyPlus breaks the home down into zones and gives you cleaning lists & a fun daily mission for 1 zone we focus on each week. Plus, daily Musings from the FlyLady to help you get motivated and ready each morning!
Declutter and clean your home the way that millions of other ladies have, with FlyLady's daily Routines pre-set in the app. Simply check the tasks off in the app as you go, and by the end of each month you will have worked your way through cleaning, organizing, and decluttering your whole home!

Features include:
•Pre-loaded routine lists that you can customize and check off as you declutter and clean a little each day, including:
-FlyLady's Morning, Afternoon, and Evening Routine
-Detailed cleaning lists for each zone of the home
-A weekly notification to let you know when we switch zones!
•FlyLady's Morning Musing, Daily Mission, and Ask FlyLady question to motivate and brighten each day!
•FlyLady's Agenda automatically includes your events from your calendars as well as most of your emails
•An in-app FlyLady Timer for use in decluttering & cleaning - preset to 15 minutes :wink:
•An optional add-on video course taught by The FlyLady
•Updated weekly to improve the experience and add the features you want!
What's New in Version 2.1.2
- Small Bug Fixes and Improvements
iPhone Screenshots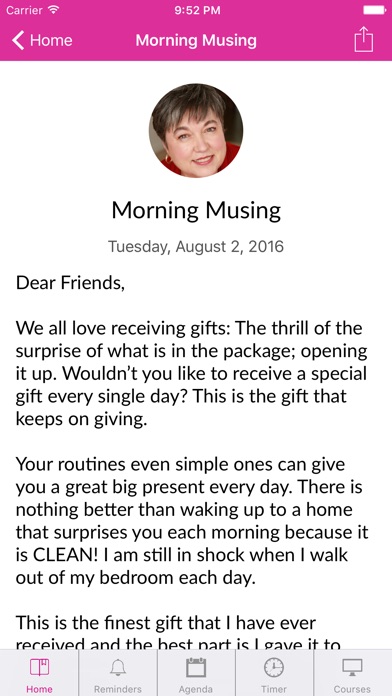 Customer Reviews
Great!! Could be fine be stars if...
Love this app. Her 15min cleaning method is nothing new (think the old fashioned wash on Monday iron on Tuesday etc) but I love her daily routines and weekly zones. I always sort of had the idea all zones had to be done weekly and well... you can imagine with a family I just gave up feeling defeated all the time. Now, I (will) tackle a zone a week and if I don't get everything done, I will do the items I didn't get done last month first next month. I've only been using her system for a week but I've been so inspired and it's even inspiring my family. And best of all, I'm not feeling resentful of spending all my time cleaning up after others. Because I'm working in smaller more reasonable time segments and getting so very much more done and teaching my family to do the same.

Almost 18 yrs of marriage and my husband and I are finally on the same page regarding doing the dishes!!🎉🎉🎉

It would be five stars if I could rename the zones and add zones. For example I do not have an extra bedroom. But I'd like a zone for the garage.
Cleaning list at your fingertips
What a clutter free way to have the essentials of the daily routines and zones on hand. I generally have my phone near me so this app is great! It syncs with your calendar so that your agenda shows up (although so far I don't see a way to add things to your agenda in FlyLady). A timer is handy for the timed challenges and keeping you on task. I also like that the timer goes off but then doesn't beep incessantly before you shut it off. The daily missions are updated during the weekdays. All of the zone work is listed. I like how you can reset the lists at the end of the day. You can add personalized to dos to the lists. Some of the lists are editable as far as changing the order that you accomplish things. However that capability is not in the zone routines...which I would like there as well as my brain thinks in a certain order. All in all a great app and so thankful it's available for free!
Finally getting my home in order!
Thank you Flylady!!! I do not write reviews for much of anything, maybe two in my life and that's a maybe. This app has helped me literally transform my house in only a couple of weeks and that has mainly been by checking off all the daily tasks on each routine, morning, afternoon and before bed. Only a few days ago I started getting into the weekly home blessing, which has turned out to be much more manageable than I thought it was going to be. As crazy as it may sound, this has all become somewhat of a fun game I play each day, like a race against the clock to see how much I can get done in short periods of time,
like before I pick my daughter up from kindergarten at noon or before anybody wakes up in the morning.
Seriously love this app and the fly lady team for all they do!

Shannon
View in iTunes
Free

Category:

Lifestyle

Updated:

Mar 28, 2017

Version:

2.1.2

Size:

43.0 MB

Language:

English

Seller:

FLY Premium Services, inc.
Compatibility: Requires iOS 8.1 or later. Compatible with iPhone, iPad, and iPod touch.