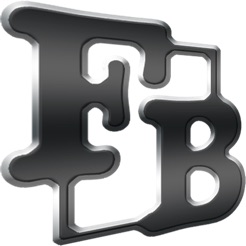 Description
FolderBrander lets you quickly and easily customize the look of your folder icons. This makes it much easier to visually locate a folder in the Finder. And perhaps more importantly, it makes it possible to identify folders without having to mouse over them in the Dock!

- EASY TO USE -

Just pick a base icon (from a variety of styles and colors) and type in a short text label. Two sliders let you rotate and skew the text to match the orientation and perspective of the base icon. Once you are happy with how it looks, click Apply and ... voila! Your folder now has a unique icon.

- EXTENDABLE -

FolderBrander comes with several built-in sets of icons, but the cool thing is you can add your own icons to it. Create your own (skills and separate graphics app not included) or scour the web for some really cool ones and add them to FolderBrander.

- FREE TRIAL AVAILABLE -

Please visit folderbrander.com to download a demo today.

- CUSTOMER REVIEWS -

"Great App! Does exactly what it says. Very handy." 5 Stars (App Store - USA)

"This app works exactly as advertised. It not only makes my dock less boring to look at, but it increases my efficiency and productivity as well since I no longer have to hover over each folder to find the one I'm looking for! For just a couple bucks, it's totally worth the money." 5 Stars (App Store - USA)

"We have used Folder Brander on our Macs for several years. It is simple, intuitive and makes it much easier to pick out the right file on my cluttered desktop ! Colour coding and adding titles makes them easier to spot, with less "blue on blue" than the standard Mac OS file icons. For half the price of a cup of C***a coffee, it is a must for your Mac ;-)" 5 Stars (App Store - UK)

"Ordner werden unterscheidbar und individuell :-) Das Programm ist einfach zu bedienenn und die Ordner bekommen individuelle Kleider. Es macht das Leben auf dem Mac einfacher. Und ich freue mich jedesmal, wenn ich meinen Desktop betrachte." 5 Stars (App Store - Germany)

"Man braucht es nicht wirklich…aber es bringt einfach Freude in den täglichen Umgang mit dem Rechner. Alles funktioniert, nichts auszusetzen!" 5 Stars (App Store - Germany)

"Super ! Vraiment simple d'utilisation est très pratique je le conseil vivement !" 5 Stars (App Store - France)

"Ótimo! Cumpre o que promete! O app é mesmo o que diz em sua descriçao. Personalize suas pastas ao seu gosto com ícones e texto. Muito bom e recomendo!!" 5 Stars (App Store - Brazil)
Bug fix: FolderBrander now works correctly on MacBook Pro with Retina Display.
Ratings and Reviews
if color coding is part of how you organize things, you need this app
I use color coding to help me find things quickly. The Mac OS used to let me do that with folders by tagging them. When viewing them in list format within another folder, the colored tags really stood out. But a few OS updates ago, in their infinite wisdom, Apple made their built-in folder tagging feature basically useless. That's where this app comes in. It restores the ability to color-code folders in any view, and adds some extra tweaks and customization. Like someone else said here—I haven't used it a lot once my folders were colored, but just getting me to that place was worth every penny.
Handy, stable, highly useful
This is not a program I use frequently but it is a very handy one to have. It is particularly useful when I put folders in my dock (I currently have 6 residing there) to help me access frequently used items on my hard drive. The ability to color and label those folders is very valuable. Of course, it is also useful to be able to highlight important folders anywhere in the Finder and with this program that task is easily accomplished. Easy to use, very stable, highly recommended!
FB is essential
I couldn't manage without Folder Brander. Visually organizing folders is quickest way to spot them.
Don't know why iOS doesn't offer this—seems obvious. FB is very easy to use
and always works. Would love to have more design options—polka dotted folders? Stripes?
But thanks, FB folks!
Information
Seller

Jay Teo

Size

3.4 MB

Category

Age Rating

Rated 4+

Copyright

© Copyright 2004-2012 Yellow Mug Software

Price

$9.99
Supports
Family Sharing

With Family Sharing set up, up to six family members can use this app.