ForeFlight Mobile EFB
By ForeFlight
Open iTunes to buy and download apps.
Description
ForeFlight is the award winning and most widely used flight planning and electronic flight bag app for iPad and iPhone. Individual pilots and professional flight crews all over the world use ForeFlight to plan and file flight plans, access preflight and in-flight weather, download and view electronic charts and maps, manage flight publications, log flight time, and more. Additionally, ForeFlight is renowned for its amazingly responsive and accurate Fanatical Pilot Support™.

Continued ForeFlight service requires a subscription, options are available via in-app purchase.

REVIEWS

• Editor's Choice, Flying Magazine, January 2014
• Editor's Choice, Flying Magazine, January 2013
• Editor's Choice, Flying Magazine, January 2012
• App of the Year, Aviation Consumer, July 2011
• Best Selling iPad Aviation App: 2010, 2011, 2012
• "Best app for IFR" - Aviation Consumer
• "One of the most popular and most-respected aviation apps available" - Sporty's Pilot Shop

ForeFlight offers these features and more:

FLIGHT PLANNING

Use touch planning, interactive route editing, altitude and route advisors, and SID/STAR previews to plan your flight quickly and easily, with all the information you need right at your fingertips.

FILE & BRIEF

File, amend, or cancel VFR and IFR flight plans from your mobile device, and use ForeFlight Graphical Briefing to get all the weather information you need to feel confident and ready for takeoff.

WEATHER

Graphical AIRMETs and SIGMETs, global winds aloft data, and hundreds of weather imagery products deliver information about conditions along your route quickly and visually.

PLATES & CHARTS

Download all of the VFR and IFR charts you need based on your selected geo-region, as well as procedure plates and taxi charts for thousands of airports across North America.

AIRPORT & FBO INFORMATION

Access a wide array of information for thousands of airports and FBOs to be fully prepared for your flight.

WEIGHT & BALANCE

Ensure that your aircraft will stay within its weight and CG limits for the entire flight with easy data and load entry.

LOGBOOK

Logbook is seamlessly integrated into the ForeFlight app, making it easy to track hours, currency, ratings, endorsements, and more on your iPad and iPhone. Your data is automatically synced across all your devices and protected in ForeFlight's secure cloud storage.

AVIONICS CONNECTIVITY

Wirelessly connect to your installed avionics to send and receive flight plans or get GPS, ADS-B, or AHRS. Partners include Stratus, Garmin, Dynon Avionics, FreeFlight, Aspen Avionics, Bad Elf, and more.

GEO-REFERENCED APPROACHES AND TAXI CHARTS

Geo-referenced plates and taxi charts enable the real time display of your GPS position on the chart. They can also be overlaid on the Maps view along with weather and hazards, providing advanced situational awareness for IFR pilots.

HAZARD ADVISOR & PROFILE VIEW

Hazard Advisor is a moving-map overlay that tracks your GPS position and altitude to depict hazardous terrain and obstacles. Profile gives you a side view of terrain and obstacle elevations along your planned route so you can easily determine safe altitudes.

SYNTHETIC VISION

Synthetic Vision is a visually stunning and high-performance hazard awareness capability for iPad, providing a virtual view of the terrain with color-coding to indicate safe elevations. When paired with a Stratus 2S or other AHRS device it also acts as a backup attitude indicator.

CLOUD DOCUMENTS

ForeFlight allows pilots to connect their account to Dropbox, Amazon S3, or Box, and upload their own documents to the app. Documents are stored in the cloud and synced across all iPads on an account.

FLIGHT NOTIFICATIONS

After filing, ForeFlight sends you real-time push and email notifications when expected route information is released from ATC.

CREDITS

• Canadian radar coverage is provided by Environment Canada.
• International A/FD provided by Universal Weather and Aviation.
What's New in Version 9.0.1
9.0.1

This minor release improves the User Map Shapes feature so that imported KML files no longer require the extension ".ffkml" and the app does not need to be restarted for new shapefiles to appear in the layer selector. It also fixes a bug that disabled ForeFlight's Apple Watch extension, and includes several other small bug fixes and improvements.

Integrated ForeFlight Checklist Fits Your Flying Workflow

Your familiar paper checklists are transformed into digital templates that fit naturally into your workflow and help you conduct safer flight operations. Interactive progress indicators reduce the amount of time you spend heads down. Start with preconfigured templates or create your own custom checklists. ForeFlight Checklist is a feature of our Basic Plus and Pro Plus subscription plans.

New Glide Advisor™ Helps You Locate a Safe Landing Space

Based on terrain, winds aloft, GPS data (position/altitude), and your aircraft's best glide speed and ratio, ForeFlight shapes a glide range ring around your ownship icon on the moving map display to help you quickly assess your options if you lose engine power.

More Options for Night Flight with Dark App Theme

Toggle between Light and Dark App Themes. Dark Theme converts the background color to dark blue throughout the app while keeping highlight colors and text easily visible.

Listen to Your Favorite SiriusXM Satellite Radio Stations Inflight

Connect your Bluetooth headset or audio device to the SXAR1 Aviation Receiver and stream XM satellite radio while in the cockpit. Use ForeFlight to browse and select your jam.

Know the Knots with New Surface Winds Layer with SXAR1

ForeFlight pilots flying with the SXAR1 portable Aviation Receiver can now view a model-based, high-resolution analysis of recent surface winds.

Logbook Enhancements: Helpful Aircraft List Details & CFI Currency Tracking

The aircraft list view in your Logbook now displays summary information next to each tail number that includes type code, category/class, gear type, and total hours in that aircraft. It's a helpful design detail that provides more visibility into your logbook data. CFI renewal tracking is also available.

New Device Disconnect Alert

ForeFlight provides a prominent visual and audio alert if a Bluetooth or Wi-Fi device disconnects during flight. This helpful new alert monitors both portable and panel-mounted avionics.

Customize the Maps View with User Map Shapes

Import and display KML geographic overlay files in ForeFlight allowing you to define specific areas for your custom navigation needs. Ideal for flight schools, search and rescue operations, pipeline patrol, and more.

Microsoft Office Document Support

Import and view Microsoft Word, Powerpoint, and Excel documents into the Documents view.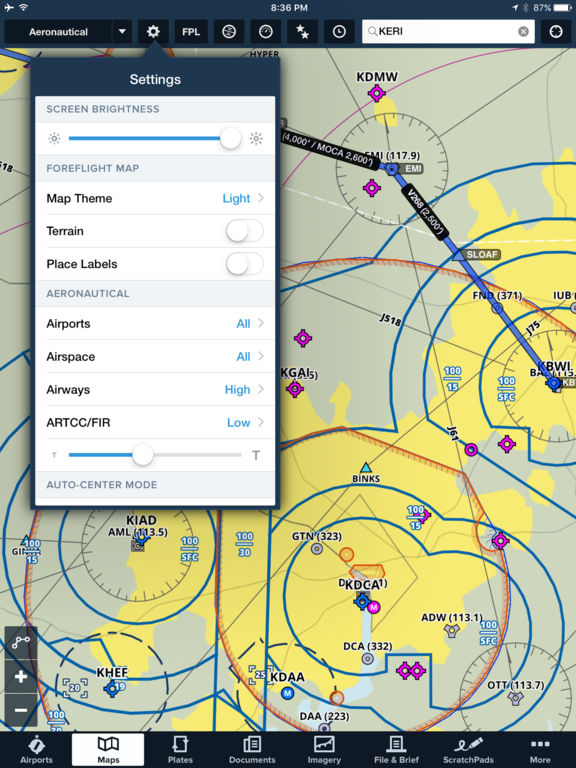 Customer Reviews
An update that did NOTHING...
Rarely do companies release an update that moves a product backwards. The new foreflight 8 provides little to no progress if any at all. The company has discussed for a long time their improved version 8 feature set however other than the aeronautical apps which are IMHO a less useful version of Jepps VFR/GPS maps, there appears to be little change.

This all said, the most frustrating aspect is the customer service experience and their inability to implement feature requests. While they reply quickly to emails, their "experienced" technical team always provides the same answer that the feature request will be discussed.

I realize that my specific requests are not the benchmark for change, though to release a new version with no apparent change and years of change requests by thousands of pilots, it seems that foreflight is content with simply being a media manager vs a ground breaker in the industry.

I highly suggest looking at other options prior to spending your money on foreflight until the company can recage and do what they did in their inception vs the stagnicity they demonstrated with their latest release.
Long time user
Have been using ForeFlight since 2012. This app is very good with lots of features.
I rarely have problems with the app. Just had my first one last week (April 2017). Customer support called me up and walked me through very quickly. It was user error, and the rep was very good at guiding me through my mistakes and always treated me with respect.
Very good application, soon to get an iPad mini 4 and using ForeFlight on it as well as my iPad 2 and iPhone SE.
Fantastic app
The ForeFlight app is easy to use and keeps getting better with each update. The ForeFlight team is great to work with as well. They are knowledgeable and return emails immediately. They were the only ones who were able to help with my new Garmin GTX-345 ADS-B installation as they knew how to get the attitude to work with the ForeFlight app. I highly recommend the app and the staff.
View in iTunes
This app is designed for both iPhone and iPad
Offers Apple Watch App for iPhone
Free

Category:

Weather

Updated:

Apr 10, 2017

Version:

9.0.1

Size:

216 MB

Apple Watch:

Yes

Language:

English

Seller:

ForeFlight, LLC
Compatibility: Requires iOS 9.2 or later. Compatible with iPhone, iPad, and iPod touch.
Top In-App Purchases
Basic - USA, 1 Year$74.99
Pro - USA, 1 Year$149.99
Basic Plus – US, 1 Pilot for 1 Year$99.99
Pro Plus – US, 1 Pilot for 1 Year$199.99
Basic Plus – US, 1 Pilot for 3 Months$49.99
Pro SV - USA, 1 Year$174.99
Basic - USA, 3 Months$49.99
Basic SV - USA, 1 Year$99.99
Pro - Canada, 1 Year$149.99
Pro SV - Canada, 1 Year$174.99