ForeFlight Mobile EFB
By ForeFlight
Open iTunes to buy and download apps.
Description
Now in our 10th year, ForeFlight Mobile has become the essential and highly-rated app for pilots and flight operations that makes flight planning, flying, and logging a joy.

ForeFlight Mobile delivers advanced flight planning capabilities, terminal procedure charts, enroute navigation charts, moving map, synthetic vision, hazard awareness, optional Jeppesen charts, a comprehensive library of market-leading weather information and visualization features, in-flight weather via ADS-B and SiriusXM, a large library of advanced aircraft performance profiles, customizable checklists, integration with a wide range of certified avionics and portable ADS-B and GPS receivers, a document reader and cloud document capability for management of aircraft and flight operations publications, and an easy-to-use pilot logbook for keeping track of flight experience. ForeFlight is backed by our Fanatical Pilot Support™, which delivers amazingly fast, accurate, and friendly customer service.

ForeFlight requires a subscription. Visit our website for more information on the available plan levels.

Please note: Location is used to enable a moving map and record track logs, camera is used to attach photos to logbook, push notifications are used for important bulletins and flight alerts, and contacts are used to add people to flights.

REVIEWS
Editor's Choice, Flying Magazine, January 2012, 2013, 2014
App of the Year, Aviation Consumer, July 2011
Best Selling iPad Aviation App: 2010, 2011, 2012
"Best app for IFR" - Aviation Consumer
"One of the most popular and most-respected aviation apps available" - Sporty's Pilot Shop

FLIGHT PLANNING, BRIEFING, & FILING
Plan flights via text input or use ForeFlight Touch Planning capabilities. Tap out a route in seconds, and quickly see if flights will be affected by weather or TFRs. Helpful Route, Altitude, and Procedure Advisors make planning easy and accurate. Generate a graphical preflight briefing and file your flight plan directly from the app. Print a professional-grade navlog for inflight reference.

WEATHER
Interactive weather layers include animated radar, global satellite and winds aloft, graphical AIR/SIGMETs, flight category, visibility, and more. View decoded METARs, TAFs, and MOS forecasts. Thoughtfully organized Imagery view puts a full range of forecast tools at your fingertips.

PLATES, CHARTS, & MAPS
Both VFR and IFR operations are covered with all of the essentials required for planning and navigation: data-driven Aeronautical Maps, VFR Sectionals, High/Low Enroute charts, SIDs, STARs, approach and taxi charts, and terrain, satellite, and street map views.

GEO-REFERENCED APPROACHES & TAXI CHARTS
Plates and taxi charts enable the real time display of your GPS location on the chart. They can also be overlaid on the Maps view along with weather and hazards.

GLOBAL HAZARD AWARENESS TECHNOLOGY
Plan and fly with more confidence in all conditions and terrain. ForeFlight's top-down-view Hazard Advisor map layer, Terrain Profile View, and 3D Synthetic Vision seamlessly integrate into the map display to depict a clear picture of terrain and obstacle hazards anywhere in the world. When paired with an AHRS source, Synthetic Vision provides a backup attitude display.

LOGBOOK
Logbook is seamlessly integrated into the ForeFlight app, making it easy to log and share flights, track hours, review currency, record certificates and ratings, receive electronic instructor endorsements, and create experience reports. Your data is automatically synced across all your devices and protected in ForeFlight's secure cloud storage.

ADDITIONAL INTEGRATED FEATURES INCLUDE:
• Airport & FBO Information for Thousands of Locations
• Weight & Balance
• Checklists
• Glide Advisor
• Built-in Documents Catalog
• Optional Cloud Documents via linking to Dropbox, Amazon S3, or Box
• Expected route flight notifications
• Over-the-air data updates
What's New in Version 9.2.1
9.2.1

Bug fixes and improved stability

9.2

Global Jeppesen Charts Now Available in ForeFlight
• Option to purchase Jeppesen charts for viewing on ForeFlight Mobile.
• Choose from thirteen standard chart coverage options that span the globe.
• Coverages include departure, arrival, and terminal procedures, airport charts, and the Jeppesen Airway Manual (Enroute charts coming soon).
• Jeppesen charts are available as an option in all ForeFlight individual and business plans.
• Purchase Jeppesen charts directly from ForeFlight, or link an active Jeppesen subscription inside of ForeFlight Mobile.
• Overlay geo-referenced SIDs, STARs, approach plates, and taxi charts onto the map and see your aircraft position, weather, and hazards in one seamless view (requires a Pro Plus or Performance Plus plan).

Global Procedure Advisor
• Jeppesen's high-quality NavData® comes standard in every plan, improving data consistency between the mobile device and installed avionics, enhancing features like data-driven Aeronautical Maps (available in Plus plans), and expanding Procedure Advisor for all customers to airports around the world.

More Options to Import Custom Content with User Charts
• Import your custom charts and display them on the Maps view.
• User Charts supports the Mapbox MBTiles open source file type.
• Easily import via email attachment, drag-and-drop in iTunes, AirDrop, or direct link.
• Access User Charts in the maps layer selector or manage them in the User Content tab in the More view.
• Display a single User Chart with any other VFR or IFR chart type, imported User Map Layers, User Waypoints, weather layers, hazards, and fuel prices.

New in Logbook: Print in Traditional Format
• Logbook Detail Reports transform your digital flight entries into a format suitable to print for personal backup or professional job interviews.
• Option to choose between complete and condensed versions.
• Complete version mirrors the format of a traditional paper logbook, laying out flight entry details across two pages.
• Condensed version provides an overview of flight time on a single page.
• Layouts include endorsements and certificates.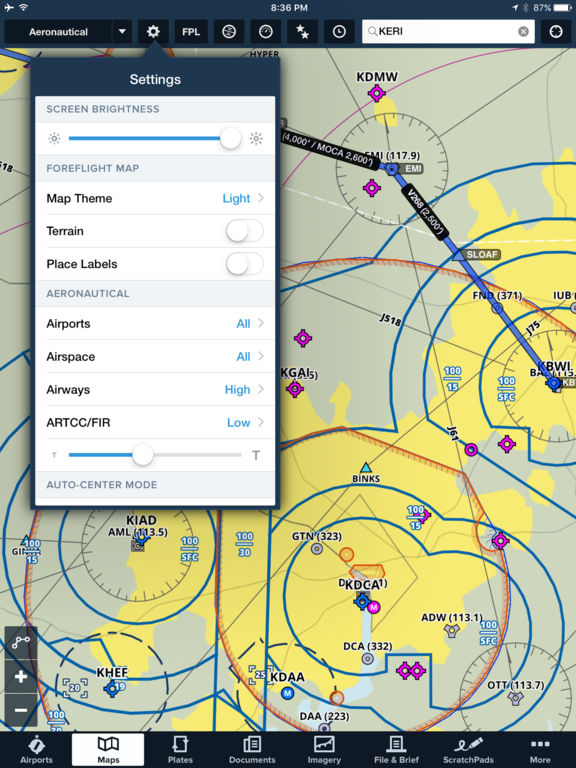 Customer Reviews
Excellent support
I am a new user and a bit unusual in that I fly in Kenya. I found the world aeronautical chart and Africa terrain excellent and only wish that they had more airports in their database and included the elevation heights on hills and mountains. Based on my experience, I am switching over from Garmin Pilot, although I also still use Sky Demon, especially because of its large database of airports in Kenya. I had a few questions for technical support and always received a prompt response. In one instance, they corrected my draft Excel spreadsheet of flights so that it could be imported into Logbook. The technical team went out of its way to give me excellent support. Overall the program is terrific and the support outstanding. My only complaint is that the so-called free 30-trial version is so limited in its capabilities.
New flight plan tool is a step backwards
I love the app but the new update with the flight plan tool is a degradation in utility. Before, we could adjust our fuel burn and TAS on the left windows. Now you have to edit individual aircraft. I fly any one of 200 different side numbers depending on aircraft issue. Having to have a profile on all of them is a real pain. This then translates to filing with ForeFlight, which, after creating an aircraft profile, is a real joy. It would be highly beneficial to other pilots that fly multiple side numbers and transparent to pilots that only fly one if foreflight implemented adjustments to parameters and had the call sign as an independent variable, not the file name to organize all the other data.
An update that did NOTHING...
Rarely do companies release an update that moves a product backwards. The new foreflight 8 provides little to no progress if any at all. The company has discussed for a long time their improved version 8 feature set however other than the aeronautical apps which are IMHO a less useful version of Jepps VFR/GPS maps, there appears to be little change.

This all said, the most frustrating aspect is the customer service experience and their inability to implement feature requests. While they reply quickly to emails, their "experienced" technical team always provides the same answer that the feature request will be discussed.

I realize that my specific requests are not the benchmark for change, though to release a new version with no apparent change and years of change requests by thousands of pilots, it seems that foreflight is content with simply being a media manager vs a ground breaker in the industry.

I highly suggest looking at other options such as Aerovie prior to spending your money on foreflight until the company can recage and do what they did in their inception vs the stagnicity they demonstrated with their latest release.
View in iTunes
This app is designed for both iPhone and iPad
Offers Apple Watch App for iPhone
Free

Category:

Weather

Updated:

Jul 14, 2017

Version:

9.2.1

Size:

230 MB

Apple Watch:

Yes

Languages:

English, French, German

Seller:

ForeFlight, LLC
Compatibility: Requires iOS 9.2 or later. Compatible with iPhone, iPad, and iPod touch.
Top In-App Purchases
Basic - USA, 1 Year$74.99
Pro - USA, 1 Year$149.99
Basic Plus – US, 1 Pilot for 1 Year$99.99
Pro Plus – US, 1 Pilot for 1 Year$199.99
Basic Plus – US, 1 Pilot for 3 Months$49.99
Pro SV - USA, 1 Year$174.99
Basic - USA, 3 Months$49.99
Basic SV - USA, 1 Year$99.99
Pro - Canada, 1 Year$149.99
ForeFlight Performance Plus US$299.99