Forest Legends: The Call of Love HD - A Hidden Object Adventure
By Big Fish Games, Inc
This app is only available on the App Store for iOS devices.
Description
Play the trial for FREE! Pay once & complete the adventure!

Deep in the heart of an enchanted forest, a forbidden love blooms. Help these two come together and unite their families with their love!

• FORBIDDEN LOVE EXISTS BETWEEN A HUMAN AND A WERECAT
Guide the human, Eveline, as she sets out to rescue her beloved Aurelio from the clutches of a tyrant!

• THE HUNTERS ARE AFTER AURELIO!
Eveline's father does not understand her love for Aurelio and sends his hunting partners out to find and wound him.

• EXPLORE THEMES OF LOVE AND BELIEF
Run into the Forbidden Forest to find a healer and make a potion to save Aurelio before the hunters find him again.

• UNLOCK THIS AMAZING COLLECTOR'S EDITION!
Gain access to the strategy guide and captivating bonus chapter after unlocking the full story. Check out the concept art, wallpapers and soundtrack too!

*** Discover more from Big Fish! ***

Check out our entire game library with our Game Finder app here: http://bigfi.sh/bfggamefinder

Sign up for our newsletter and never miss a new release or promotion again: http://bigfi.sh/iSplashNewsletter

Big Fish is the leading global marketplace to discover and enjoy casual games. You can enjoy our virtually endless selection of games anytime, anywhere — on your PC, Mac, mobile phone, or tablet. Learn more at bigfishgames.com!

Become a fan on Facebook: http://www.facebook.com/BigFishGames

Follow us on Twitter: http://bigfi.sh/BigFishTwitter
iPad Screenshots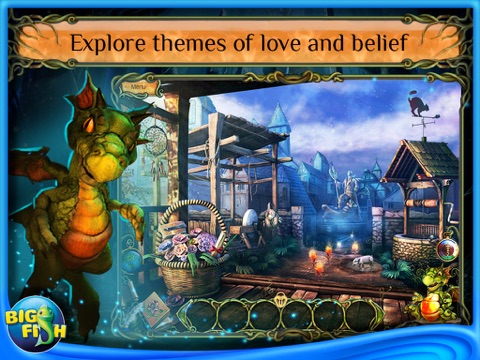 Customer Reviews
AMAZING!!!
I had to stop playing to write. I just finished Nearwood and it was so unpleasant because of the unbelievably long loading times and BF pop up ads. This game is GREAT. It moves from scene to scene immediately and that makes it SO much fun to explore. A bad game feels like a chore and BF certainly doesn't seem to care about quality, churning out mediocre to lousy game after game just to make money. This is from Alawar. I wish there was some way to buy games directly from the devs. If HBO can dump Comcast/TWC, there has to be hope. Anyway, back to this game. If you like fairy tale, sweet, cute type games, with animals and an animal helper, buy this game. It has all the bells and whistles and reminds me why I keep buying these games. It's just so frustrating to know that there are really great games like this one but you have to tolerate so many lousy games to get to a good one because there isn't a place where you can get reliable reviews. I wish there was some way to reward devs like Alawar for putting out such a quality product, so much attention to detail. You can tell they really cared about this game versus other games which feel thrown together just to make a buck. Back to the fun. If all the games were this good, I'd buy them every week and not feel ripped off. A girl can dream, can't she?
Charming & fun
This is a nice game. A bit glitchy in spots (for me), but the game kicks back in after several seconds of blackout. It had worked just fine the day before, so I'm not sure if it's the game or my iPad (which I always use fully charged). Using the inventory items requires an atypical approach, but the storyline is interesting and the mini games and puzzles litely clever. Am enjoying it as an evening wind down from the day. Yes, I'm all grown up and work hard for a living ;) I picked up this game on the End of Summer sale. I'd recommend it as an entertaining sale item.
Forest legend the call of love
I am having so many problems with this app. If I close it for the evening and go back the next day, I can't get the app up. I have deleted it 3 times! I don't want to have to start this every time I play. I have only gotten as far as the islands. I would love to see where it goes next, I can only play for so long in any given day. Please help. I am playing another game so I know it isn't my equipment please help!! I am returning to say how disappointed I am with this game. I have deleted it yet again! I was hoping for a fix but I don't think that is going to happen. Same problem, but now I made it to the extra play and can't finish it unless I play the whole main game. Please refund my money. I have purchased 95 games from BF and I am asking for a refund on this one, please, I know it's the game because I don't have any problems with the other BF games I am playing.
View in iTunes
Free

Category:

Games

Released:

Dec 20, 2013

Version:

1.0.0

Size:

1.99 GB

Languages:

English, French, German, Russian

Seller:

Big Fish Games, Inc
Compatibility: Requires iOS 5.0 or later. Compatible with iPad 2 Wi-Fi, iPad 2 Wi-Fi + 3G, iPad Wi-Fi (3rd generation), iPad Wi‑Fi + Cellular (3rd generation), iPad Wi-Fi (4th generation), iPad Wi-Fi + Cellular (4th generation), iPad mini Wi-Fi, iPad mini Wi-Fi + Cellular, iPad Air, iPad Air Wi-Fi + Cellular, iPad mini 2, iPad mini 2 Wi-Fi + Cellular, iPad Air 2, iPad Air 2 Wi-Fi + Cellular, iPad mini 3, iPad mini 3 Wi-Fi + Cellular, iPad mini 4, iPad mini 4 Wi-Fi + Cellular, 12.9-inch iPad Pro, 12.9-inch iPad Pro Wi-Fi + Cellular, 9.7-inch iPad Pro, 9.7-inch iPad Pro Wi-Fi + Cellular, iPad (5th generation), iPad Wi-Fi + Cellular (5th generation), 12.9-inch iPad Pro (2nd generation), 12.9-inch iPad Pro Wi‑Fi + Cellular (2nd generation), 10.5-inch iPad Pro, and 10.5-inch iPad Pro Wi‑Fi + Cellular.
Top In-App Purchases
Full Game Unlock + Bonus Content$6.99