Forester GPS GIS II
By CORVALLIS MICROTECHNOLOGY, INC.
This app is only available on the App Store for iOS devices.
Description
"Forester GPS GIS II" provides tools for estimating basal area per acre for a timber stand as well as GPS data collection and mapping functions for use on the iPad. It will let you use a GPS receiver to map a timber stand or any other land parcel then create grid points over the area. You can also create features by importing feature data in Shapefiles or DXF format, by manual digitization or by entering deed calls. The acreage and perimeter of an area feature will be promptly computed. You can easily divide or combine the land plots. You will be able to record attribute information for each geographic feature. You also will be able to export the feature data as Shapefiles.

If your device has GPS capability, the Point Stakeout function could help you locate the cruise points, and the Line Stakeout function could help you stay on a transect line.

Please note: The accuracy of the location data depends on the GPS receiver used. Continued use of GPS running in the background can dramatically decrease battery life. The app lets you easily toggle the GPS on or off.

Detailed Function List:
* Map Points, Lines and Areas using GPS data collection functions.
* Tag the Features with pre-defined Attribute/Values.
* Work in LLA, UTM, SPC or NEZ coordinate system.
* Import/export the Features and Attributes from/to Shapefiles or DXF.
* Precisely digitize Points, Lines and Areas over the built-in Map.
* Create a Point from the entered address or coordinates.
* Create new Points by using the Traverse function.
* Create a Point or record a node by picking the GPS location.
* Create a Line or an Area by entering Deed Calls.
* Move existing nodes to fine-tune the map drawing.
* Attach one or more photos to any Feature.
* View position, length and area values for the Features.
* Work with Metric and English units and BAF values.
* Create grid points or grid lines over an Area Feature.
* Use the built-in angle gauge to select trees for point cruise.
* Check borderline trees based on limiting distance calculation.
* Calculate the actual stem length of a leaning tree.
* Convert between horizontal distance and slope distance.
* Create multiple attribute tables (Feature Lists).
* Enter a formula for an Attribute based on other Attributes.
* View or edit Attribute Values in a sheet with drop-down list.
* Sub-divide an Area or combine two adjacent Areas into one Area.
* Create buffer zones around a Line or Area Feature.
* Label the Features with ID and Attributes.
* Label the Lines with segment lengths and directions as well as corner angles.
* Label the Areas with size in acres and square feet or hectares and square meters.
* Measure distances and areas without saving the shapes.
* Convert measured distances or areas to Features.
* Create a Point from the entered address or coordinates.
* Create a Point or record a node by picking the GPS location.
* Use GPS to stake out Points or nodes on a Line or Area Feature.
* Use GPS to stake out a Line or Area boundary.
* Save the job data file for later use.
* Output the drawing and the coordinates to PDF.
* View any PDF in the app's Documents Folder.
* Email the job data files and the PDF files to your colleagues.
* iCloud file storage support.

This app comes with a built-in help document.
What's New in Version 1.0.1
1. Supports 64-bit architecture

2. Sets the maximum number of grid nodes in each direction (X/Y) to be 200 (instead of 100).

3. Provides ability to export Features in GPX format

N.B. We are unable to respond to your app review. If you have a question or comment, please email it to support@cmtinc.com or post it as a comment at http://icmtgis.wordpress.com. Thank you.
iPad Screenshots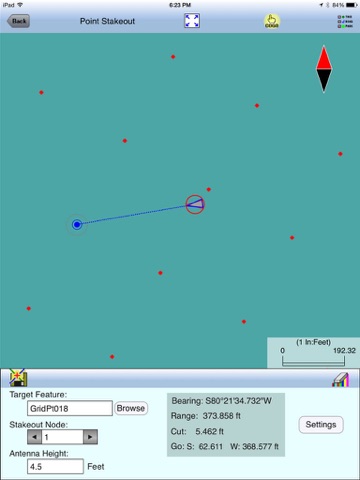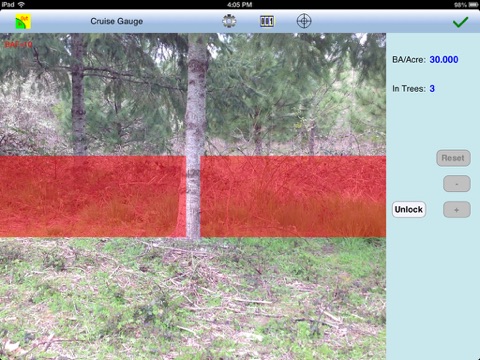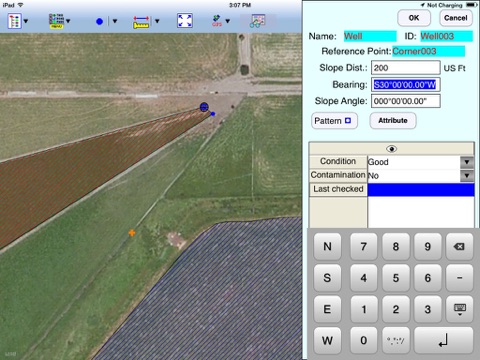 Customer Reviews
Impressive for deed calls and adding CAD
I have to do an agg plan on my property. This app is so cool. You can add multiple deed call sections. I did that and then in CAD (Solidworks) subdivided and exported DXF. Then you van use your own coordinate system to bring in and overlay. Then walk the lines with gps and mark the trees. So cool. I bought a cheap GPS adapter for the iPad. Tons of other tools too!
View in iTunes
$94.99

Category:

Navigation

Updated:

Jan 19, 2015

Version:

1.0.1

Size:

19.4 MB

Language:

English

Seller:

Corvallis Microtechnology, Inc.
Compatibility: Requires iOS 5.1.1 or later. Compatible with iPad.
More iPad Apps by CORVALLIS MICROTECHNOLOGY, INC.