FourTrack
By Sonoma Wire Works
This app is only available on the App Store for iOS devices.
Description
"I'm obsessed with the FourTrack recording app - a super powerful studio in your pocket." Trey Anastasio (Phish guitarist) in Rolling Stone Magazine

FourTrack Features:

• Multitrack recording: use bounce for more than 4 tracks
• 16 bit, 44.1 kHz recording quality
• Pan Control: move tracks from left to right
• Timeline: seek to anywhere in a song
• Latency Compensation: accurate to within 1ms
• Compressor-Limiter: fattens sound of output mix
• Bounce: mix song to track 1 and 2 of a new song to record as many tracks as you want
• Metronome: select tempo by number or tapping. Record along with real drums, including beats by Jason McGerr (Death Cab for Cutie)
• MasterFX: sweeten the sound of your recordings with a compressor-limiter and a 4-band parametric EQ
• File Import - Import audio into FourTrack by opening an audio email attachment or by dragging audio files into FourTrack's FileImport in iTunes. Supports .wav, .mp3 and .aiff formats. Requires iOS 4.0 and iTunes 9.2 or above
• Input Monitoring - Use FourTrack's settings tool to enable/disable input monitoring. Input monitoring is enabled when a track is armed and in either Pause or Record mode. Playback of existing tracks overrides input monitoring. When input monitoring is on, sliders on armed tracks are enabled and control the monitor mix
• Jam along with iTunes by launching FourTrack while your iTunes Music app is playing.
• Interface Control Panel - Adjust the input settings of GuitarJack Stage, StudioJack Mini, GuitarJack Model 2 and other third-party interfaces.
• TaylorEQ - Input EQ for enhancing FourTrack recordings of Taylor Guitars or any acoustic instrument. Select from a range of Taylor body styles in basic mode, or select the Advanced tab to adjust the 6 band parametric equalizer.
• ARM Optimized Audio Engine - Hand optimized assembly code.
• New in v6: GuitarTone amps & effects in FourTrack updated to sound even better. Purchase amp and effect packs in the stand-alone GuitarTone App and they will be automatically activated in FourTrack as well.
• New in v7: Dropbox Sync: Upload and store your mixes and projects to your Dropbox account, then share your music by emailing links to friends.
• New in v7.1: AudioCopy 3: Copy and paste audio between other AudioCopy 3 enabled apps. Updated for iOS 9. Added support for upcoming GuitarJack Stage and StudioJack Mini.
• New in v7.1.3: Enhanced support for GuitarJack Stage, StudioJack Mini, and predecessors (GuitarJack Model 2 and GuitarJack 2 USB), as well as generic USB audio interfaces.
• New in v7.2: Updated for iOS 10
• New in v7.2.1: Fixed playback crash in iOS 10.1, fixed bug where output was always going to speaker, and fixed bug in sharing of GuitarTone purchases and presets in iOS 10.

To prevent losing data during iTunes sync, see the FourTrack Guide and be sure to backup your FourTrack songs before updating.

Developers:
Sonoma Wire Works, makers of GuitarJack Stage and StudioJack Mini (iPhone/iPad/iPod touch/Mac/Win/Android), StudioTrack (iPad), RiffWorks recording software (Mac/Win), DrumCore plug-in (Mac/Win) and more.

Videos, Guide, FAQ, Forum: sonomawireworks.com

Email support@sonomawireworks.com with questions.

"Solid and functional. Stable, easy and useful" - Wired.com
What's New in Version 7.3.0
- Added GuitarTone 3 to FourTrack
- Fixed recording dropouts on iOS 10.3
- Fixed input monitoring when on interfaces screen

Email support@sonomawireworks.com with questions. We are happy to help!

Sonoma's newest 2-in/2-out audio interfaces (StudioJack Mini and GuitarJack Stage) are "iPhone-7 Ready" with headphone/line-out and charging.

Record, practice, and play live anywhere with compatible Mac, Windows, iOS and Android devices using popular audio recording, amps and effects software! Both StudioJack Mini and GuitarJack Stage allow you to charge your iPhone 7, iPhone 6, iPhone 5, iPad, and other compatible iOS devices while you listen to music, play or record your guitar.

StudioJack Mini ($149 US) is a compact, multi-platform, device-powered, 24-bit audio interface with studio-quality sound. Includes a mono Hi-Z ¼ inch input for guitar or bass, stereo mic/line ¼ inch input for vocals or keyboards, two analog input level knobs with LED metering, a stereo ¼ inch output for headphones, plug-in power for electret microphones, and all the cables you need to plug into your compatible Mac, PC, iOS and Android system. The successor to GuitarJack Model 2, StudioJack Mini is a much improved version of the critically acclaimed GuitarJack line.

For more features, check out GuitarJack Stage ($299), which adds an expression pedal jack to control wah, volume, or other effects; 2 line level ¼ inch outputs (left and right) for monitors/amps/mixer; 1 stereo ¼ inch output for headphones; 5 knobs, 4 foot switches, and 4 LEDs for controlling MIDI enabled software; all encased in a rugged aluminum chassis.

About StudioJack Mini: http://www.sonomawireworks.com/studiojackmini/

About GuitarJack Stage: http://www.sonomawireworks.com/guitarjackstage/
iPhone Screenshots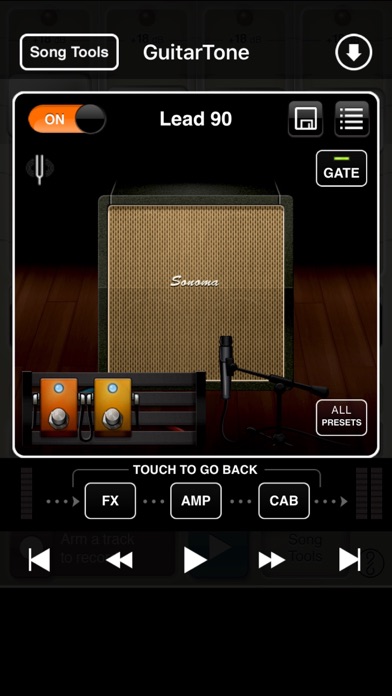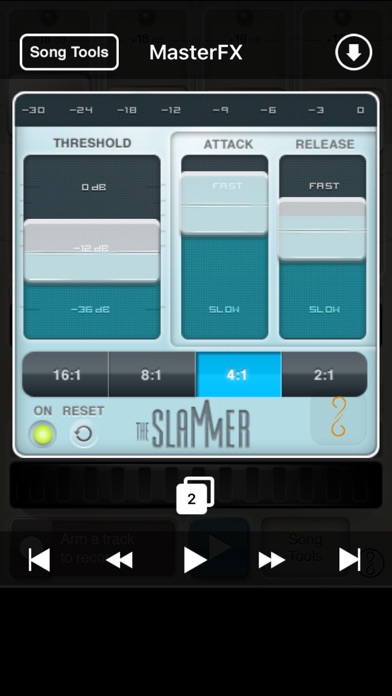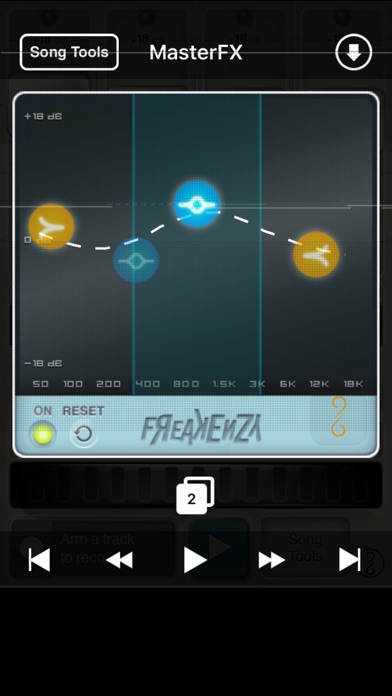 Customer Reviews
I bought this app and didn't with with iPhone 8 and iOS 11
Not happy to have paid money for an app that doesn't work with my iPhone 8 and iOS 11. Unable to locate the mix file on my phone.
Junkware.
10/2017 update: it's essentially worthless.

After switching to a GuitarJack 2 USB with an iPhone 5s and an iPad Air 2, I got the interface control panel working semi-consistently under iOS 10. I did not bother using the app for anything else and recorded with TwistedWave instead.

Well, that must have been the honeymoon. Since the update to iOS 11, the GJ is a brick half the time. Which makes the embedded control panel, and all of the app as far as I am concerned, junkware. Like a shiny Cadillac with no engine, it has everything you want except what makes it go.

It is impossible to predict when the goddamn interface from Sonoma Wireworks will be recognized by the goddamn software from Sonoma Wireworks. If for any voodoo reason it returns from the dead, most likely the next time your iOS device locks up or you simply breathe on it, FourTrack will go all Alzheimer's on you and report that there is no interface connected. And if you think GuitarTone will help you there, forget it. Its control panel is just as dead inside.

Meanwhile, these guys keep pushing shiny new toys and asking more money for them. And of course when the old toy breaks they will be suggesting you buy the latest to 'solve' your problem. Which just happens to result one hundred percent from their failure to manage their own software driver for their own devices, which are all supposed to comply with a stable USB audio standard. Yeah, right.

A word of advice to would-be iOS recordists: go to a professional company that supports its products, tests its products for iOS compatibility and explicitly warns you when they stop supporting a specific interface under a specific operating system. People like Apogee, Sound Devices — even boutique operations like H2 Designs. With pros, you know what you're getting — they don't allow their products to turn into paperweights after a couple of years because they refuse to do what it takes to keep them working for their existing customers.

Oh, and BTW, I know one way to get that bricked GuitarJack to work: plug it into a seven year-old iPhone 4 running Apple's own abandonware, iOS 7. See? I raided the smartphone family vault. That stuff is ready for Halloween.

——

SWW did some heavy marketing around this app, which is presented as the ideal companion to its family of GuitarJack audio interfaces. Oh, the friendly reviews, the salesmanship. You'd think it would be rock solid. Well, at this point, it's just plain unusable.

With a firmware upgrade to run the converters at 24-bit/48kHz, you'd expect their own software to match the full hardware spec? Nope. WAV files generated by this app out of the GJ2 (30-pin connector into an iPhone 4) are currently 16-bit/44.1kHz instead of the 24-bit/48kHz the ADC was actually delivering at one point. Good luck finding a setting anywhere in the control panel (which they go to great lengths never to release as a separate app), to fix that.

But wait, there's more -- I mean less. Now FourTrack, well, can't track. Set up to record with the GJ2, and it just stops in the middle of things. Just like that. End of file. No warning except if you are monitoring. But by then it's too late anyway.

When other apps like Røde Mic went to hell, I could still fall back on FT. Not any more. The thing can't even use the company's own hardware. And it was just about the only one with acceptable monitoring.

Fortunately, there is still Hindenburg, or TwistedWave, or even Hokusai. Despite monitoring and replay glitches, these apps actually record with the GJ2. TW will even set the ADC correctly to 48kHz if you wish. A proper 24/48 audio file is just an export away.

As long as there is a semi-working control panel (and "semi" is mostly what it is, just compare the three embedded versions that can't even operate identically between three SWW apps), you don't have a paperweight. For now.
View in iTunes
$4.99

Category:

Music

Updated:

May 05, 2017

Version:

7.3.0

Size:

90.5 MB

Language:

English

Seller:

Sonoma Wire Works
Compatibility: Requires iOS 9.0 or later. Compatible with iPhone, iPad, and iPod touch.
More iPhone Apps by Sonoma Wire Works