Free Hypnosis
By Joseph Clough
This app is only available on the App Store for iOS devices.
Description
Free Hypnosis/Hypnotherapy and Self Development Audios by Joseph Clough - Celebrity Hypnotherapist, Trainer and Hay House Author.

200 (over 100 hours!) FREE Hypnosis and self help audio!
I
Custom Hypnosis function - have your own personalised session!

Please read the disclaimer before using the App.

IMPORTANT: Check out the reviews before downloading. 95% 5* Ratings written reviews.

You need this app - 5/5 stars
by Bluekiku -
Truly amazing! Works very well for whatever intended purpose you choose. I have bought 4 already and plan to keep purchasing. Thank you for such a great program(s)!

Best in his field. - 5/5 stars
by PositiveLiving1979 -
I can not even put words to how perfect this. App is. The voice on the recordings is so relaxing and sincere. Thank you very much. It is life changing in a positive enlightening way.

Free hypnosis - 5/5 stars
by Halpin1977 -
After trying some other ridiculous hypnosis apps on my iPod I stumbled across these. I have been using these free apps and one paid for app for 4 weeks now. Every night. OMG.My perception of work and my important relationships, even with myself are unrecognisable to 4 weeks ago. I knew it was in me, that's why I tried this stuff in the first place, but I feel I've found it finally. AND FOR FREE!

Very effective - 5/5 stars
by Brigantina -
very powerful and effective. Therapists voice with background whispers knocks my socks off almost instantly, I wake up only after session has finished and feel great!


Seriously....... - 5/5 stars
by Ultimate Angry bird -
My boyfriend downloaded this months ago when he was on nights and struggling to sleep during the day. I laughed that he was snoring after 5 minutes thinking it didn't work and was a load of nonsense.... Then I downloaded it in a desperate attempt to sleep. It is great and does work if you take it seriously. Iv even purchased a few of the others :)

Awesome - 5/5 stars
by Powersjohnson
The most relaxing state of mind with out chemicals !! This app is the best it literally has hours of therapeutic voice visuals that in the proper setting with headphones on in the right light and right environment. Hope you all get something like I did out of this and the other great mood altering Apps Powers ..

Letting go of an ex - 5/5 stars
by Redvenus* -
This is great! I listened to it three times and found myself automatically doing the things Joseph suggested to me. I listen to it first thing in a morning and it sets me up for the day. His voice is calming and slightly addictive. I will continue for 30 days as suggested but things are so much easier now and my business is getting better as I have the commitment and energy to put into it with no negative thoughts or feelings. I'm happy with my purchase :)


Disclaimer:
By using Joseph Clough's free or paid work you expressly agree that your use of this App is at your sole risk.

The information, techniques and exercises provided within these free and paid products are for educational purposes only. Do not use the techniques or exercises contained within some of these products whilst driving or operating machinery, or if you suffer from epilepsy, clinical depression or any other nervous or psychiatric conditions. The information provided is not a substitute for proper medical advice. If in doubt, please consult your doctor or licensed medical practitioner.

Any decision you make having received any of our products are your own and you remain wholly responsible for any decisions and actions you take and you accept full responsibility for any and all effects arising from the hypnosis and coaching sessions
What's New in Version 3.2.2
* Bug fixes.
* Updated Push Notifications (Accept push notifications to know when new free audios and gifts are made available).
* New FREE 7 Day Kick-Start Transformation Course (See the About section for more details).
iPhone Screenshots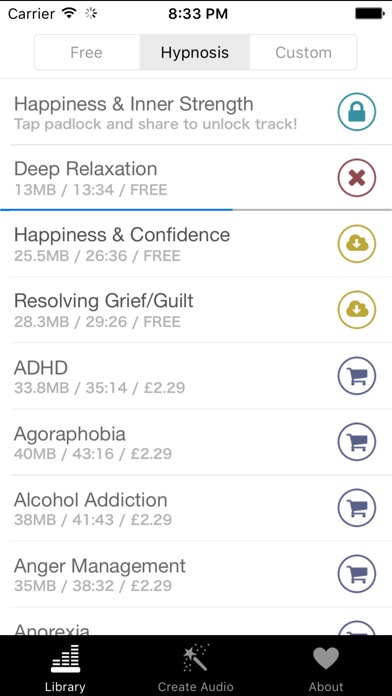 Customer Reviews
Good Grief
I am happy to have the app Joseph hypnosis are useful to me, my family and friends. Particularly, my 10 year old used to be very organized and orderly in early childhood development. Around 8-9 a shift happened were as that was less a priority and she became less focused on order. The Tidy hypnosis helped get her back on track. Thankful for that. Another on topic I used to help two friends get a handle on alcohol abuse. One is free of alcohol over 3 months. I had to use the app several times when a relapse happened but it certainly helped. The other person I could not be around to share the app repeatedly to continue with treating the help. But it was amazing to see them sober for nearly two days. And for me, I am Grieving the lost of my mom and decided to use the app to help aid in my healing and I can honestly say it is working and getting me through. I am starting to move on with my life were as before I just couldn't budge. So I recommend using the app for topics suitable to gain support and help strength targeted areas that need improvement. Thanks!
Awesome investment in YOUR *SELF*
I have a background in psychology and have worked with many audio hypnosis experts for 20+ years, including several in the App Store. Joseph Clough is the best I've ever found. His sessions are expertly constructed and highly effective. His controlled vocal tone is incredibly smoothing. His free podcasts, already included with the app download, go into the details on how the power of the mind works against you and how to make it work FOR you. (Many podcast hypnosis sessions are included as well). I was so impressed after a few weeks, I purchased his full library. It's one of the best small investments I've ever made -- zero regrets. With dozens of hypnosis sessions and the unique customizable session platform included, plus any future app sessions being included in updates, this is a must-have for people who like to work with hypnosis.
Have been using for years and love!!!
I never write reviews but I have to briefly share what this app has done for me. I was very skeptical when my spouse started using this app a few years back but I eventually gave it a shot. I use this application just about every day. I use it to sleep, to calm my anxiety, to center myself, to gain another perspective, and just about any chance I can. Joseph has a wealth of knowledge and presents it in a fantastic easy to understand way. You truest get the sense that he cares and talks with a very level approach with personal examples. I hope one day I can thank this man for sharing his thoughts, insights, and point of view one day. If you do nothing else but try his deep relaxation hypnosis twice I'm sure you will see what it is that I am telling you.
View in iTunes
Free

Category:

Medical

Updated:

Sep 08, 2016

Version:

3.2.2

Size:

7.1 MB

Languages:

English, Dutch, French, Italian, Traditional Chinese

Seller:

Joseph Clough
Compatibility: Requires iOS 6.0 or later. Compatible with iPhone, iPad, and iPod touch.
Top In-App Purchases
Achieve Weight Loss MP3$3.99
Unlock all Content$27.99
Overcome Anxiety MP3$3.99
Sleep Deeply MP3$3.99
Develop Self Confidence MP3$3.99
Acquire Gym Motivation MP3$3.99
Overcome Depression MP3$3.99
Getting Over Your Ex MP3$3.99
Stop Smoking Now MP3$3.99
Financial Abundance MP3$3.99