Period Tracker, Menstrual Calendar and Ovulation Calculator
By Tamtris Web Services Inc.
Open iTunes to buy and download apps.
Description
Free Menstrual Calendar is an easy to use calendar to record and predict your periods and fertile days.

With this App you can:

* Record and predict your periods and fertile days
* Track moods, weight, symptoms, specifics, meds and supplements
* Optionally customize your data entry. Track what matters to you! Add/Delete items! (for example, turn off/on fertility data if you wish or track more signs and symptoms- your own or ours)
* Weight and Weight chart
* Wellness data and charts
* Store daily notes
* Calculate your cycle length automatically based on your data or set it manually
* Optionally record your intimate relations and other fertility signs including temperature and cervical fluid
* View/Email a Cycle Stats Report
* Optionally set a privacy code
* Display your cycles at a glance on an easy to read calendar. Color coded calendar is easy to read and personal data display is discreet.
* Read educational tips and information about your menstrual cycle and your fertility signs
* Sync/Backup your data with your free FertilityFriend.com account
* Optionally sync with your phone calendar
* Select your favorite App Theme, make it yours!
* Discreet pinwheel icon says "FMC"

Simply enter your last period and your cycle length to get started. The calendar will then display your predicted period start days as well as your expected ovulation and most fertile days in color.

Double tap any day on the calendar to enter data (i.e. your period, cycle data and/or daily notes). To start a new cycle simply enter your period data. Your cycle length is automatically calculated as you enter more data.

The calendar is a period tracker as well as a way to document your cycle history. You can use an optional privacy code to better protect your data.

Designed and maintained by FertilityFriend.com.

Bug Reports/Comments/Suggestions:
FertilityFriend.com/iphone/contact.php

IMPORTANT LIMITATIONS: This calendar uses only approximate prediction and cannot be used to schedule procedures, avoid pregnancy or anything where more accuracy would be required. It is intended for educational use only. Use at your own risk. Please consult your healthcare provider for any health concern. For more accurate analysis of your cycle please visit FertilityFriend.com.
What's New in Version 7.5
Version 7.5: Bug fixes.
Make sure to backup your phone and/or sync with FertilityFriend.com
iPhone Screenshot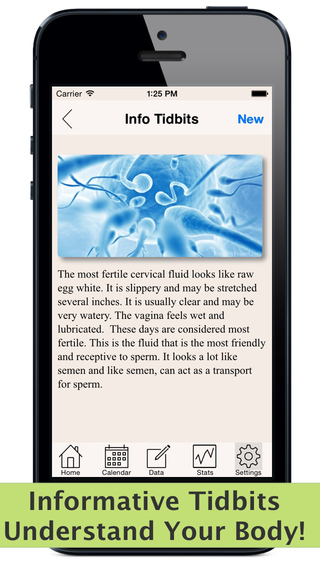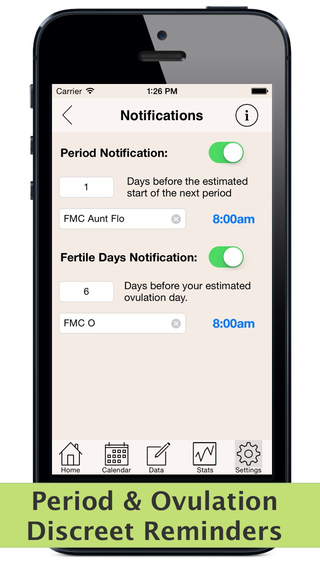 Customer Reviews
Great useful app that works!
I've been using this app for a little over 8 years and it still works. I know there are other fancier versions but this keeps my records, accurately predicts my cycle helping me make plans and does basic trend graphs. It also stores all my data from all the years I've been using it so it's great to go back sometimes and see what's changed over the years and have those records. This app is helping in planning vacations and other activities that could be affected by a surprise period and would also be awesome for those needing to track fertility either because they're trying to get pregnant or trying to avoid that.
The updates over the years have been useful and not the sort to ruin a good thing like with some other apps. I hope the developers keep that up because this is an excellent cycle monitoring app!
Great app!!
I have been using this app for about 5 years now. It helps predict when I'm ovulating, keeps track of my cycle by telling me which cycle day I'm in, shows which days I'm most fertile and which days it's safe to have unprotected sex with my partner. You out the days your having a cycle and indicate if light medium heavy or sporting. Keeps track of pms mood symptoms, you can choose symbols for how your feeling, and gives great education tips on female cycle and body!!!!!! Oh and you can put notes on certain days of you like. Best app ever!!! I knew exactly when I was pregnant and when my due date was because it helped keep my data. The pregnancy app is great too.
My go to app - been using for years!
Great app, tracks amazingly well and I use it to track my fertility. Helps me plan when we need to use condoms or avoid sex so I don't get pregnant.

Also helped me know that I was more than a few days late when I got pregnant! I wouldn't have known for sure otherwise - and I was able to track my average cycle time and see that I was even later than my latest cycle date. Really like that feature cause my cycle ranges from like 26-32 days.

Also when every doctor asked me the date of my last period, I had an exact date thanks to this app. Super helpful.

I love adding in notes of how I feel and describing specifics about that day or sex. I do look back and track how my moods are to remind myself that it's just normal Pms.

Pregnancy mode has been helpful - knowing how far along I was helped me figure out my symptoms. It turned out to be a miscarriage but even so I was able to note how I felt the whole time. Hoping this will help me compare next time I'm pregnant.
View In iTunes
Free

Category:

Medical

Updated:

Jun 16, 2015

Version:

7.5

Size:

33.0 MB

Language:

English

Seller:

Tamtris Web Services Inc.
Compatibility: Requires iOS 6.1 or later. Compatible with iPhone, iPad, and iPod touch.
More iPhone Apps by Tamtris Web Services Inc.