FreeCell
By Mahjong
Open the Mac App Store to buy and download apps.
Description
FreeCell solitaire is not like other solitaires. You need no luck to win, only skill is required. All cards are opened from the start and the deal has the solution, you can win, think and move wisely.

Game features:
- autosave when exit
- deal difficulty settings
- customizable background and card
- "magnetic" card
- multiple card dragging
- drag or tap to move
- undo option
What's New in Version 1.2
32-bit compatibility.
Screenshots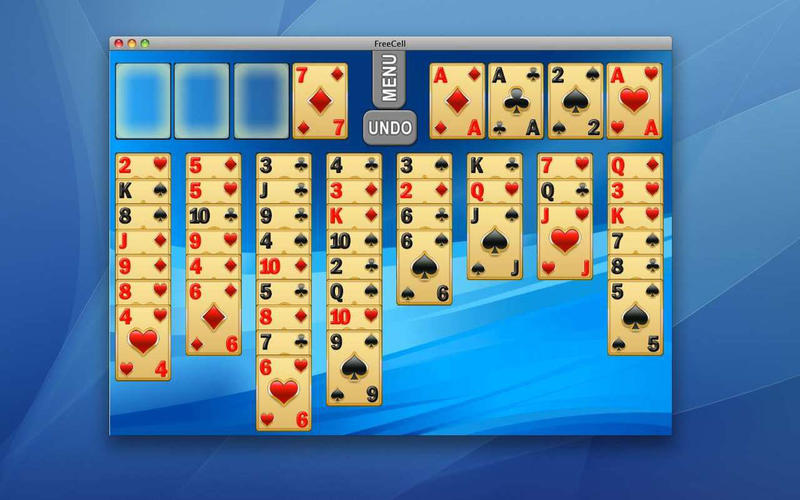 Customer Reviews
Ditto missing key features
There isn't anything about this version that is fun for me. The only thing I like is being able to change the skill level. But on a difficult level, I can't repeat the game to work on my skill—see what I missed. I always like auto complete, but not auto 'fill', putting a card or cards on the pile before I am ready to move them. There are no time or score designations, and no stats, like I have on my iPhone. I wish the game designers could get this very long-standing game right by reading the reviews. Put ten games together, and we might have all the features we know we like, but much playing could freeze our computers like I read on other game reviews. None of these features are high game science. Our favorite features are found on some game somewhere. I wish I had read the reviews befor I actually bought this. So I learned to read the reviews on other games before buying, and they don't seem to be much better. I'll stick to playing on my iPhone until they get this app right.
A Bug, and a Problem
I'm a FreeCell addict, and have it on all my machines. This one is a nice one, except for two problems I've had with it. When I click on a card or a stack of cards, they may move but often not to the place where they are supposed to move; and sometimes they won't move at all either by clicking the stack or by trying to drag it even when I have enough free cells to be able to do so. The other problem is that while I think of myself as a medium-difficulty player, the easy games are too easy and present no clallenge while the next level of difficulty is often too difficult so that sometimes I can't solve it even after much planful trying. There needs to be a difficulty level in between those two.
FreeCell
I like this game a lot and play daily. Overcoming weird placements of the card you need by finding ways to get rid of the cards sitting on top of it constitutes a challenge. I also enjoy moving columns of cards that are too long for the game to allow you to move them by finding a place to put maybe half of the column and then moving the top half followed by the bottom half. The only problem I have real trouble with is if I need say a red five and the black fours are already up in the final resting place because they have been moved there automatically and I can't undo that. But there's usually some sneaky thing you can do if you just look closely. A fun way to end a session online.
View in Mac App Store
Free

Category:

Games

Updated:

Feb 09, 2012

Version:

1.2

Size:

8.3 MB

Language:

English

Seller:

Mahjong, OOO
Compatibility: OS X 10.6 or later