FreeSpace
By Luma Fung
Open the Mac App Store to buy and download apps.
Description
* If you have any problem launching the latest version, please contact
freespace.osx@gmail.com
and state your OSX version. Thank you very much*

FreeSpace is the No.1 full-featured free space monitor and 1-click ejector! No other similar freeware can compare!

** Note to All OS X 10.7 and Forward Users **

On OS X 10.7 and forward, local snapshot is switched on by default by Apple. That means some space would have been taken and hidden as local backup inside OS X. Finder always displays the available space disregarding the local snapshots. But FreeSpace displays the true available space with regard to the presence of the snapshots. See Apple's own knowledge base:

http://support.apple.com/kb/HT4878

"… You may notice a difference in available space statistics between Disk Utility, Finder, and Get Info inspectors. This is expected and can be safely ignored. The Finder displays the available space on the disk without accounting for the local snapshots, because local snapshots will surrender their disk space if needed... "


**** MacWorld Favorite Mac Gems 2012
"FreeSpace's systemwide menu shows all mounted volumes along with the available free space on each; if you want to monitor a particular volume, you can choose to have that volume's free space displayed right in the menu bar."

***** Softpedia
"FreeSpace is one of the best free space monitors available out there. It's fast, reliable, low on resource consumption (during the testing process it constantly occupied 10 MB of RAM) and stable (it never crashed)."

- Lifehacker.com
"FreeSpace is a tiny menubar utility that can show you how much space is available on all local, connected, and network drives with a single click."
**** MacObserver.com
"I do recommend it. This is a cool little app that is very useful, easy to use, and it's only US$0.99. What's not to love."
**** HotMacApps.com
"A very useful and simple application that once you start to use, you can never do without."


> FreeSpace is the most full-featured free space monitor! It leads over the other similar freeware!
- Well-categorized menu showing free spaces of all local, external, network drives, Superdrive, and disk images
- Eject all by 1-click. Eject single partition by option-click.
- Fully-customized number format on the menubar
- Low free space drive highlighting
- Mount and Eject notification. On the menubar or Notification Center as you decide.

> Works best with Time Machine backup!
- Pin the Time Machine drive on the menu bar
- After the backup is finished, FreeSpace will notify you when the drive is ejected
- FreeSpace will remember the Time Machine drive and will show the drive on the menubar again on the next backup.

> Auto-launch every time when computer starts up
- After downloading FreeSpace from the AppStore, go to the Application folder
- Double-click FreeSpace to launch the first time
- Select "Launch at Login" from the Preference menu. FreeSpace will auto-launch itself every time when the computer starts up

> Rich features leading over the other similar freeware!
- Eject all connected drives and disk images by 1-click or ⌘E
- Eject the whole drive by clicking the eject button
- Eject single partition by option-clicking the the eject button
- Eject all drives in the same category by 1-click
- Open the drive in Finder by clicking the name
- Drives are grouped and displayed in logical categories
- Highlight drive with low free space when under certain percentage
- Any drive can be pinned on the menu bar. If the drive is disconnected, FreeSpace remembers and will re-pin it once it is reconnected
- Custom number format on the menu bar
- Show read-only drive in gray number (OSX 10.7 and onward)
- Sort partitions by ascending or descending name or free space
- Retina display support
- Ultra-low CPU and memory consumption
- Ultra-fast auto-launch at computer startup

> Language Support
- English, Français, Deutsch, 日本語, 正體中文, 簡體中文

> Mac Requirement
- OSX 10.6.8 or above
What's New in Version 1.2.15
El Capitan compatibility
Screenshots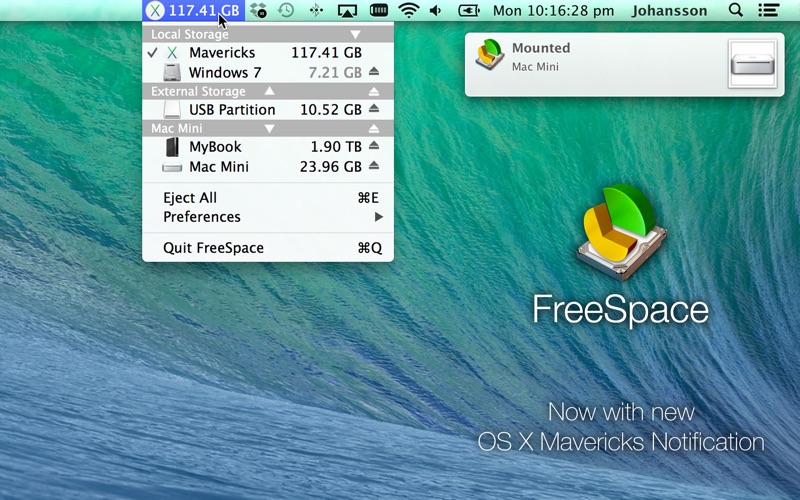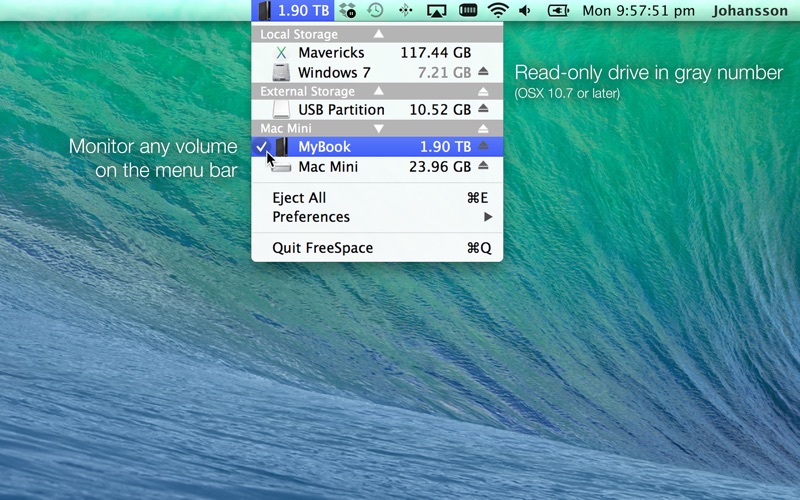 Customer Reviews
Use it every day - Several times a day
Great for finding out quickly how much disk space is left from each of the 14 hard drives on my main computer and three networked Macs. Sometimes have to force eject a disk because I can't do it directly from Freespace, but I figure that's not the App's fault but a case where the Mac thinks the disk is still being used. - a minor inconvenience. No problem with El Capitan. Probably my No. 1 used app
Nice app, works on El Capitan, support web site definitely exists
I've used this app (purchased from the Mac App Store) for a number of years across versions of OS X without any problems. Very handy for quickly ejecting external drives when taking my MacBook Pro mobile. Free space alerts are very handy (nice for an early warning if a Time Machine drive is filling up). Highly recommended!
Great app until...
The latest update is borked. The app launches, Activity Monitor shows that it's running... but it is no where to be found. This is despite the fact that the last update specifically says that the latest version has support for El Capitan. Additionally the website and support info no longer works.

Prior to this update, the app was solid, but it is a total waste with the latest release.

Deleting the app for now...
View in Mac App Store
$0.99

Category:

Utilities

Updated:

Sep 17, 2015

Version:

1.2.15

Size:

1.6 MB

Languages:

English, French, German, Japanese, Simplified Chinese, Traditional Chinese

Seller:

Lumus Work
Compatibility: OS X 10.6 or later, 64-bit processor